1 person/1 elephant
Packages/Season
Low
High
Extra day
3 days/2 nights
15,000
18,000
4,000
7 days/6 nights
25,000
30,000
3,500
14 days/13 nights
42,000
47,000
3,000
 2 persons/1 elephant
Packages/Season
Low
High
Extra day
3 days/2 nights
28,000
32,000
8,000
7 days/6 nights
48,000
54,000
7,000
14 days/13 nights
80,000
84,000
5,500
Family (3*)/1 elephant
Packages/Season
Low
High
Extra day
3 days/2 nights
35,500
42,500
10,500
7 days/6 nights
64,500
72,000
9,000
14 days/13 nights
opt.
opt.
opt.
HIGH SEASON – 31st October 2016 – 31st May 2017 2nd November 2017 – 30 May 2018
ONE DAY 5,000 baht per person please contact us regarding availability.
Please choose a combination of packages if you want more than one elephant
Extra days on request. Opt. = Please send us an email regarding more information.
*Family is applicable to 2 adults and one child 12 years or under sharing one elephant.
START DAYS: Mondays and Thursdays, except where indicated.
START TIME: 9:30am for both start days.
PLEASE NOTE: We cannot make any exceptions to start days or the 9:30am start time. 
Please make sure you check the packages section before making your booking. (Minimum booking is 3 days / 2 nights).
If you have only one day please see here
If we do not have availability you can request to go on our waiting list.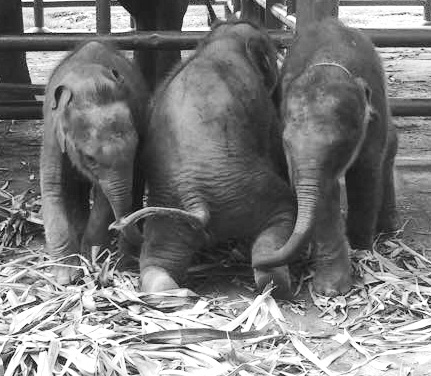 Booking Form
Please fill out each section

You can choose a combination of packages if you want more than one elephant
Extra days  on request.  
 Opt. = Please send us an email regarding more information.
Minimum booking is 3 days/ 2 nights. 
We will send a confirmation by email after we receive your booking. If you do not receive the confirmation within 3 days, please check your JUNK/SPAM mail and otherwise contact us again as the internet is not infallible.
Info all packages:
Arrival days:    Monday and Thursday
Arrive:             09.00 am (no exceptions as everyone needs to be here for induction and safety instructions)
Leave:             05.00 pm
All packages include: caring for an elephant, riding and bathing in the river, t-shirt and handbook for every guest, air conditioned bungalow, twin beds with bathroom and free WIFI. All daily meals except breakfast on arrival day and dinner on last day of stay.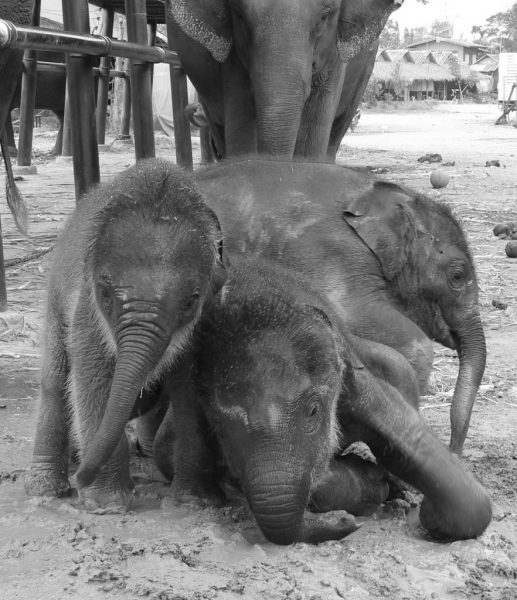 Payment
Please pay on arrival to Elephantstay. Please note that we ONLY accept cash as we do not have credit card facilities at this stage.
Please note
2 PEOPLE and FAMILY prices include one (1) elephant

Prices are based on twin share accomodation

For stays 4 weeks or longer please contact Elephantstay

Airfares and transfers are not included in the price

Private transport from and to airport or within Thailand can be arranged for an additional fee

Ayutthaya has many ATMs which take most credit cards

We offer a reasonably priced laundry service

We do expect everyone to make arrangements for their own travel insurance
Some more useful information for you
We suggest you bring the following items to Elephantstay:
Spending money (small notes/coins) for extra drinks, snacks, souveniers etc

Flip flops

Long, loose comfortable pants for riding the elephant. As they are quite hairy and a bit prickly, long pants are better

Changes of clothes. You will get hot and sweaty and you will get wet when you go into the river on the elephant

Hat/sunglasses

Sunscreen

Tropical strength insect repellent for the evening. We are not a malaria area so you will not need to take anti malaria medicine. However, we do suggest you see your doctor for vaccination recommendations.
For further information
Location
We are located at number 34 Royal Elephant Kraal (see Map of Ayutthaya).  Please refer to Getting to us for various modes of transport to Ayutthaya from Bangkok or the airport.
Frequently asked questions
Can I start on a day that is not marked in green?
No. As we have limited accommodation and we do a welcome induction, we require people to begin on the days marked in green on the Availability Calendar.
How do I get to you?
Please refer to the Getting to Us section
What is the cost for extended stays?
Please check our Packages section for prices and cost of extra days in each package
What should I bring?
Please refer to the Packages section and you can also find some tips on our Facebook Discussion Group.
What's the best time of year to come?
Please refer to our Weather section.
Can I extend my stay once I am there?
Yes, but it will depend on availability. As we have very limited spaces to not miss out we suggest you book beforehand.
How far ahead do I need to book?
When you decide on your travelling dates, please make a booking as they are subject to availability.
How do I book?
Check the Availability Calendar for your desired dates
Choose a package; and
Submit a booking form.
Can I pay in another currency?
We are only able to accept payment in Thai Baht. You can check with currency converter here 
Can I pay by credit card?
No, at this stage we do not have the facilities for that.
Is the accommodation air conditioned?
Yes. Please refer to our Accommodation section for more information.
Is there internet access?
Yes we have free wifi.
If I book for two/three weeks, can I go on other overnight tours/visits during that time?
As the program asks you to look after your elephant on a day-to-day basis, we recommend you book other visits/tours to other areas in Thailand before or after your stay. However, if would like to go on a local tour in Ayutthaya during your stay here we can organise that when you are here.
Can you recommend any hotels in Bangkok or Ayutthaya?
For Bangkok, we recommend you check the internet or one of the various travel guides for Thailand to locate a hotel to suit your needs/budget. Also, there are many travel websites with reviews and recommendations by people who have stayed there.
For Ayutthaya, we recommend the guest house Tony's Place for centrally located accommodation, or Promtong Mansion for a quieter guesthouse with excellent service or Tamarind, very cute guesthouse, good location across from the historic park and wonderful owners. The Park is also across from the Historic Park and the owner very helpful. Again, we would recommend you to try the web as these may not be the type of accommodation you would prefer.
What else is there to do in Thailand?
We suggest you check the internet or travel guides for Thailand.
If there are two of us and we have our own elephant each, do we do things together?
Yes.
Can I come and stay the night before my program begins the next day?
No. The program begins at 9.30am on the first day when we do our induction.
Can I book a room only ie: not take part in the elephant program?
Yes, however the rates would be the same.
What vaccinations do I need to get? 
We suggest you go to a doctor or travel doctor about vaccinations. We are not a malaria area but it depends on where else you are traveling. You can also check out sites such as http://www.thaitravelclinic.com
How much time do I get to spend with my elephant?
As much as you like.
Can I play with the baby elephants?
Yes!  
How fit do I need to be to do the program?
Anyone can come and do the program and only do what they feel comfortable and capable of doing. Each individual will have to assess that for themselves as we cannot assess your health or health issues, and decide what you are capable of.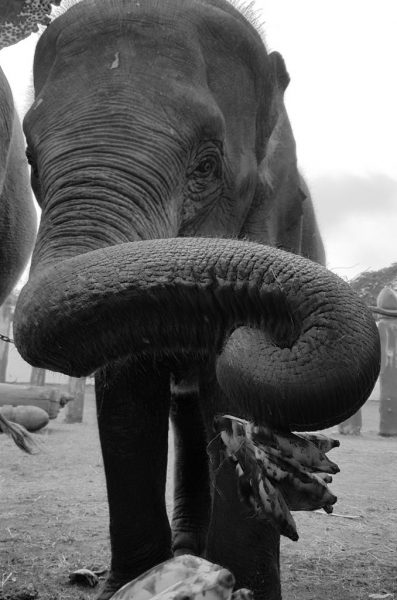 Is there an age requirement to do the program?
No. If you can get here, you can participate.
Can I book a one day or two-day, one night package?
Minimum stay is three days / two nights package. If you opt to leave earlier the cost remains the same.
What can I do to help Elephantstay?
Check our How to Help section for ideas on what you can do to help us.
Can I make a donation?
Yes and are greatly appreciated. All donations go directly to helping our elephants and their needs. Please see our Donate page for more information.
Elephantstay is located at the Royal Elephant Kraal and Village.
Getting to us from Bangkok:
The quickest way to get here, if you are located in Bangkok, is by car (it takes about one hour). We recommend that if you want to book a car, you book through us, (one way-1500 baht for a car or 1800 baht for a mini van, price includes expressway tolls). Beware, as generally if you book a car in Bangkok, they are not familiar with Ayutthaya surroundings and will have trouble finding us.
Getting to Elephantstay from Suvarnabhumi Airport:
The quickest way (1 hour and 20 minutes) is to either take a taxi (you will have to negotiate the price, between 1500 and 3000 baht, depending on your negotiation skills). Or else we can organize a driver and car. (one way -1800 baht for car, 2000 baht for a mini van)
Getting to Elephantstay from Don Mueng Airport:
We can organize a driver and car (one way-1200 baht for car)
How to get to Elephantstay Information Sheet: 
If you are making your own way, here is a map of Ayutthaya.
We are located at the Royal Elephant Kraal.
it is useful to print out the following information sheet on Getting to us which also includes the map of Ayutthaya, to show the taxi driver or tuk tuk driver.
You can also print out the following, which is Elephant Kraal in Thai:
เพนียค
74/1พระนครศรีอยุธยา.อ
พระนครศรีอยุธยา
มาถึงประเทศไทยแล้ว
ติดต่อคุณนัน 095 975 5508
หมู่บ้านช้างเพนียดหลวง
ติดกับเพนียดคล้องช้าง
Making your own way on public transport:
Go to Mo Chit and then take a minivan to Ayutthaya (no need to book and goes every 30 minutes or when full) (80 baht + luggage, about 1 hour). You then take a tuk tuk from the last stop to the Kraal about 15 minutes. (about 150 baht.
Take a train from Hualumphong Station, to Ayutthaya. The trip takes about 1 hr 20 minutes- 2.5 hrs depending on the type of service. Second class seats (A/C) cost 245-345 baht, third class is just 15-20 baht. No reservations and seats are not guaranteed. Then a tuk tuk, which takes about 20 minutes about 120-150 baht to the Kraal. Not recommended to take in the morning to get to us as it is not  reliable.
Thailand's weather of course can vary and this is a rough guide only:
Hot/Dry – March to May

Rain – May/June to October

Mild – November to February
What to Expect During Thailand's Rainy Season
No rain for a week at a time
Night rain and clear days
Torrential rains that last 30 minutes to 2 hours, then clearing and sunny
Overcast days with little to no rain
Two to three days of partial day rain in a week, especially later in the rainy season
You can also check this weather website for more detailed info on Thailand's weather.