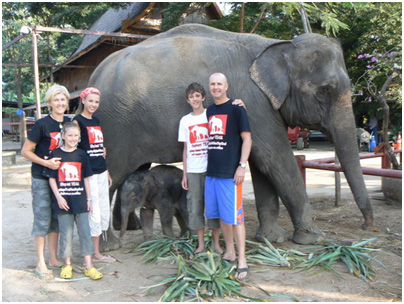 Birth No. 36 – 15 December 2008
Pang Dok Fai has given birth to her third baby!!! WOW!!! We are all blown away. Mark said and I quote, "Such a privilege, better than the birth of my own children!" Zoe thought she was dreaming, Mark thought there was a fire being woken up at 2 am but NO its a BOY! Words cant describe what happens here, The babies keep coming and we are surrounded by the little miracles they all are. That makes 36 successful births in less than 9 years and with so many more elephants pregnant it will be an even busier year ahead.
Birth No. 35 – 25 July 2008
Pang Jumjuree does it again! At 2:25am she gave birth to a very special baby boy. The father is Plai Mongkonaiyarat, hence the unusual colouring of the baby. He has been named Plai SriMongkon which means Majesty.
Birth No. 34 – 25 May 2008
We are thrilled to announce that Bookie has given birth to a healthy baby boy. His name is Plai Payakohphet which means Lord of the Jewels. He was born on the island where many of the elephants have their night spots. It was totally unexpected. Bookie is a big elephant and great mother and is looking after her son very well. She was pretty wired last night and went into musth a bit but was relatively calm considering this is her first baby. Payakohphet is 90 centimetres high. His father is Plai Wang. One of our magnificent breeding bulls. We expect Payakohphet to grow fairly quickly and he will become a handsome solid bull.
Birth No. 33 – 21 January 2008
21 January saw the first baby born for 2008. It was a scary experience as Pang Namwan the mother tried to kill her new born. It was frightening to watch as she suddenly turned against her baby which for the first few minutes seemed like everything was OK. Fortunately due to the quick action of the mahouts, they were able to get in between the mother and baby and save her. After a couple of hours Namwan calmed down and her baby was reintroduced and everything was OK. In the dozen or so births that I have attended I have never seen anything like this happen, it was so incredible to see how precarious this little girl life was and how the expertise and experience of the people here, that they can confront a crazy elephant and save her baby. She has been named Pang Soiselee which means necklace of freedom and is the cutest and sweetest elephant ever born.