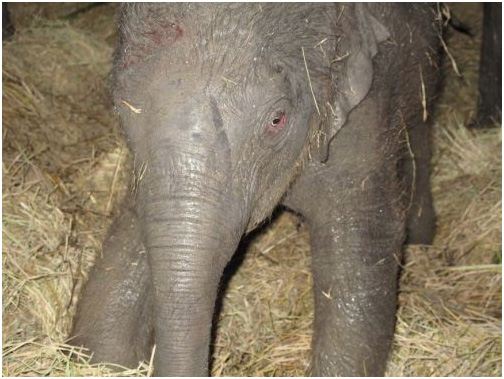 Birth No. 53 – 22 August 2012
At 10:30pm Pang Chommonad gives birth to her second baby a boy! He was born outside Pong's (Chommonad's mahout) house in the village and it took them ages to walk mum and baby over to the sala near the other elephants. So that makes 53 successful births, it seems like all these mums are certainly trying to tell us something!! He was named Plai Ngam which means beautiful.

Birth No. 52 – 26 June 2012
Everyone was thrilled when Pang Kamlaiphet gave birth to her fourth baby! And our 52nd successful birth!  Kamlaiphet was the first to give birth in our breeding program in February 2000 to Pang Phetmanee, followed by 2 more female calves in 2004 and 2007. Now finally a boy! Named Plai Cane by his sponsors from a sugar company.
Birth No. 51 – 10 June 2012
Finally got called just after midnight to see our 51st baby since 2000. Everyone had been waiting for what seemed like months for Pang Sopa to finally give birth, to a healthy and huge baby girl. Her only flaw being her ears are folded back on the ends. Still adorable though. Her name is Pang Tiptewee which means ethereal goddess.
No. 50 – 23 April 2012
We are were all incredibly excited when Pang Namwan was rushed back from town as she was showing signs of giving birth. She got back about 12:45pm and at 1:05pm she gave birth to a healthy baby boy. All the elephantstayers and volunteers were thrilled to witness this miraculous birth. Never before have we had a birth at this time of the day. All our other babies have been born at night. So congratulations to our 50th successful birth!!!! Namwan's baby has been named Plai TG as Thai Airways generously sponsered him.