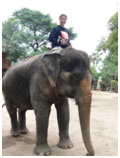 I am 45, of very average physical fitness, and tend to travel oversees by myself.  I decided to do the elephant stay as it looked interesting and was a way for me to try and do some eco travel.  I was very scared at my first encounter with my elephant…but I soon found that the team at elephant stay understood how I was feeling and they were very well equipped to help me.  The entire village is there watching…to make sure that both the elephants and the tourists stay safe.  After the first day or so, I relaxed and was able to enjoy my elephant…while maintaining a healthy respect for her.   I am not really a huge animal lover…I like them ok…but what I really like is new experiences…and this was definately an eye-opening new experience.  The elephant stay is truely unique and important.  Spending time with Michelle was a real treat equal to the elephant themselves..she took really good care of me and we talked allot about animal psychology, thai culture, the history of elephants, the program, and their carers.  I ended up staying for 6 days, as I could not bear to leave after 3!  I highly recommended this experience.  Additionally, you will find the accomodation comfortable, clean and the food to satisfaction.
My husband and I spent three days in Dec 2006 with you and your elephants and had a wonderful experience.  At first we were a little nervous of what we had let ourselves in for but that soon passed when we realized we were in the hands of professionals.
We had a lovely old elephant called Dok Mak to care for, and she was very understanding of attempts at "mahouting!"  Michelle provided us with the necessary training and with the capable mahouts helping us along we were both soon riding the elephants like old hands!!
It was a fantastic chance to learn more about the lifestyle of an elephant village, the challenges experienced by the elephant in Thailand today and the capabilities and characteristics of the elephant in general.  We were able to spend time interacting with young babies of two months, feeding and scrubbing our own elephants and generally having a great time.
The facilities were excellent with lovely air-conditioned rooms, clean facilities and excellent food – and lots of it.
It was also interesting hearing about the work the owner has put into elephants in the area, the movies and shows they had performed in and his future direction.
To anyone with a slight interest in these marvelous animals I recommend a stay with Elephantstay.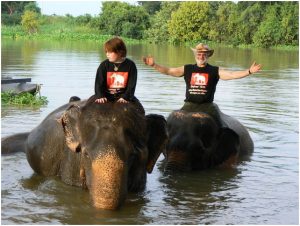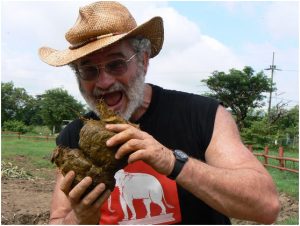 What a great bonding experience it was for myself with my 10 year old grandson, through this very enriching programme. We both also bonded with mainly with Dok Maak our elephant and Roonsap her next door neighbour who we could not ignore and looked after as well some of the days.
This experience is about the total car for the elephants from feeding, washing, exercising and cleaning their day and night spots.
You can imagine that if she eats 150 kilos ad ay how much shit comes out the other end. Combined with a left over grass choppings, pineapple leaves and a good soak of rain you certainly become fit very quickly.
We stayed 11 days and noticed that the longer we stayed the more we observed. The fine details:  from the elephant's mood and reactions to the mahouts commands, gestures and body language., As a result of this handling the elephant gets easier, relaxed and comfortable. The smile on our faces became bigger and bigger each day as we were riding to the river. This village is about 100% commitment by every person to look after these gorgeous creatures. Well done to all.
PS check your shoes in the morning before wearing them you may find a friendly frog!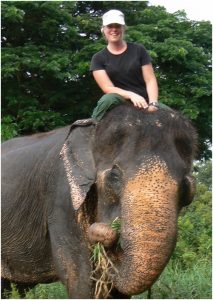 I have never heard anything as prehistoric as the elephants communicating to one another just outside my guesthouse. Their calls could halt a conversation and vibrate through your body. Every morning I ate my breakfast in the vicinity of a majestic looking Bull, who munched on his pineapple tops and spayed himself with dust. I leant that carting dung was necessary to making paper products, that feeding such a large mammal was as regular as you would feed yourself and that watering elephants by riding them to the river with the village kids was the highlight of everyone's day in the heat.  Overall I enjoyed these tasks because they assisted in the bonding process between me and my elephant, Dok Mak. During the down time at the Kraal I spent time observing the mother-infant relationship at the nursery and the comic behaviour of the babies. When in your lifetime do you get to witness 4 baby elephants discovering water? I was captivated for hours watching them test each others strength, push one another into the pool and play soccer with an enormous Kong.
I have a deeper understanding of Asian Elephants, their animal community and the bonds that they have with their mahouts and the people of the surrounding village.
To work with such gentle giants is an honour. You get a sense of the reverence that they hold within the Thai culture and the importance of the work that the Kraal is doing to continue to support the young, maternal and ageing population of elephants in this country. How can I describe the affect that being with the largest and gentlest mammal has had on my soul? You have to experience it for yourself.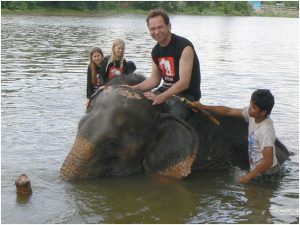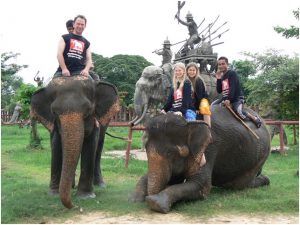 The Elephantstay experience was really fun. We learnt a lot about how to control and ride a Thai elephant. We stayed three days and two nights. In that time I learnt heaps and heaps. We learnt how to get up on an elephant without stairs and ride on their necks. While we were there an elephant from the nursery ate Dad's hat.(ed.note hat was made of edible fibre).It put it's trunk on dads head and grabbed dad's hat, started ripping it apart and ate it. "YUM".
The baby elephants at the nursery are very intelligent and love to undo shoelaces and Velcro strips on sandals. The elephant experience was fantastic and lots of fun!!!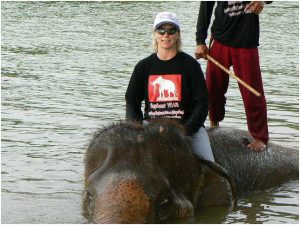 It was brilliant to stay and play with elephants. I can't recommend this highly enough. For A$100 each per day we got to ride, look after and bond with our very own elephant, plus all meals, air-conditioned accommodation with our own outdoor bathroom, and we could go to the elephant nursery and play with the babies whenever we wanted to. I encourage everyone to visit the Elephant Kraal and stay at the Elephantstay.. There are 90 elephants including 23 baby elephants! Did you know that baby elephants have no, or very little, control over their trunks? This is why they look so 'out of control' when they are playing with their little (size is relative when talking about elephants!) trunks swaying every which way.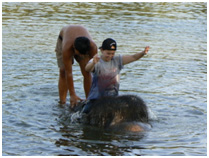 I'm not quite sure what I expected when I first arrived at the Royal Elephant Kraal, but before I had a chance to think about it too much, Michelle, one of the program managers had me getting to know and feed the elephant that I was going to take care of for the day, Dok Maak, the 70+ year old matriarch at the elephant village. What an honour to take care of her, even though I knew very little about what that actually entailed! Not long after, I was told to get up on the elephant and start riding her ! After learning a few key commands, we were on our way – walking around the village and then straight into the river for a midday bath. What an experience! Throughout the day I learned about the life of the elephants – what they eat, how to clean and scrub them, about their personalities, likes and dislikes and so much more. Michelle and Ewa have a wealth of knowledge and experience which they are more than happy and ready to share with you. Their enthusiasm and respect for this wonderful animal and their wellbeing is contageous.
Another great aspect of the Elephantstay was seeing how the elephants and their mahouts work together. I was very lucky to be there during the Ayutthaya heritage/cultural festival and was privileged to join the crew (ie. the mahouts and the elephants) backstage to see how they prepared for this spectacular light and sound show which involved hundreds of people and of course the starts of the show – the elephants!
In addition to all of the above, the accomodation at the Royal Elephant Kraal was more than I imagined – clean, cool and very comfortable.
My experience at the Royal Elephant Kraal was one of the highlights of my trip to Thailand – I felt that it was a genuine experience and I learned so much about a really important part of Thai culture and history – the role of the elephant and the mahouts.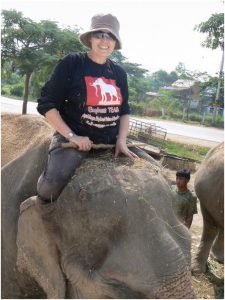 What a brilliant way for visitors to fund a well-deserved retirement for old elephants whilst having the experience of a lifetime!
We were up on our elephants so fast upon meeting them that there was no time to be nervous. We had a wonderful time over our 10 days getting to know each elephant and their particular personalities. They quickly responded to their names and visibly enjoyed our attentions. My elephant, Loong Sap (meaning House of Unlimited Riches), would urinate in excitement when I called her over, particularly when I gave her food treats. She was also quite vocal so I didn't have to guess whether she was enjoying herself. Swimming and bathing were definitely a highlight in the heat and we thoroughly enjoyed the way our mahout skills improved each day. The 6 calves (and their mothers) in the Kraal with our retired elephants were glorious entertainment – up to mischief alot of the time and testing their strength and dexterity with each other continuously. As roly-poly as puppies!
We watched in awe as mahouts trained for festivals and celebrations, shooting bows and arrows from a standing position on their bulls and cows. The old retired elephant my friend was caring for went round to join in the show, lumbering towards the target and causing much laughter.
On the practical side, the website was easy to follow; the trip very simple to organize and the hospitality and welcome from the Elephant Team 'family' couldn't have been better.
As the village was mostly underwater when we arrived, we were housed at a good, friendly guest house in town which added another dimension to our stay. When the flooding receded we were able to use the very comfortable Elephant Village accommodation, their efficient air-conditioning and private hot showers with great water pressure and I can heartily recommend that to top off a visitor experience never to be forgotten!
I love animals and here I found many kinds. Every day  I played with the dogs: Buddy, New Year, Rak Chan, the pug. He is cute and smiles a lot.
I looked after Dok Maak who is 67 years old. And she is even older than my grandparents. We fed her pineapple leaves and grass. We washed her and offered her water. The best part is riding her to the river and getting wet.
The baby elephants are cute and lots of fun. I wrestled with them and played with their soft trunks and when I put my foot on the bar, they pushyed it off, stepped on it and put it in their mout. It was funny to blow  into the babies trunk and they would blow back. They pulled my shoe laces undone, and grabbed my flip flops.
I learnt many things about animal care from Michelle.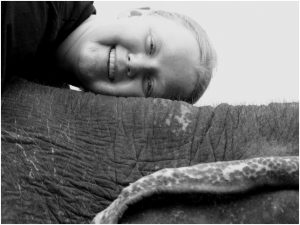 It was truly an honour to take care of Dok Mak for 3 weeks.   She is an astounding creature, with a wise and gentle nature.  As time went by she revealed more of her personality to me and, although she is the eldest elephant at the camp, she still has a funny wee cheeky side which I adored.
During my stay I got to know many more elephants as well as their mahouts and families that live and work at the village.  I very much enjoyed being welcomed into their community.  It's impossible to mention all the elephants but, I couldn't resist the babies, I simply fell in love with them all.  Their boundless energy and boisterous playful behaviour is just adorable.
Since childhood I have been infatuated with elephants and could only dream of knowing their true beauty, strength and spirit.  The Elephantstay turned dreams into reality and I had one of the most memorable experiences of my life.  Thank you Michelle, Ewa and everyone at the village who took care of me and ensured that I had a great deal of fun – sanuk maak ma!  I am counting the days until I return and in the meantime I have some wonderful memories to treasure.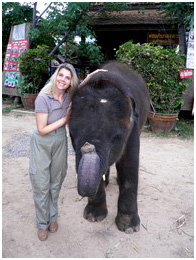 Fabienne  with Panlaan
I really would like to thank Ewa and Michelle for this wonderful and unique experience.
I received a very warm welcome on my arrival and was quickly immersed in the real work with the elephants.
During the four days I spent at the camp, I have learned a lot about elephant control and husbandry. I was also very impressed by the bond you can create with these magnificent animals.
The team is very professional and always cares about your safety.
I am planning to come back very soon and stay for at least one week. I already miss the elephants.
Je tiens vivement a remercier Ewa et Michelle pour cette merveilleuse et unique experience.
Lors de mon arrivee, j'ai ete tres chaleureusement accueillie et fus tres vite immergee dans le vrai travail avec les elephants.
Durant les quatres jours passes au camp, j'ai appris a controller, nourrir et soigner un elephant. Je fus aussi tres impressionnee par le lien que l'on peut creer avec ces magnifiques animaux.
L'equipe est tres professionelle et porte une grande attention a votre securite.
Je prevois d'y retourner des que possible et d'y rester au moins une semaine. Les elephants me manquent deja.
The vision of Lythongrien Meepan coupled with the enthusiasm and passion of Michelle and Ewa for the noble elephant made our 3 day elephantstay experience memorable.
My 2 daughters Steffi and Tilda who are 11 and 9 derived both an education and an experience they will never forget. We've hardly left and have still to explore the rest of Thailand and they want to return.
Before arriving I did have concerns about safety given the size of elephants and my daughters ages but from the time we arrived and even as they were perched high on an elephant's neck mahout style I felt they were completely in safe hands from the wonderful mahouts.
An experience I would recommend to anyone with a passion for elephants. The antics of the babies in the nursery were something not be missed. It's not cheap, but what price do you put on experience that is unforgettable and you have the knowledge that your money is going to help the plight of retired elephants in Thailand.