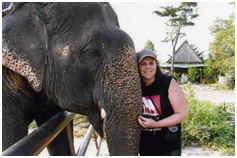 I booked to stay for 4 days in October, changed my flight home and stayed for 10 and still did not want to leave. I could talk for ever about my trip but I will try to keep it brief. Spending time at the kraal is a unique experience. When you arrive you are greeted by Michelle & Ewa who show you around, explain the program to you and what it aims to achieve. The accommodation is very comfortable and at the end of the day you drift off to sleep to the faint sounds of the elephants trumpeting with each other, what more could you ask for. Gik works with the older elephants in the program, she loves to have a laugh and helps make the visit fun and rewarding. Michelle, Ewa and Gik are very supportive and encourage you along the way, with all that support I achieved my goal of ridding on my own, and it was an amazing feeling.
I looked after Pissamy during my visit, she is beautiful and she won me over from day one. She is an amazingly kind, gentle and intelligent elephant, it's a privilege to be a part of her life and to have the chance to care for her. You have the chance to become the provider for these incredible animals, basically you are the career for them. It was amazing to see after spending time with her she would react when she saw me coming to her, going over me with her trunk and checking to see if I had a treat for her in my hand. To know that you have made a connection on a different level with your elephant is both emotional and life changing. I will never forget the night when she let me know that she had accepted me into her life. I think of her often and cherish the memories of the time that I spent together.
Spending the time with Pissami was an amazing experience but the most unforgettable thing I saw during my stay was the birth of baby number 30, a beautiful little boy named Kacha Tong, born October 26th. I saw this baby come out of the birth sack and take his first steps in this life and shared in the celebration of this wonderful event. I was memorised as I watch on, when he finally stood on his own I felt that I could breathe again. All births in the village are a gift as it helps ensure the ongoing existence for the majestic animals. I was able to cuddle him within hours of his birth, his mum Buanoi watching on with her mahout Em. These people spend so much time with the elephants it is truly amazing to see the bond and trust that is gained between man and animal. By the time the sun had risen this cheeky little baby was all ready interacting with the people in the village and making sure that he was the centre of our attention. I know how fortunate I was to see the birth and to be a part of it, not many people would ever get to see that, it was a once in a life time experience. As soon as I got home I started saving to come back next year.
To everyone at the Kraal and especially the elephant's thank you from the bottom of my heart for welcoming me into your amazing lives, this was the most incredible holiday I have ever had, wishing you all good health and happiness and look forward to seeing you when I come back.
If you have a love of animals and are looking for a holiday with a difference I highly recommend a visit to the Royal Elephant Kraal, it is not a tourist show, all the elephants are cared for every day whether there are guests staying or not. It is a real, it is unique, and it is a life changing holiday.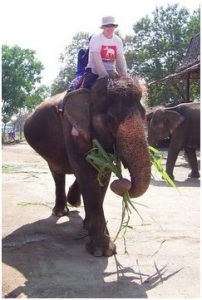 I was at Elephantstay for 4 days in December 2007, having been recommended to here by a friend who raved about her and her boyfriend's experience. Elephantstay provides a fantastic opportunity to get really hands-on with the elephants. I was given Dok Mak to feed, ride into the river, wash and muck out (even that was a pleasure!). The mahout Gik and project managers Michelle & Ewa were on hand to give help and reassurance, as I had never been near an elephant before, let alone ridden on one's neck.
It was amazing to learn many things, including the incredible amount of vegetation they get through daily, how bristly the hairs on their heads are (especially Dok Mak, whom I nicknamed the Woolly Mammoth), how nimble and controlled their trunks are, and how they love to splash about in the water. Being 'in charge' of such a large and heavy animal, but having faith in its good nature and willingness to go along with what you (or the mahout) would like it to do, but still retaining its own independence and unique personality, is a fascinating privilege.
Highlights were many, but I will always remember playing with the boy and girl calves born in October – so sweet, but already displaying quite strong and cheeky personalities; one of the mahouts trying to learn 'Jingle Bells' from Michelle, while on a walk back from the river; buying a plastic bag of fizzy drink each evening (as the kiosk holder wanted to retain the bottle to get the deposit back! – apparently this is quite common in Thailand, but was the first time I'd bought a 'drink in a bag'); helping the mahouts and other guests paint 3 very large elephants white for a special event.
A visit to Elephantstay can be viewed purely as a great holiday experience (and it was the highlight of my travels in Thailand), but it is so much more than that. You get to work alongside the mahouts and see the mutual respect and trust between them and their elephants. But most importantly you are able to contribute to the best possible retirement that these ex-working elephants could have. Being with them every day and seeing how they interacted with each other, and towards the babies, made me realise how incredibly social and intelligent elephants are.
I would strongly recommend being at Elephantstay for at least a few days, if not longer, in order to really get into the way of life and get to know your elephant and the people. These elephants, who could never survive in the wild, depend on our contributions and would have no future if it wasn't for the dedication of Ewa, Michelle, and the Thai people (especially Pi Om) who devote their lives to them. The Elephant Kraal is the exact opposite of a tourist-trap, and is a win-win situation for visitors, carers and most importantly these wonderful elephants.
Jenny's 2nd testimonial
During my first visit I bonded so strongly with Loong Sap (the elephant I cared for) that I didn't want to leave. I felt almost like I'd left my dog in kennels and needed to go back to get her.
I was able to return a year later & I'm sure Loong Sap remembered me! The old saying 'an elephant never forgets' is true!!
With Michelle & Ewa's guidance, working alongside the Thai mahouts, the elephantstay program delightfully immerses you in the lives of these villagers & their elephants. My elephant skills & knowledge increase with each visit.
The daily routine of feeding, cleaning and bathing the elephants in the river is never dull with new things happening all the time.
The antics of the youngest baby elephants provided huge entertainment to both us and the retired elephants we were caring for. Though they were only a month old, their personalities were very different from each other.
Now that I've re-visited & found everything has lived up to (or exceeded) my expectations I need to plan my next visit. I'd also like to take Thai language classes.
It's wonderful to know that something that gives me so much pleasure also benefits the elephants & the Thai community. This is the best Eco-tourism!
I first visited the Kraal in October 2006 and was hooked about working with the elephants. Michelle and Ewa showed me around and met various elephants. I was going to do 3 days but decided to do 5 days and it was the best 5 days ever. My elephant was Dok Maak, the old lady. She is adorable and looked after me from start to finish. She was my elephant. From feeding, bathing and mucking out you bond very quickly with the elephant . The staff are amazing, very helpful and encourage everything you do. Gik was my mahout and a big thank you to her. The food is excellent and the accommodation spotless and very comfy. I recommend anyone to do it. I was also very lucky to witness the birth of a BIG baby born and also greet into the world a baby girl. I will never forget touching both baby's, so gentle, so cute and so so priveledged. There are too many highlights to mention. Wishing all at the Kraal many more babies.
We visited Thailand in Oct 2007 for a few days to go to the elephant kraal as a stop over from Australia to Europe.
We were overwhelmed by the generosity of the local people, the sense of contribution we felt acknowledged for and most of all by the life changing experience of meeting and befriending the elephants.
From the moment we arrived Eva (and later Michelle who had been away ill) made us feel like a part of their family in the truest sense. Over the course of our stay the mahouts were incredibly generous with their encouragement and expertise and Gik was very generous with the hose, drenching us whenever we washed an elephant!
It was a humbling and moving experience in the presence of these sacred, majestic animals. We both shared a sense that we 'got' what the kraal was trying to achieve and were deeply moved by these amazing people.
A treasury of memories and feelings. Chong Kor is with us every day! We will be back no question.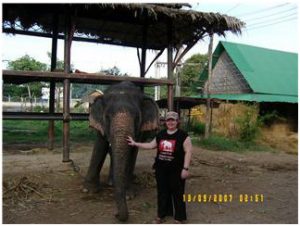 Just emailing to say thank you so much for having Kerry, Sally and I for an unforgettle experience. I had the best time and I can't wait to come back. I can't get over how amazing it felt to be able to ride and bond with the elephants (especially the cutest one Pissamay sorry don't know how to spell her name!) and I came back from my Thai holiday in awe of those amazing creatures.
Thanks so much for being great hosts and showing us a great time and really letting us get to feel like part of the elephant stay staff and be part of the village. You have a great bunch of people there and you are very lucky.
I have attached a couple of my favourite shots of while I was there and I can't praise you guys and the experience enough to the people back home. I would recommend anyone to do this program on a trip to Thailand….I don't think you could go to Thailand without doing it as that was the best part of our trip and probably even the best animal experience I have ever had in my life!!
You guys are awesome and thanks again, keep up the good work and have fun.
Cheers!
AN AMAZING JOURNEY – AUGUST 2007
My Husband Cliff, and I, (Jan) have just had the most amazing, and unforgettable 3 days of our 20 years of holiday adventures.
Our love for Elephants led us to this amazing place, not fully knowing what to expect, but hoping that in some small way we could contribute to the ongoing protection of these amazing animals.
On arrival we were met by Michelle & Ewa. These two Australians have a strong
love & commitment to the retirement program that is set up at the Kraal.
We were given an orientation  and  introduced to Dok Mak our elephant for our stay. Dok Mak is 80 odd years old, and we both fell in love with her instantly.
Before we knew it Jan was sitting on Dok Maks neck riding  her down to the river for her first swim of the day. The feeling of control as at a single word she would submerge underwater, leaving me chest deep was amazing, after frolicking in the river it was time to ride her back and ensure she was well fed.
We were then introduced to the 3 four month old baby elephants, who we quickly named the Three Stooges, due to their funny antics and constant running amok.
Our  responsibilities  were not only to Dok Mak and Roongsap, but also the the 3 mothers of the stooges.
Looking after 5 Adult Elephants and 3 babies was awesome, feeding cleaning up after them was not a chore but a privilege. To have this hands on experience is something we will never forget, and we intend to return to the Kraal on  every visit to Thailand.
Our long wish to travel to Africa is no more, as we believe we have found the perfect
way to not only enjoy our love for Elephants, but in a small way help to ensure this program is a success.
Later, on the first day we sat and watched the 3 babies playing and  with Michelle and Ewa discussed our experiences, before sitting down to the first of our beautifull Thai meals.
We also walked Dok Mak to the River and watched her frolicking for over 30 minutes without the restrictions of us being on her.
This was without doubt one of the very treasured times we will keep forever, especially when she constantly turned to check if we were still there.
We have 2 hours of video and over 400 photos to remind us of our experience.
We would urge anyone with a love or interest in Elephants to visit the Kraal, and not only enjoy an amazing experience, but in so doing help this great cause.
To Lythonglian Meepan & his family for the dedication to the retiring Elephants, and your vision for the future we cannot praise you enough. This Retirement Program should receive World recognition
Finally, to Michelle and Ewa,
Thank you so much for your friendship, help and never tiring of our questions.
We will return, and a large reason for that is the time you have taken to ensure our stay was everything we could possibly ask for. Hopefully next year we can bring over some Vegemite and a few drinks. Please say hello to kik for us ( we miss her cooking )
Wishing everyone at the Kraal all the Best
All our Love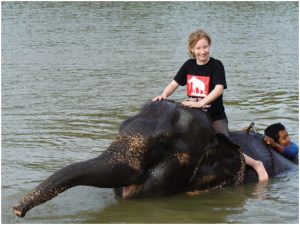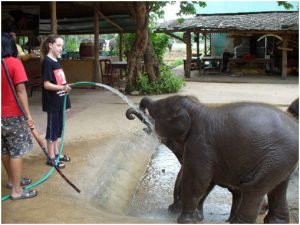 We stayed for 3 days in August and we thought it was one of the best experiences of our lives. Everyone who worked there was friendly and the food was really yummy. Michelle and Ewa helped us whenever we needed it and the mahout looked after us when we where on Rum Roy.We couldn't believe we were able to ride an elephant into the river and get soaking wet without falling off. It was fun telling the elephant to put its head under the water and the elephant was probably having as much fun as we were. The baby elephants were cheeky and we really enjoyed playing with them. We were amazed how much elephants eat and the pineapple leaves were really prickly. But we loved it when the baby elephants played with the wheels of the food trolley and wouldn't let us push it. It was such a great time that we didn't want to leave.
Michelle and Ewa, Rob and I had the most wonderful time. It was an experience that we'll never forget. I've been at home for 3 weeks now and am still telling anyone who'll listen about my time with the elephants.
I do have to admit that I was a bit concerned as to how I would cope with the physical aspects of the day. To anyone who is thinking about not going because they think their too old or not fit enough don't worry about it, you'll be fine. I'm 42 which I don't think of as old but I do have some health problems. I've got mild arthritis in my hands and feet and I have an inner ear problem which affects my balance and hearing. None of this was an issue, except the hearing. Was it any wonder Chong Kor wouldn't duck under the water when I asked. I was saying the wrong words! I really should have read the manual but I was so excited I had the concentration span of a gnat. When I was struggling to get onto Chong Kor because my hands were tired Ewa came to my rescue with a good shove which had me up on Chung Core in no time. I will admit that I did feel unsteady when we rode to the river but at no time did I feel like I was going to fall off. I would hate to think that someone would miss this experience because they're worried they won't be able to manage. If there are things you can't do they'll be so many other things you can.
Surprisingly my favourite part of the day wasn't the ride to the river, although I did enjoy cooling off with ChongKor.  The best part of my day was being trained by Chong Kor to peel her corn cobs for her. Yes she is perfectly capable of doing it herself but if you've got someone willing to do it for you why not make use of them. I would be peeling as fast as I could and Chong Kor would send an enquiring trunk towards me if I wasn't getting it done fast enough. How patient and gentle she was waiting for me to hand the corn cob to her. My other favourite part was playing with the babies but who wouldn't love a baby elephant! It still makes me smile when I think of one of the babies running back to the security of Mum.
Rob really summed up our feelings when we were leaving. A huge thank-you to Michelle and Ewa without your hard work and dedication we never would have had the opportunity for this experience. It was relaxed in structure and at no time did I feel that a show was being put on for my benefit. I think I smiled the whole day. I woke up the next day tired, extremely happy and a little bit sad that it was over. A day was too short and we're hoping to come back for a week next time.
Wishing everyone at the Elephant Kraal all the very best.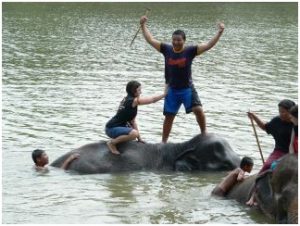 Our family stayed at Elephantstay in April of this year.  My husband Mark and I had travelled to Thailand 20 years before and rode elephants in Changmai.  This was our 20th wedding anniversary trip and we wanted our three girls to experience Thailand like we had.  We knew this would be difficult as Thailand has come along way tourism wise in 20 years.  This was our girls Jordyn 16, Kelsie 14 and Ellie 11 first trip overseas.
The visit to elephant stay was our first stop.  We had planned to stay only 2 days.  I was very nervous about taking our daughters there.  Although I absolutely love elephants I didn't know how safe it would be.  I was worried about our belongings, if we would get sick from the food and water or how well the elephants were looked after.
I can now tell you our stay there is the ABSOLUTE HIGHLIGHT  of our holiday, and we were away a month in Thailand and Malaysia.  Only yesterday my 14 year old daughter Kelsie told me it is the highlight of her life and she is saving madly to go back.
Our 2 day stay turned into 4 days and if our kids had their way we would still be there.  We caught the train from Bangkok to Ayutthaya for 20 baht each.  It took an hour and a half.  We then stayed at the Ayutthaya Hotel, which was lovely.  The next day our taxi took us out to the elephant kraal.
Michelle & Ewa made us feel at home straight away.  They showed us to our huts, which were such a delight.  They were clean, comfortable and air conditioned.  The rooms also had a lockable drawer for passports etc and a lock on the door.  Not that I felt the need as the Thai people living in the village are the most lovely people and very trustworthy.  We then went and met our elephants, Dok Maak and Joncore.  Next thing we knew the girls were on their elephants and riding down to the river. This was just the most amazing thing to see although (always a mum)  I did say to the girls "don't put your heads under the water".  What was I thinking.
By the next day the girls had met most of the kids in the village.  When we went down to the river that day the village kids bought their elephants down to the river. There was a lot of pushing, jumping and dive bombing off their elephants and our girls were right in the thick of it, under water and all.  That day we also met the Mahouts (elephant trainers) Doi, Yah and Ny and their magnificent bull elephants Nga Tong, Kotchalaat and Ging Gaeo.  Kelsie helped paint flowers on their elephants for a parade in Bangkok the next afternoon.  The girls also helped them sceenprint flags for the parade.
On our third day after we had cleaned the night spots for Dok Maak and Joncore, Mark and the girls helped the Mahouts do the poo collection for the rest of the working elephants.  Their reward was that Doi, Yah and Ny took them swimming on their bull elephants.  Doi took Jordyn food collecting on his bull elephant (see picture attached). The memory of that day will stay with me forever.  These huge gentle giants and their shy, quietly spoken Mahouts and my three girls.  Even now as I am typing this two months after our return I have such a longing to go back.
When we first arrived Michelle and Ewa asked us THE question " What do you want to get out of this experience"?  I think I said something like "the thrill of learning about and riding elephants".  We got so much more.  The elephants themselves were just amazing and magnificent.  The interaction between the Thai people in the village and our family was overwhelming and we are so grateful to them.  Thank you Michelle and Ewa, you ensured that we had the most fabulous and safe experience.  Thank you to Kik and Jack for looking after us on the elephants, and Kik you are the BEST cook on the planet.
To Doi and Yah thank you so much, you guys are amazing and we miss you heaps. To Ny thank you for taking Ellie on Ging Gaeo, he is the most gorgeous little bull elephant.
To anyone reading this I say take your family to Elephant Stay, it is completely safe. Your kids will love you forever.  It is a truly a life changing experience.  Our family bonded closer than any other holiday we have been on.
We hope to get back soon.
Cheers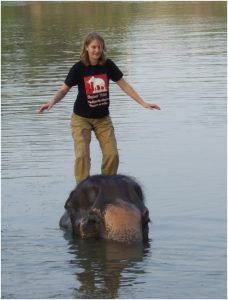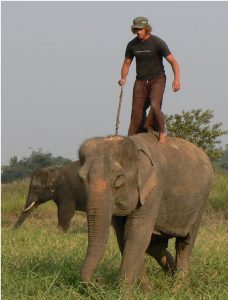 We have had an exciting start to the new year with our first elephant team member Sheena Wilson aged 14 the first person to stand on her elephant in the river. Congratulations. It has been so, so so amazing! This is the best holiday I have and will ever have been on (except for when I come back of course) Anyone who does'nt do this is absolutely totally insane!!!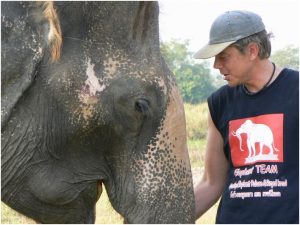 "Tonight, I was given one of the greatest gifts of my life. My time with Loong Luen till now had been a gradual knowing and learning of each other. Day by day we each had taken small steps of understanding of each other and it seemed we had become one with an idea of companionship and care. Tonight however, I received the gift of an insight into her true personalilty and expressions of friendship. On this warm and balmy night Loong Luen gently made her way towards me, nudged her way to be by my side and rested her eye just inches from mine. With none of the previous embarrasments evident she allowed herself to stay close and gently lean her head onto mine. She wasn't rushed and allowed herself the time to use her trunk to explore and record my scent. It seemed however that there was more to this moment than just an exploration of my scent which I imagine she could do with a passing sniff. She held her gaze on me and allowed me to gently stroke her tongue and hold her in a loving way. So scared was I to break this moment that I barely made a sound other than to softly reassure her with the loving term, err err…. There was a warmth to her I could never have imagined and gentle kind of caring I felt so priveledged to experience. We held each other for about 10 minutes and then she clamly went back about the business of a late night snack of pineapple leaves.
I thanked her for sharing herself, said goodnight and wandered off to bed. Whilst weary from the days events of work and play, there was no chance of a restful sleep as I realised that one of the worlds most beautiful, complex and sensitive animals had just offered me an expression of friendship and closeness. She had done so willingly and in the most gentle way imaginable. I feel so lucky to have known this moment and that Loong Luen chose to share herself with me. Truly it was one of the most amazing moments of my life"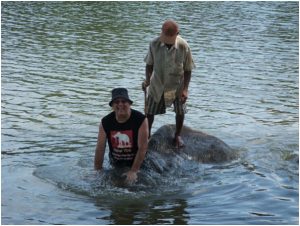 This place is terrific.  If you feel strongly about elephants, and let's face it who doesn't, here is the place to be. Your own elephant for the whole time you're there. An inspired idea. I've come away from it enlarged emotionally in so many ways plus now numbering among my friends a beautiful elephant. You won't find this anywhere else. What meant too much to me before has  assumed its rightful place. Chong Khor helped me put mine back on course by giving me a sense of proportion about what is important. Michelle and Eva were great. Accommodation ditto and the smaller non-human company, hi Buddy, Little Girl and Bhom a pleasure to be with. If I'm spared I'll be back.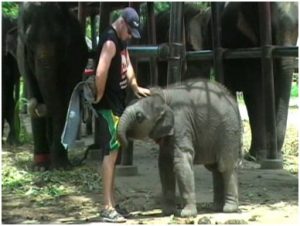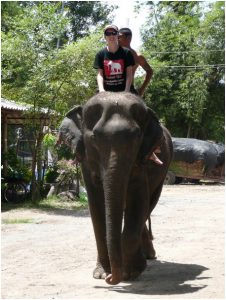 AN ELEPHANT NEVER FORGETS AND NEITHER WILL YOU!
So, you're thinking about taking an overseas vacation. You keep hearing good things about South-East Asia, but you can't decide exactly which one of the many beautiful places you'd like to visit.
So, being the "happy-go-lucky, float like a plucked chicken feather on the breeze and go where life takes me" spirit that you are, you throw a few darts at a map of the region to narrow down the field of potential destinations. But after watching your first two darts land in the middle of the Indian Ocean, many nautical miles away from the nearest land mass, and the third one hitting the wall and falling unceremoniously to the ground, you abandon this technique and eventually book a trip to Thailand. Congratulations – wise move – you'll love it! But now what?
Apart from having the odd takeaway from the Thai restaurant down the road (and finding out how hot is too hot) you know very little about your chosen holiday destination, and thus have absolutely no idea what you are going to do once you're there. So you speak to a friend that knows someone who knows someone who's been to Thailand, you flick through a  dozen or so travel brochures and somewhere along the line you hear about this place where you can literally work, rest and play with elephants.
Being someone who loves all creatures great and small (in varying degrees, understandably) you hit the Net to find out the "who, what, why, how, which, where, when's" of this place and Hey Presto! here you are at ElephantStay.com (Either that or you've ended up at this website accidentally after misspelling a search for Eleventh Day, whatever the hell that is, sounds like some kind of cult)
In any case, here you are reading all about Elephant Stay and you're thinking that it sounds like something you really want to do. From someone who has recently been there and done it, please trust me when I say that you are now just a few mouse clicks away from booking yourself into an amazing experience that will remain in your memory and in your heart forever.
My name is Ben and I live in Brisbane, Australia. (Jimboomba to be exact for any South- East Queenslander's that may be reading this) My wife Niki and I travelled toThailand in September 2007, for our honeymoon vacation. We spent 3 days at the Elephant Stay kraal and the things we did whilst there and the people we met made this the best part of our trip by a long way. Bangkok was amazing, a real head spinner, Phuket was beautiful, but nothing we did in Thailand (or anything we've done anywhere else we've been for that matter) could match our time in Ayutthaya. I would now like to take this opportunity to share with you some of our reflections of our time  in the village and make my best attempt at convincing you that the Elephant Stay experience is something you absolutely MUST DO while you are in Thailand.
1) THE ELEPHANTS:  I'll assume that you are an animal lover, and that elephants feature prominently on your list of "Animals I'd Like To Get Touchy Feely With." However, you may be thinking that you've already had some amazing animal encounters and so you're not sure if there's anything mind-blowing left to do.
You've been to a few circuses and seen a few animals doing a few clever tricks. BORING! You've been to open range zoos all around the world and seen a variety of creatures doing their thing in a semi-natural environment. BORING! You've swam with dolphins, held a koala, fed lions. BORING! You've been mauled by a bear whilst camping in a national park. BORING! Trust me; I strongly doubt that you have had an animal encounter like Elephant Stay.
You may also be thinking "Yeah ok it sounds kinda cool but I'm tired of just looking at animals from a distance – I really want to interact with them, to touch their skin, to feel their breath, to get up close and personal."
Well, how can I put this… Unless you can figure out a way of turning yourself into one of those little birds that pick ticks and lice from the ears and nostrils of large herbivorous animals, which is, let's face it, not altogether impossible but highly unlikely, you will never have a more up close and personal experience with elephants than you will at the Elephant Stay kraal in Ayutthaya.
With the expert help and guidance of a mahout (an elephant trainer/handler/guardian) you will be walking right beside elephants, you will be climbing all over elephants, you will be sitting behind an elephant's ears, riding it down to the river for its daily dip in the river – which somehow turns into a dip for you as well. The zoo you went to didn't let you do any of those things, did it? During your time at Elephant Stay you will also play an integral role in the day to day care and husbandry of these amazing animals. So, if you want to have a personal, interactive encounter with elephants then Elephant Stay is DEFINITELY the place for you. You'll see what I mean when you are sitting on an elephant's back with a hose in one hand and a scrubbing brush in the other.
2) ACCOMMODATION AND FOOD: If you're the kind of person who likes to have your toenails pedicured and a mud mask done while your sitting on a gold plated bidet, then there is a chance that you might be slightly underwhelmed by the accommodation at Elephant Stay. But then again, how many 5 star hotels can boast that they have elephants wandering around the grounds? The huts at elephant stay are clean and comfortable. Yes there is electricity and air-conditioning, hot water and a proper toilet. Ultimately though, the huts are just somewhere to sleep at the end of the day – if you're spending too much time in them then you're totally missing the point. So the lodgings get a tick from us.
Now, the food. Before your trip to Thailand, at least one well-meaning person will sit you down and warn you about "the food over there." (This person may not have even been to Thailand, but will tell you that they've seen a lot of salmonella stories on those current affairs shows) By the end of their lecture you may be so worried about the issue that you vow to consume only bottled water and dry crackers while you're on vacation. But the meals we received during our time at Elephant Stay were made fresh to order with the best organic ingredients and were absolutely delicious. AND nobody suffered any side effects. Whether you're vegetarian or carnivorous, whether you like your food spicy or mild, your individual preferences will be catered for. Admittedly a steak burger and fries might be a problem, but why eat Western food when you're in a village in Thailand? Bottom line is, the food was so good at Elephant Stay that we thought about going bulimic just so we could taste it twice. The phrase "Taste bud Orgasm" comes to mind.
3) THE VILLAGE PEOPLE: No I'm not referring to the sexually ambiguous pop group who were huge when Disco ruled the world. I'm talking about the people who live and work in the village that Elephant Stay calls home. So friendly, so happy, so helpful. Everywhere you go you will be greeted with a nod, or a wave or a smile or a "Swat Dee Krub" (which means Hello in Thai – but you'll pick up some of the language during your stay). For all the comforts and privileges and material playthings we have in the Western world, how many of us can say that we live in a place where you feel like part of a community? Where strangers smile and wave and appear genuinely happy to see you. When we first heard about Elephant Stay we wanted to go for the elephants. But at the end of our time at the kraal, we wanted to stay for the people. You'll know what I mean once you're there.
4) THE COST: Trying to keep the purse strings tight?  Concerned that after stocking up on an Imelda Marcos sized shoe collection in Bangkok, a couple of days at Elephant Stay might blow out your holiday budget? Well for the experience we had at Elephant Stay, we found the price more than reasonable. Once you've been there and done it, I'm sure you will agree. But if you still need some convincing in the meantime, try to look at it this way: Your money is going to a fantastic cause. The legacy of your financial contribution will go on long after all those shoes have fallen apart.
If you max out your credit card on souvenirs and trinkets instead of going to Elephant Stay you're going to be paying interest. Some portion of that interest will go towards financing the retirement of the Bank's Chief Executive Officer. Whereas, if you withdraw some cash and get yourself along to Elephant Stay, any money you part with will be directly contributing to the happy and fulfilled retirement of a heap of beautiful elephants.
Now if you compare one of these elephants to the CEO of a bank, you will see that the elephant is an endangered species, whereas the bank CEO appears to be a protected species; the elephant has a warm, magnetic personality, whereas the bank CEO has the personality of a half eaten prune, and finally, the elephant has a kind and loving soul, whereas the bank CEO does not have a soul. So, with these facts in mind, whose retirement fund would you rather contribute some money to?
Unless you happen to be a bank CEO, surely you must have chosen the elephant?! Forget the budget, go a little crazy, you'd only spend that money on stuff you don't need, you're not going to miss it that much.  In the short-term, your savings account might dip a little, but in the long term you will have amazing memories that will stay with you long after the dodgy tattoo you'll probably get in Phuket fades away.
So there you have it. These are some of the reasons we loved our Elephant Stay experience and why YOU should go there too. We were genuinely sad to leave, and we still miss the elephants and the people and everything about life at the kraal. But we will return one day.
In the meantime, we hope that you decide to go there and experience it all for yourself, especially if you are already thinking of going to Thailand. Ultimately, the way we see it, going to Thailand without experiencing Elephant Stay would be like going to Paris without seeing the Eiffel Tower. Like going to Rome without seeing the Colloseum. Like going to Scotland without seeing the Loch Ness Monster. (Ok, ok, so 98 percent of people who have been to Scotland haven't actually seen the Loch Ness Monster, and the 2 percent who say they have also claim to have been abducted by aliens at some point in their lives, but you get the drift!) REMEMBER: An elephant never forgets and neither will you! We certainly haven't.
Hello and thank you to Michelle and Ewa and all the people we met in the Village. Swat dee krub, korp kun krub and chok dee!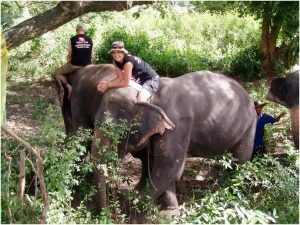 I recently returned from a month long trip to SE Asia. I saw a lot in that month. Beautiful beaches in Thailand, amazing tetemples and Buddhas in Cambodia and beautiful countryside in Vietnam. But what constantly enters my mind when rereflecting on my trip is my stay at Elephant Stay. I was fortunate to be there for three days near the beginning of my trip and decided to return for the last three days of my trip. It is indeed a inspirational, spiritual and magical place. I never thought I'd return home with a piece of my heart still in Ayutthaya.
The elephants were amazing. To be able to interact with them was life changing. The way I want to describe it is what I miss and long to go back to. I miss waking up in the morning and walking out to see what the three, three month old babies were up to. As was every morning, (and all day really), they were playing with each other, getting into things and if I was lucky, and I was, at least one of them would come over to say hello, maybe give me a little nudge and want to play. I miss them taking my hand in their trunk and putting it in their mouth, as they were teething and just wanted something to gnaw on.  I miss them charging at me to play, me letting them go by, just to have them charge after me again. I miss watching them play in their pool as they love the water. I miss the mamas and other elephants that we were assigned to, grabbing food from one of my hands with their trunk, putting it in their mouth, and then grabbing the other handful. What polite beings. I miss getting on my elephant, taking a walk to the river twice a day and going in for a dip. I miss tapping on her head and saying the command while in the river which tells her to put her entire head under water. I miss getting wet as well and washing her head off as she does this. I miss taking the elephants to the bath area, grabbing a hose, spraying them down or grabbing a brush and scrubbing off the dirt and dead skin, our own exfoliation if you will. I miss the constant walks over to where the girls hang out to make sure they have enough pineapple leaves because my elephant can't go hungry. I miss finding a pineapple in the big pile of leaves and bringing it over to my elephant and watching her methodical way of eating it. Believe it or not, I miss cleaning up the night area where you rake and sweep up leftover leaves and the biggest poo I've ever seen.
I was lucky enough be there one day when we took our elephants across the river to let them graze. Since you can stay on them the entire time, it just gave you more time to be at one with her. I miss literally crossing the river (in the water) with them only to laugh at the one mahout who couldn't get hers to cross and had to take her back up to the road to cross on the bridge. I miss watching the mamas especially, who would rock back and forth because they wanted more food. I miss being able to go up to pretty much any of them and give them a love tap on their trunks and say hello.
Besides the elephants, I miss the people. Michelle and Ewa I am proud to say have become my friends. They always made sure I was happy and fulfilled and apologized if a planned activity didn't take place. But that's the way it is at the Kraal. It is not a tourist site, although people can come buy, take some pictures, feed the gentle giants and be on their way. It is real life as I found out and every day is different which makes it exciting. I miss Kik and her smile and her kick ass curry. She made some curry for dinner one night which was the best I had on my trip. I miss Mei Toi, our little housekeeper. Her laugh and smile make me smile and when I returned for the second time, she was grinning from ear to ear and would laugh every time I saw her. I miss the mahouts, especially Toi who let me ride his bull to the river one evening after coming back from his work day. As we took him to his spot for the night, Toi started singing Beatles songs. Me and a mahout on top of this huge elephant singing "Love Me Do". Classic.
I miss the lunch lady who came by everyday and made soup or a noodle dish of our choice from her cart. I miss the visits from the ice cream men, the slushie man and the pancake man. I miss Buddy the dog and Lil Girl who I know just love the environment they live in. I miss walking to the little store and getting snacks and beers for my stay.
I miss most of my free time just watching the babies play and wish I had my video camera to roll tape.
I miss Loong Luen, who was the first elephant I was assigned to who unfortunately passed away at the age of approx. 65 the day after I left. I am proud to say I was the last guest mahout to ride her. She was very protective of me, holding her ears close to my legs so I wouldn't fall off. I went back to see her the day after I left and she had that odd burst of energy one has before dying.Michelle was kind enough to take a picture of me and her that I will forever treasure. She standing in the field with me next to her, just happy that she was up. Little did I know that she passed on just a few hours after that picture was taken. As Ewa reminded me, at least she spent the last 12 years of her life at the Kraal being loved. She had a very hard life before that. So that is why I returned for my last three days. All of the above, plus it was familiar, fun and after shedding many a tear the first time because of Loong Luen being sick, I wanted to laugh, smile, play with the babies and spend more time at what has become my home away from home. Thank you Michelle and Ewa for your hospitality. You know I will see you again. And for those of you who are now intrigued by this magical place, go. I guarantee it will be the highlight of your trip.
Peace,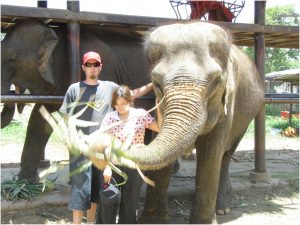 I don't even know where to begin describing the magnitude of the work the dedicated people at Elephantstay are doing in the name of conservation and providing a self-sufficient sanctuary for these beautiful elephants to live in.
We spent four fabulous nights at the village and can't wait to return in the future. One of the things we enjoyed so much about our stay was that we felt like we were only a small part of what goes on in the village and not the primary objective. The village has a very relaxed vibe and we were largely left to our own devices in between taking the elephants to the river and washing them at certain times of day. It could have been a scenario where you step off the bus and are immediately ushered to a show followed by structured activity all day. Michelle and Ewa have thought about what people would benefit from and gave us a lot of time to take the village in and observe the behaviour of the elephants that surrounded us.
Elephants are very intelligent and sensitive creatures, requiring stimulation, and having something to do during their prime years makes them happy. They are treated with love and well cared for at the village. When the mahouts come back to the village of an afternoon from a day of work with the elephants, they practice training their elephants in a field nearby. Some of the stuff they get their elephants to do is amazing and one cannot help but respect the connection the elephants and mahouts share.
Spending time at the village is a very worthwhile and enriching experience and one that we cannot recommend highly enough. We can't wait to hear dear old Loong Sap's gentle rumble again soon! Oh, and the babies are to DIE for!
I wish I would come back (to see the elephants again) I love the elephants because they have so much horns (tusks) I want to send you a picture of an elephant. Thankyou – CLYDE 3 years
I had a fantastic time with Ewa and Michelle and the elephants. My favourite bit was riding the elephants into the river. I really loved how they did stuff with their trunks –STAN 6 years
I had a brilliant time at the elephant stay: riding, scrubbing, feeding, mucking out the stalls of the elephants. The baby elephants were were so cute especially when you went up to them and they reached out their trunks to grab you. It was amazing just experiencing the life of the locals (mahouts etc) who lived in the elephant sanctuary. I loved riding the elephants but my favourite thing was playing with the baby elephants – RUDI 10 years
Being at the elephantstay was a revelation. The unique experience of getting up close to elephants inspired deep respect for them. They are extraordinary animals full of grace and intelligence. – and the amazing things the can do with their trunks! The elephant stay project – allowing elephants to retire – provides visitors with a rare opportunity for closeness with these amazing animals whilst contributing financially to their ability to end their days in sanctuary. Ewa and Michelle have the amazing capacity to make very one fell at home and are the perfect hosts. Their dedication and belief in the project is unwavering and this is reflected in their close relationships with the elephants in their care. We had 3 small boys with us and their needs were beautifully catered for. I can't recommend the elephant stay highly enough. It was an experience of a life time.
I recently had one of those life changing moments on my trip to Thailand in April 2007 and i know it will stay with me for many years to come. At first I was a bit reluctant to stay and care for elephants, not because I didnt want to share this experience with my partener but …. 15 years ago I suffered 2 major anurisms, the first paralized my left side, the second one week later,  my right and the usual face drop and loss of speach come with it. This kept me in hospital for 3 months and off work for a future 12 months, I have been left with some residule lack of use of my right side and spestisity etc. etc..
You would think after all this I would choose a more relaxing hoilday ….. But NO !!!.
However my stay in Ayutthaya at the elephant stay was AMAZING. The girls, Michael and Ewa that manage the stay could not have been more obliging and helpful. Nothing was a problem (and I mean nothing ).
By the end of my stay I became a man who no longer was going to let fear stop my life experiences.
The warmth and tenderness these large creatures give ……… the gentleness and security they show you , as you basiclaly live with them on a day to day basis is an experience I think everyone should allow themself, at least once in their lifetime.
I can only say if you plan on travelling to Thailand and dont allow yourself at least a few days to live with the elephants you will be short changing yourself in life experiences.
Girls ……….. I'll be back
OMG, what an amazing experience I had at Elephantstay! Julia and I were met on arrival by Michelle and Ewa and I immediately knew I was going to have a fantastic time. These girls are the best! I had such an amazing time I actually postponed my flight twice!! I'm also booked to return in April!!!
Learning to care for and bond with Dok Mak has left me with such admiration for these beautiful and extremely intelligent animals. The elephants and the people get right into your heart.
A huge thank you to Pi.Om and his family, as without his vision this would not be possible. He is a great man and I have such high regard and respect for him and for what he has done and for what he is doing. There are just so many wonderful people at the camp who helped make my stay so enjoyable and fun. Particular thanks goes to Michelle, Ewa, PD, Jak, Pi Khao, Jen, Gik and of course, my dear old friend, Dok Mak.
The Retired Old Elephants program is truly worthwhile and I strongly encourage everyone, young, old, fit and unfit to do this experience. It will be one that you will NEVER FORGET!!!                       
PS You'll love Gik's fried rice … a-roi!!!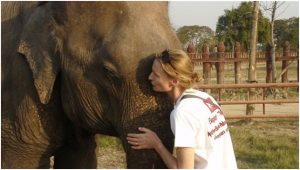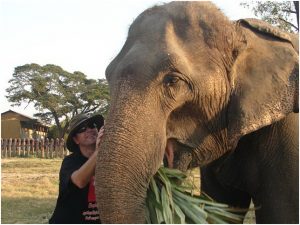 We have to let you know that your program was SO WONDERFUL and WE LOVED having our elephants for our 3 day visit- l can't look at pineapples anymore without thinking of those gorgeous girls that were ours for a wee minute of their long lives.
Thankyou both so very much for providing such a wonderful, fun, interesting, educational and happy environment for all to enjoy, you both are doing more than you know not just for the elephants and mahouts but for any of us fortunate enough to spend time at the camp.
We do hope to visit you all again on one of our future trips, now that we know how accesible you are and we hope both Jonkowe and Garanga are as beautiful as ever!
Like to see more testimonials: