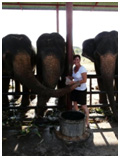 I participated in the Elephantstay in November/December last year. It may have taken a while for me to get this testimonial done, but the time lapse certainly hasn't dimished the fond memories I have of the Elephantstay.
It certainly is a unique experience and one I will treasure for a lifetime. It was one of the best holidays I have ever had. It 's fantastic to be able to go and watch the elephants anytime you want. To watch the then "little" six week old Opal was a joy. She was an endless source of amusement and sooo very cute. The recent births of elephants here in Australia, has allowed me to relive some of the fond memories from Elephantstay.
There were many experiences I had in my week long stay. The days were filled with raking, feeding, watering, scrubbing, food preparation and of course…riding…  It was great to relax at the end of each day, by grabbing a beer and watching the  mahouts and bull elephants practice for the sound/light show. It was spectacular to see the mahouts and how they interacted with their eles. Spectacular sunsets too!  Oh and of course the food, now that is Thai food!
I knew that I would be sad when the time came to say goodbye to my elephant, Pisamy, but I didn't expect it to be as emotional as it was.  Looking into her eyes, hugging her trunk, giving bananas as a special goodbye treat…
Since being back home I have had many opportunities to tell fellow travellers of the experience and hopefully have encouraged  at least one person to try this experience.
Life goes on and the next travel experience is awaiting, but the Elephantstay is truly a unique and wonderful experience.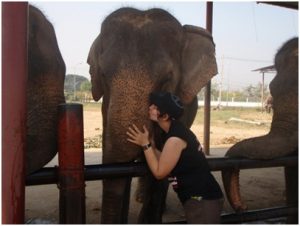 I arrived at the Royal Kraal with my partner on Christmas Eve 2009 and from the moment we got out of the Tuk-Tuk I knew we had arrived somewhere special. The concept behind the Royal Kraal and the Elephantstay is nothing short of amazing. Everywhere you look the Village is teeming with life and love. From the children playing in the giant mounds of cornhusks, the fish in the flowerpots, the dogs taking respite in the shade and the mahouts with their families working and living with the Elephants. The harmony the Kraal has created is magical and breathtaking. The strong peaceful feelings of happiness and affection saturate the entire Village and anyone who allows them self to see the beauty, understanding and respect of the Kraal.
Staying with the Elephants had so many remarkable qualities, being able to bond with an amazing creature such as Honey was priceless. I felt deep satisfaction as I tried my best to provide for her emotionally and physically through cleaning, feeding, shoveling and caring. I was actually thrilled to shovel her rather odorless and not so messy waste on Christmas morning! I guess it's a little odd but I wanted to show my admiration and care for Honey in anyway I could.
I feel so unbelievably lucky to have had such an amazing experience. Honey allowed me see the world from her eyes and stirred within me this electric rush of life and wonder. Sitting on top of Honey had a euphoric sensation that completely overwhelmed me. The tranquility and peace that I felt perched behind those powerful ears looking out onto the horizon is a feeling I will never forget or cease to cherish.
My time at the Kraal was short but the impression it left upon my heart was great. I will never forget this thrilling and enchanting experience. It was the best part of my trip and one of the most significant experiences I have had. I know that I will be back again hopefully sooner rather than later! Thank you so very much, Ewa, Michelle, everyone at the Kraal and Honey.
See you soon!
Much love from Canada and Japan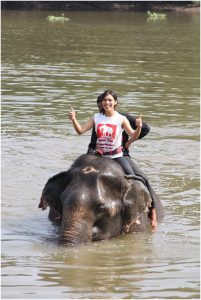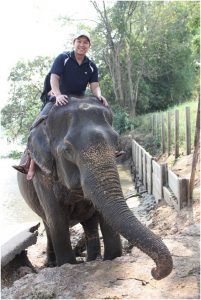 The elephantstay was a most worthwhile experience and a highlight of our trip to Thailand. The bond and progress and we made with Gatin was amazing, 7 days is a must.  Special thanks to Michelle, Ewa, Toi, Neng and the other mahouts for giving us a fantastic time. Who thought shoveling poo all week could be fun?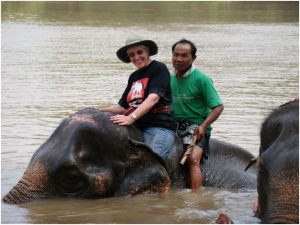 I spent a week at Elephantstay with a friend October 29 through November 4, 2009. The experience was wonderful and unforgettable. I recommend it without reservation to anyone who doesn't mind getting hot and sweaty and dirty.
Elephantstay is located in a small village just a mile or two outside of Ayutthaya. (We visited Ayutthaya for two days before going out to the village. It is a nice old city with wonderful ruins from the time when Ayutthaya was the capital of Siam. We stayed at the Luang Chumnii Village which I recommend highly.) The elephant village. . is made up of 55 mahouts and their families, maybe three or four hundred people, ninety elephants, dogs and cats, chickens, an african lung fish with a turtle in a very large tank, and a monkey with just one arm and his very own. . pet rabbit. Oops, there are parrots, too. There is a covered open-air meeting area, a small restaurant (also covered and open-air), several small houses for guests, a main house where the owner lives, a large elephant spirit house, and houses throughout the village where the mahouts. . and their families live. There is also a small store down the road where you can buy snacks and bananas for your elephant or for yourself. There are orchids and beautiful flowers and foliage growing all around, and, of course, there are elephants everywhere! The housing for Elephantstay guests is simple double rooms, very clean, and well air-conditioned. Each room has a bathroom that is outside and downstairs, not at all hard to get to, and also clean and nice.
A lovely old female elephant Seenuwang was assigned to us for our care. First thing in the morning we cleaned the stall where she stays with eight other elephants, fed her, and then had breakfast. Sometimes in the morning we washed an elephant, and each day there was a walk to the river in the morning to cool Seenuwang and the other elephants,, because it is hot and elephants don't sweat. The walk to the river involves riding on the elephant which for me was not completely comfortable, but not so bad that I didn't do it. (Elephants are very tall and you're way up there when you're on their backs.) A very friendly mahout was with me on the elephant. Walking into the river was fine. I was very comfortable with that. After lunch there was a little break and later we helped make food for the older elephants. Making the food was a dirty and hot job. I was glad I had brought an old pair of gardening gloves to wear during that operation. After the food project, there is a second ride to the river. I started feeling a nice connection with Seenuwang by the second day. She is just very nice. I got comfortable right away with being around those big animals. I was surprised.
Lunch is served in the open-air restaurant. There are ten or twelve items to choose from and they were all very good. Dinner was served buffet style in the open-air meeting area. Several different dishes were brought, usually some coconut milk kind of soup, vegetables, vegetables with tofu, chicken or fish and lots of rice. For dessert there were slices of watermelon, papaya, and pineapple. All very tasty.
For me being with the elephants was very special. Also very special was just being a part of the village. I felt very welcome and I appreciated how friendly all the people are. It was wonderful to participate in an activity, caring for the elephants, to which everyone was dedicated. The spirit of the place is very special, and it was great being surrounded by elephants all the time. During my visit there were two special events, a visit from the Japanese ambassador and a group of travel agents and a visit from the Harley Davidson club. In each case the elephants were dressed up and paraded around in all their regalia. When the Japanese ambassador was there they held a demonstration of the ways elephants were used in ancient times fighting in wars. The Harley Davidson club supports the elephant rescue efforts. There were also demonstrations of elephant painting.
So if you like animals and you like people, go for it! Elephantstay is a wonderful experience. Ewa and Michelle are very special.
PS You don't have to be young to do this. I am sixty-four.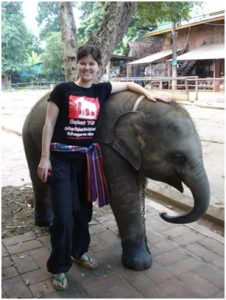 Five weeks after my wonderful stay at the Elephant Kraal and I still think about it everyday! I had been really excited about looking after elephants and it turned out to be so much more than I could have imagined. I looked after one of the 'young girls', Nampueng (in my head, it's 'Nampoon'), and I still smile when I think of all the fun we had playing in the river, marching through the trees and teaching her mahout,. . . . . Tia, the elephant song from the jungle book! When you get to the Kraal, it's obvious how much everyone who works there loves and cares for the elephants and you feel very privileged to be part of that, even if it's only for a few days. Following my stay I read a book by Mark Shand called 'Travels on my elephant', I highly recommend this 'elephant love story' and think anyone who has stayed at the Kraal would appreciate how Mark feels!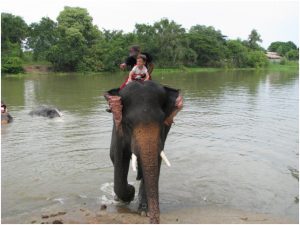 I wanted to share with you and the others a letter that Chris wrote to Toi the day after we left you all last week. We had been on a long car drive to our next destination and Chris was being really quiet and quite somber. Finally, when I asked what was wrong, he burst into tears and said he really missed the elephants and Toi. He sat quietly crying, trying to keep us from noticing, for quite a while, and finally decided it might make him feel a little better to write a letter to Toi, so here is what he had us put down, in his words:.
Dear Toi, I really miss the elephants, especially Dok Mak and your elephant that does the tricks. I hope I can come back soon and really want to see you again. Next time, I really want to stay for two weeks and get trained to be a Mahout.
Love,

My Trip to Elephantstay.
There probably aren'ta lot of people who have seen elephants before, and even less people who have petted or touched an elephant, nevertheless ridden them or bathed them. But at Elephantstay, you can experience these hands-on activities and more with the gentle-but-giant creatures.
Elephantstay is a sanctuary made for the young, adult, or elderly elephants, even elephants that have killed 3-4 people. The non-profit organization located in Thailand is about 1 hour and 20 minutes away from the Bangkok airport. The main mission of Elephantstay is to help retire, breed, and save elephants. Over the last 10 years, the World Wild Funds released 80 elephants back into the wild, and none of them survived. Once elephants are domesticated, they cannot live in the wild on their own.
Elephants are vital to Thai culture because of its religious influence. Elephant lovers are allured from all over the world to participate in this program, eager to contribute their time and effort in Elephantstay.
This summer, I was lucky enough to spend 7 days with my father in this elephant heaven. A typical day at Elephantstay started like this: 7 am-Scoop the elephant poop and clean up stalls. After 2 hours of hard work, we take our break. 11:30 am-Riding time! We head out to ride to the river and I prepare to get soaked! Elephants love to spray water everywhere! After that, lunch is served at noon. (For both hungry human and elephants!) At 1:30 pm, it's elephant spa time! The lucky elephants get a scrub and a refreshing shower! (So do the people!) Dinner preparations for the elephants starts at 4 pm. The elephants' diet is always a mixture of hay, molasses, and rice cereal powder. Dinner is followed by another quick ride to the river. A busy day (for the humans) is ended by a fresh shower, delicious dinner, some social time, and a "good-night" to everyone.
Besides getting to interact with the elephants, I also got chances to intermingle with other animals and people. During my stay, I noticed that there were lots of friendly dogs. They would trot up to the baby elephants. Then, baby elephants would be frightened of the dogs, but nevertheless, they saw an opportunity for a game of chase. Another interesting animal was a one-armed monkey who owned pet rabbit. Sometimes an orange cat would show up around the kitchen and meow for food. In a full-size cement tank with bars and wires around it (for the guest and staff safety), there was a giant, six-foot long, mud-colored lung fish that came up to breath every twenty or thirty minutes. On top of all those animals, there were two colorful cockatoos who would imitate human words. I also made friends with two local Thai kids who invited me to play games with them. Basically, Elephantstay is a place where you can never have a dull moment.
Elephantstay is a sanctuary for not only elephants but for humans who care for nature. I strongly recommend Elephantstay to anyone who wants to have a spectacular and memorable vacation. The cost of your trip helps support the organization financially. While you are having a safe, fun, and enjoyable time on the site, the elephants benefit from your hard work. Essentially, it's a win-win situation for all. When someone asks me what I did this summer, I can proudly answer, "I went to Elephantstay, which is a sanctuary for the elephants, and I did …". and show them the pictures that I took. If you ever go to Thailand, be sure to drop by Elephantstay. Once you have spent time in this fantastic place, I guarantee that you will look forward to another visit to this elephant paradise.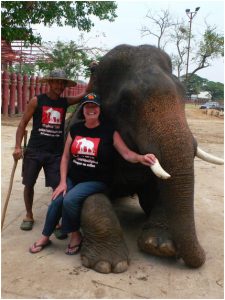 I just came back from my visit to Thailand last week which included a 3 day, 2 night stay at The Royal Kraal Elephant Stay. I was the only guest at the time so I was able to get lots of attention. If I had been able. to change my plane ticket, I would definitely have stayed at least a week.
Michelle and her partner Ewa run the "guest" side of the elephant camp (as well as manage the camp) and they are amazing.
It was an experience I will always remember and would definitely recommend and do again, opportunity willing.
The guest houses are basic, clean and comfortable. Being surrounded by elephants is amazing. There are 6 babies at the moment who roam freely about totally enchanting you with their funny behaviours.
My elephant was an old retired lady of 65 who was gentle and beautiful. The Mahouts are great, especially one of their head Mahouts (Toi) who can speak English and watching him with his bull elephants is awe inspiring.
You wake up early, go out to the area where your elephant has been for the night and clean up the poop and food remains with a rake and broom. You feed your elephant, bathe your elephant and scrub her down each day. There are two. daily rides to the river (it is scary at first getting on an elephant let alone riding her but again your Mahout who rides with you shows you what to do).
The food is basic Thai food, plentiful and nutritious. Breakfast you make yourself, coffee / tea, toast, yoghurt, cereal – again plentiful. You will be asked what you would like for your lunch and dinner meals.
Go Go Go is what I say. I wouldn't hesitate. You will see what a wonderful job they are doing with their elephants.
Cheers.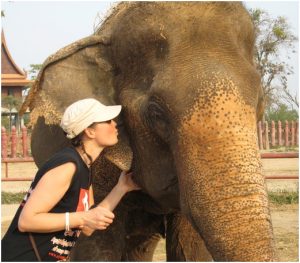 "I meant what I said and I said what I meant, an elephant's faithful one hundred per cent.". Dr Seuss.
Not sure if it was my obsession with 'Horton Hatches the Egg' as a kid or just the fact that I wanted to do something different that drew me to Elephant Stay-but wow, what an experience! After stumbling on the site looking for something to do as a day trip from Bangkok, I discovered you could go stay and work with the elephants and after reading testimonials online, I decided to lash out and spend 7 days at the kraal. It was one. of the best decisions I made! By day three there was no way on earth that I was ready to leave; I was just getting into it! It really is hard to put into words what the experience is like. But I think the fact that I dreamt of elephants for two nights after I left and was convinced I kept hearing people say my elephant's name as I travelled around Thailand afterwards, is anything to go by, then you can imagine how much of a memorable and. . . . . . . . . . life experience this was. Like many others on day one and ride one, I was wondering how I was going to survive the week, more importantly, how were my inner thighs going to cope? But with each moment and with each ride, you begin to feel more comfortable and at ease and begin to truly appreciate the majestic, kind and alluring nature of these mighty animals. I was sad to leave the place that had been my 'home' for a week and of course my elephant, Dak Maak, who I fell in love with.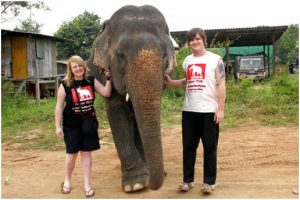 We would like to thank you for giving us the oppertunity to have such a wonderful and unforgettable experience. We both had the time of our lives and were amazed at how attatched we became to the place, people and elephants so quickly. We would highly reccommend. everyone to visit and will be telling all our friends. We cant imagine a trip to Thailand without visiting elephantstay.
We would like to wish you continuing success for this programme as it is such a worthwhile cause and well as being such a fun experience for everyone. We look forward to coming back someday and we are already missing the place dearly.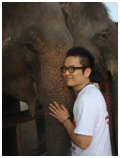 There are many experiences in life yet there are not so many experiences that can imprint in your heart and change you forever. My partner and I stayed at Elephantstay for 2 nights (including Christmas day, 2009) and our visit was a life-changing experience. We felt at home, super comfy with a positive milieu the moment we got there.
After the orientation and introducing each other, we got to meet our elephants and our mahouts. The elephants' characteristics were not what I expected; their texture was indescribable, I had no clue what so ever when the website informed us about their prickly hair, and they actually smelled good (to me at least). I was simply astonished to find out later that there were 2 mahouts who spoke fluent Japanese.
My elephant, Naampet was one of a pregnant elephant at the time. I was worried that she was not going to accept my visit (most animals have done that in my life), but she had welcomed me with kindness and I think we created a strong bond to each other before my departure. Her eyes were the most precious thing I had ever seen! The depth of her eyes left me speechless.
Thank you again to Ewa and Michelle for hospitality and sharing their wisdom, experience and labor.
Much love and respect from Japan.
いろいろな経験の中にも心に残り人生を変える経験と言うものはそこまでは多くはないと思う。アユタヤのElephantstayに二泊三日を過ごし、これが私の思ったことです。最初に自己紹介、オリエンテーションがあり、そのあと象さん、象使いの方たちと一緒に乗り近所の川に泳ぎに行きました。川から帰り象達の昼食を準備し私たちも食堂へ(何杯食べてもよし、宿泊料に含まれています)。少し休憩があり象さん達をブラシで洗います。自由な時間もたっぷりあり、思う存分自分の象と時間を過ごせます。タイでは少し高いとはいえ、エアコン、シャワー、トイレ付の大きい部屋で宿泊し、象と一緒に生活するにはここしかありません。しかも、NPOです。Elephantstayのウェブサイト、予約等に関しては英語でしか対応されていませんが、何十人もいる中の象使いには日本語をものすごく丁寧にお話されるかたが二名。それがトイさん(象使いのキャプテン)とエムさんです。二人とも木下大サーカスで働いていた経験があり日本には数年滞在していました。ものすごく優しく、親切に説明もしてくれますし、いつも笑顔で挨拶。大都会にはごく少ない人間らしさを感じました。 管理人のミシェルさんとイワさんは本当に象達を愛し、責任、情熱をものすごく感じました。ありがとうございました。またなるべく早めにお伺いしますね。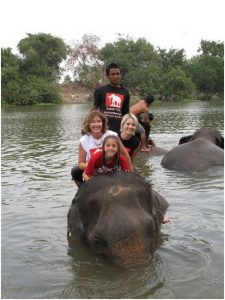 December 2009 saw us make our second visit to Elephantstay, I had a few more family members who had missed out on the experience the first time, and were so excited to visit just before Christmas. We were lucky enough to join in on a visit to Jirasat School to help with the elephants in handing out Christmas gifts to 4000 very excited children, the elephants and ten of us with Michelle and Ewa all dressed in santa suits, yes…the elephants were in santa suits too.
Hard work from everyone at Elephantstay has paid off with many noticeable improvements since our visit 18 months earlier, changes which benefit the elephants and visitors too.
We decided to make another visit to Thailand at rather short notice and found that bookings at Elephantstay were rather heavy and time was working against us, my 9 year old daughter had decided if we couldn't go back to stay with Dokma and the other elephants we had fallen in love with previously, then she didn't want to go on holiday at all. Much juggling and plan changing saw us there during a week of perfect weather,  fun, swimming and activities with the elephants, great Thai food from the ladies, fantastic memories and a desire to get back again as soon as possible. We send our love to all humans, pachyderms, dogs, fish, rabbit and monkey at Elephantstay and our best wishes for a healthy and happy 2010.
Initially, once I had made my plans to return to ElephantStay, I was concerned that my second visit would be nothing compared to the first, which was such a phenomenal experience. However, only moments after I had arrived (exactly a year later) I knew my concerns were unfounded. There were baby elephants everywhere I looked and I noticed that changes had been made around the kraal, making things look a little bit different, but for the better.
The basic routine of cleaning up, feeding, riding and bathing the elephants remained the same, except this time the afternoon feed was in a new area where the ecstatic elephants gulped down a yummy mix of specially grown grass and molasses. This is definitely Pisamy's favourite part of the day because I've never seen her move faster than on her way to this area!
Spending time with Pisamy was once again special and uplifting. I have a hunch that she recognised me from the previous year. Pisamy let me get close to her very quickly this time and looked me in the eye straight away. She continued to make me laugh with her amusing personality traits. Peace offerings of bananas and pineapples weren't enough to counter the fact that I dared to 'leave' Pisamy for a day out of the kraal.  She took it personally and wouldn't look at me for hours!
The newly introduced official 'Elephant Painting School' had two regular participants –Nop Phakou and Patmanee- who let out squeaks of excitement as they busily produced their masterpieces. I requested a painting and I'm still astonished that it was produced by an elephant, even though I watched the entire time!
As usual, the babies were indescribably hilarious, entertaining and adorable. There is nothing on earth cuter than a baby elephant- even if it is chewing on your T-shirt or trying to sneak your food off the table with a curious little trunk! They produced so many funny and memorable moments, especially the gorgeous Soi. What a personality! She certainly stood out with her particularly rotund shape, massive brown eyes and her strong-willed character.
One moment stood out above the rest and I feel privileged to have witnessed it. A small group of ellies returned to the kraal after being away for four months. The youngest of the elephants was so excited upon his return that for over half and hour he ran around greeting his friends and trumpeting incessantly, sending the other elephants into a frenzy of excitement aswell. This young animal's display of pleasure was absolute confirmation that the elephants love their lives at the kraal.
For the second time, my heartfelt thanks goes out to everyone who made this visit to Elephantstay memorable, particularly Ewa, Michelle, Toi, 'M', Kathy, Thong, Pi Om  and of course Buddy and Little Girl.
Once again, I can't wait to return!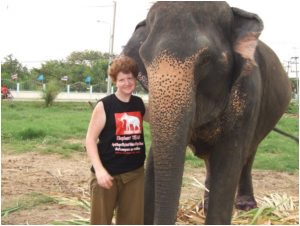 I'LL BE BACK.
Who knew that after only 1 week, you could form a bond with an almost 3 tonne animal. What I do know, is that you can (could it have been all the bananas given as bribes – I mean treats!!) – And it. is now a little more than 6 weeks since I left the elephant stay and you still can't wipe the smile off my face. I am sure my work colleagues and friends are all getting tired of hearing me talk about my beautiful girl – Naampet and. the many adventures had during my stay. Thanks to Michelle and Ewa for being fabulous hosts, your passion and dedication to the plight of the Asian elephant is inspirational and infectious.
Having no expectations of what was waiting for me when I arrived at the Kraal, I was thrilled to learn that we would be going for a ride on our first day, and not just 1 ride, but 2. A morning and afternoon ride is just. a small part of what is included in the daily routine of the retired elephants we are there to care for. And I would have to say this was the best part. After being launched atop an elephant for the first time and overcoming my small fear of. heights, I felt as if I was where I finally belong. Other activities included cleaning, preparing feed and washing / scrubbing our elephants, even massaging – the elephants that is. The Kraal was constantly a buzz with activity and you are made to feel welcome. and part of the team from the minute you arrive. Once the elephants had been fed, it was then our turn. If you thought heading to the elephant stay where you would be working hard and getting down and dirty in the heat, would help in. Shedding a few kilos, then you are mistaken (as I was!!) – The food provided is mouth watering. . . . and served in abundance.
The few Thai words I had learned prior to arriving made communicating with the mahouts that little bit easier, and was cause for many laughs when my pronounciation left a lot to be desired!! Especially when trying to command Naampet. I soon learnt to speak to. her with a Thai accent so she could understand me!! The relationship between the mahouts and their elephants is one to be admired. To have such a large animal listen and follow your every word is profound to say the least. Watching while an elephant paints is testimony to this.
A special thank you needs to go Pi Om, Michelle and Ewa for organizing an elephant birth on the last night of our stay! A truly amazing, unforgettable experience.
Thanks again for letting me be a part (even if only a small part) of making a difference in the lives of your old girls. I can't wait to go back to practice my mahout skills on Naampet. I have already started planning my. return trip – this time for 2 weeks. 1 week is just not long enough.
See you soon.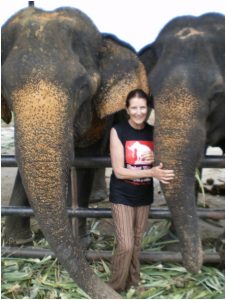 July 2009 my 3rd time, its such a unique program Michelle and Ewa run here, uplifting & energising, i want to visit each year, cant get enough! Each year improvments are made, this year especially, new weather proof roofing in 3 main areas. giving shade for the eles.New road surface, no more muddy track, a new hard hard surface feeding area for the grass & molasses feed, machinery for chopping & mixing the feed.A Bob-Cat for shit shovelling, no more Blue Tarpaulin tossing. . . . . . . . . . ! Self filling drinkers …… OH yes, and a dart board in the kitchen area.When is the BEST TIME to visit? any time SOON.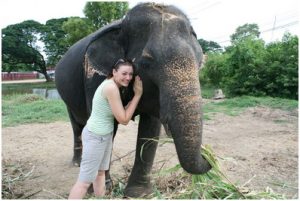 I recently enjoyed a seven day elephantstay experience and I can only describe it as amazing! It was a unique opportunity to get up close and hands on with these incredible creatures and the wonderful people that are working to ensure their future.
The program allows you to be involved in every aspect of "your" elephant's daily routine and care. It is a mix of a bit of elbow grease, relaxing rides and fun activities which all contribute to gaining a better understanding and appreciation of elephants and the amount of work and dedication required to care for them. There is also plenty of time to relax and take in the village atmosphere!
I particularly enjoyed working alongside the Mahouts that work with and care for these animals. These are a fantastic bunch of guys who will teach you to work with your elephant and also ensure that you have a safe and enjoyable experience. They are good humoured and great fun if you take the time to interact with them … .. I certainly had a lot of fun and laughs with my Mahout "Mee".
Elephantstay is a well designed, well managed program with a strong emphasis on safety, so it is great for all age-groups! The accommodation is cool and comfortable and the food is terrific! Overall, the experience exceeded my every expectation!
I can honestly say that the only negative aspect of my stay was saying goodbye …. To the fantastic Elephantstay team, to our fellow participants and to my gorgeous big girl Gatin!
If you are looking for an amazing and affordable experience that you will never forget, and the opportunity to make a positive contribution to the future of the Asian elephant, I definitely recommend Elephantstay!
Like all good experiences you will get out what you put in … .. so do yourself a favour and approach this adventure with an open mind, a good sense of humour and a bundle of energy …. And you won't be disappointed!
Thank-you to Michelle, Ewa and the entire team, I'll definitely be back soon!!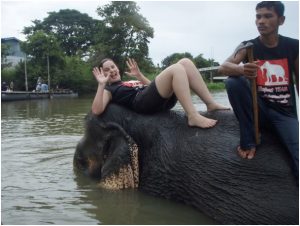 I have not stopped talking about Elephantstay since I got back home, it was by far the best travel experience I have had by far. What made the stay so memorable was not only the interaction with such amazing animals, but the people as well – we were made welcome and treated like a member of the team rather than a tourist. If you are willing to give it 100% and don't mind getting your hands dirty, you will have the time of your life! we found the more we interacted with the daily life at the kraal the more we felt a part of it. You are responsible for your elephant's day, from the time you get up and clean out their day area, to fetching their meals (in my elephant's case quite a lot of food – Pisamy sure loved to eat!), Preparing feeds, giving them a. . . . . . . . . . bath or excercise, and in between we had some beautiful meals for ourselves. By the end of the week we discovered we had the confidence to carry out the daily routine and were having a good laugh on our rides-having got to know not only our elephant's but also our mahouts, their personalities and sense of humour – we must. . . . . . . . . . have looked like mad things shouting banter up and down the road as we took the elephants out. I can recommend spending the week as it seemed we were gaining the most confidence after about days 2 and 3. Also if you can stay in Ayutthaya after finishing your time at Elephantstay it would help you make the most of your last day – some people had to miss out on the last rides in order to leave for early flights, you also may have to contend with. . . . . . . . . . wet clothes from your last ride-which are no fun to shove in your suitcase! and the ruins around the town are a spectacular place to visit. I cannot thank the team at Elephantstay enough and have a huge admiration for the work that they do, I will definitely be back sometime in the future!
Thanks! –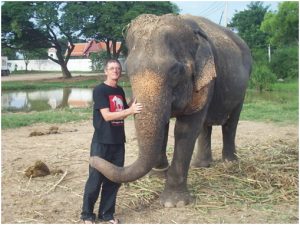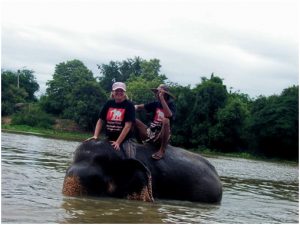 We were looking for a holiday with a difference – not the usual sightseeing routine, something worthwhile and rewarding. We found it at Elephantstay. What wonderful memories we now have! The people we met were fantastic, the Thai food to die for, and then. there were the elephants, in particular 'our' elephants – Pisamy and Sinuan. What grand ladies they are. In addition, there were the baby elephants, such little characters, very entertaining, and so much fun. On arriving home we find we are. missing the elephants and can't wait to return.
WE HIGHLY RECOMMEND ELEPHANTSTAY!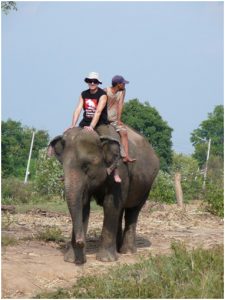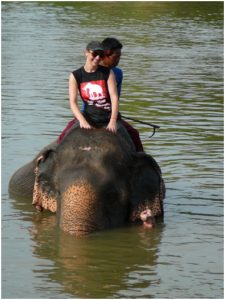 WOW! What an experience you have enabled us to have. We can't WAIT to be back and stay much longer. Your program allowed us to be a part of the lives of elephants (and mahouts) and to make a difference. There is so much to learn! Both of you ladies were so helpful that we felt that we could ask anything (even though you were so busy).
Thank you. I don't think we can say that enough.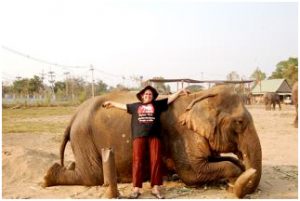 I arrived in Ayutthaya a few days in advance of my stay at Elephantstay to adjust to the time and climate change. Much to my surprise the weather was beautiful and not the debilitating heat I was used to in Thailand. However, all around I saw people dressed in hats, winter coats and gloves.
I wanted to explore the ruins of the former capital of Siam and imagine its beauty before the Burmese pillaged the city. I wasn't disappointed. Ayutthaya must have been a wonder to see, judging from the numerous beautiful ruins in various locations of the city.
Arriving at the Elephantstay by tuk tuk, I was in a surreal world – a dusty road leading to an area filled with elephants of all sizes, baby elephants playing with each other, kids no more than 5 or 6 on the backs of elephants, commanding. . . . . . . . . . them in grunts. Elephants with tusks, without tusks and loads of activities surrounding the care of .. elephants.
Ewa and Michelle were there to greet me and after my orientation I met my elephant, Sinuan (I fondly nicknamed Susie Q due to my "senior movements'") and an hour later I was hoisted up and was on the first ride of my stay. . . . . . . . . . . I was petrified but my mahout held on to me and when we finally reached the river for a swim. I felt more comfortable. As the days went by, I felt more comfortable with Susie Q until I could almost yell, "Look guys, no hands!".
These animals are huge and powerful yet I experienced how the mahouts handle their elephants with lots of love, mutual respect and … grunts as commands. The entire experience was fascinating and educational for me. I met a Swedish man traveling with his with and 2 daughters and told him of my experience. He was really interested, so if he does read this, I hope you will go and experience Elephant Stay.
Thanks ever so much for the varied menus and delicious meals prepared by Lan and his crew.
Like to see more testimonials: