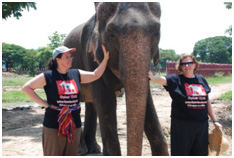 Wow!! This is one of the best things I have ever done. We'd been thinking about doing this for a couple of years – why did we wait so long?
Arriving at elephant stay I was amazed by the sheer number of elephants all in one place. Riding an elephant for the first time was terrifying but amazing. Our elephant Gadangah was a tall girl with a pink freckled nose, she was very fond of her tucker. Riding to the river every day and getting soaked was a highlight.
My understanding of domestic elephant culture in Thailand and of the mahouts and their families has increased hugely. I loved being part of something useful for animals and their human community.
The best part of the stay was giving a month old elephant a bath. What a fantastic opportunity to get up close with a bendy, bouncy elephant baby!
I would recommend elephant stay to anyone who loves or who wants to understand these amazing animals. You'll get hot, sweaty and muddy and fee like you've done something real.
Big thanks to Michelle and Ewa, Gik and our mahout Mai and the whole team at elephant stay.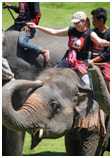 I have just returned from my second visit to elephantstay, I was so worried that I would be disappointed after having such a fantastic experience the first time, this was definitely NOT the case! We were greeted with big smiles and hugs, and caught up on what has been going on for the last 12 months. It was great to see Pisamy again, and was still able to pick her out of the crowd as soon as we arrived, it was like seeing an old friend, the old girl still setting her own pace and always on the hunt for some extra food!
Some familiar faces were still around and it was amazing that some of the mahouts even took the time to come and visit us and ask how we had been, we had brought some friends with us who had not been to elephantstay before and it was great to see them having a wonderful time as well.
The river was right up due to lots of recent rains so the program had changed somewhat as we could not ride through the same areas as last time as it was all under water! It did not matter though as the elephants were showing how they were built for 'off roading' through the mud whilst we humans definitely are not, there is still a shoe somewhere out in the mud that I am sure will be discovered sometime in the future! We had a great time meeting some wonderful new people, be they fellow elephantstayers, new team members, new mahouts and new BABY elephants! Nampet was pregnant last time we visited so it was great to see such a cheeky little elephant running around with the proud mum. He especially loved his bath time with all of us getting a good splashing!
I thought that 2 visits to elephantstay would be more than enough for me, but already I have been looking at the calendar to see when I can go back!
This visit has only reinforced how this is such a truly unique and amazing experience, run by people who genuinely love and care for every single elephant associated with the village.
Also after having to rush to the airport on our last day last time we visited, we decided to stay in Ayutthaya after out elephantstay visit. Anyone looking for a fabulous hotel to luxuriate in, I can recommend Iudia on the River in Ayutthaya, the hotel was absolutely beautiful, the staff so helpful and friendly, there is a coffee house on site as well as a pool overlooking the river and the ruins, and we had the best time on the complimentary push bikes riding through the streets to find a restaurant for dinner.
Make the most of all the time you have at elephantstay as you will only want more!!
Thanks so much to Ewa, Michelle and the whole team for making us feel a part of the elephantstay family, no doubt you will see us again!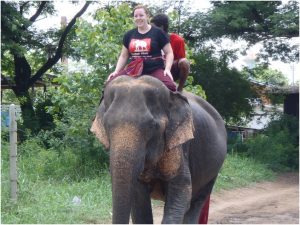 I visited Elephantstay for 1 week in June/July this year. It was such a fantastic week! The opportunity you're given at this place is like none other. To be able to have such close contact with the Elephants is just such an incredible opportunity! It's a memory I will cherish forever. I didn't realize however, just how attached I would get to my old girl, Sinuwan. When it came to leaving, there were a few tears saying goodbye, then a lot of tears actually driving away in the back of a tuk tuk! One week with her was great, but I plan to stay longer next time! I can't get enough! I look at the photos nearly every day and even though its now August, I'm still dreaming of the place! It was just so much fun. Every part of it, from the raking of the poo, to the riding, the bathing in the river, the scrubbing, the feeding and the endless joy of watching the mischievous babies playing in the tubs of water. I have so many photos! And so many memories! The rooms were great! Very comfy! And the aircon was a great relief after a day in the sun! The food was absolutely delicious! I stuffed myself full every lunch and dinner, and there was still food left over! You certainly don't go hungry! We got a lot of free time there as well, which i didn't expect so much, but this time was spent either with the ele's, watching the ele's, with the mahouts, taking photos, going to the markets and buying fruit as treats for our beloved Elephants. Sinuwan loved her watermelon! She would open her mouth for me sometimes when she saw me coming in hope that I would have one there for her! The riding for me was by far the most fun! It was such an amazing feeling sitting atop Sinuwans neck. I felt like I was on top of the world! It took me a couple of days to find my balance though, for some it was on the first or second ride, but for me it was more like my 3rd afternoon! Sinuwan would hold your legs close with her ears though and it made me feel a lot more secure. I recommend Elephantstay to anyone and everyone who has even the slightest interest in Elephants and Elephant conservation. I have been telling anyone that will listen to me about Elephantstay. Even people I've just met! It really was just THAT good!! If you are considering it as an option in your upcoming holiday, definately GO! You will be so glad that you did!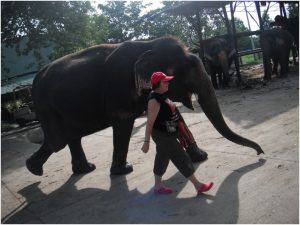 I've been coming to Elephantstay ever since Ewa & Michelle started the program. I obviously love the experience or I wouldn't keep coming back!
It's a joy to catch up with the old girls (the elephants I've grown to know and love) and get back into daily elephant care routines. I love to see the progress of the calves as they grow and gain independence, go off to 'baby' school & return able to earn an income for themselves and the community whose livelihood depends on these elephants.
In June my visit with friends was particularly important as many people had cancelled the previous months out of fear of political unrest. Very few visitors means little money for elephants or people and tourism is vital for the conservation of this iconic species.
Come and see the village and experience living the life of a mahout for yourself. You won't regret it!
The elephants & villagers have changed my life and already I'm making plans to return
maybe I'll see you there.
Extra hugs and kisses to Pisamy plus food treats please I'm aiming for a good testimonial from her!
That's she and I off to join her friends for an afternoon snack at the Molasses Bar.
I serve, she eats.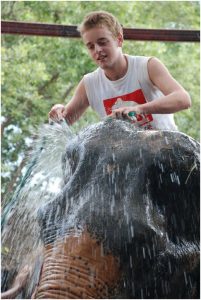 I  came to Elephant Stay in July 2010. I couldn't decide between this program and another further North in Lampang but I am so so glad I chose this one. I will say now, straight away, I recommend this to anyone. Old and young, shy and confident.
I was only at the centre for 3 days but I wish I could of stayed longer. The program is very hands-on. You are involved with your elephant and they're your responsibility. You can feed them when you wish and the 2 daily rides are brilliant!
On my first day, having only arrived an hour or so before it was straight to work. I got to ride Ban Chuun and it felt so easy and normal. After riding I got to feed her straight away and already you feel a connection. In the various points of free time it's great to go up and feed your elephant, it builds that crucial relationship. The young ones in the nursery are equally adorable and when the baths come out it's a priceless moment.
The river is a real time for the elephants to 'muck' around and at times I felt I'd be going for a swim. One of the elephants even decided to swim across the river!
I recommend the program to elephant. The plight of the Asian elephant is a negative one and it's so important that such successful breeding like this continues. Michelle, Ewa work so hard and are so dedicated, my praise to them. It is worth stressing that unlike any other 'Mahout Training Program' here you earn the trust of your elephant as well as working for what is a very, very important cause. I will be back.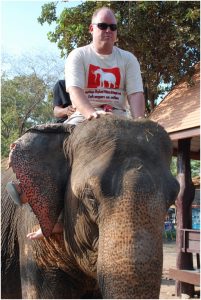 In April I got the chance to spend a week at Elephantstay, and I'm glad that I did spend the extra time instead of a few days.  Not just because of the time with the elephants, but because I was one of the guests who had trouble "finding my balance" as the staff so graciously and gently put it.  There is a reason I'm not smiling in the one photo of me on Honey's neck. It wasn't necessarily due to shear terror, but behind those sunglasses was a strong look of apprehension, deer in the headlights – if you will. The staff quickly picked up on it and did their best to make me feel at ease.  What's so amazing is that they (two volunteers Sarah and Paul and one mahout, Gik) took extra time out for most of the week just to help me out specifically.  I'm glad to say that their hard work paid off as by my 5th day, I was able to take the long walks on Honey to the river by way of the road adjacent to the village with everyone else.
My 6th day was the most demanding but the most rewarding.  The demanding part came when we helped the villagers (mahouts) unload a pineapple truck.  It just seemed like it would never get unloaded and the time to ride the elephants/ladies to the river didn't come soon enough.  The reward was due to myself and a young college student being the only guests at this point.  With only a couple of guests, the staff and mahouts were able relax a tad bit more on the rides to the river and have a little more fun than usual.  I hope the photos show just how much fun. That's me finally smiling in the river on Honey and the one volunteer Sarah trying to push my mahout Gon (a true character and a half) into the river.  The other is of the two volunteers Yvette and Sarah  demonstrating with Gik on how to give your elephant commands.  It was a load of laughs to say the least.
All-in-all, my experience was absolutely rewarding and wonderful due to not just the elephants, but to the staff and mahouts as well which was why I included them in my photos as testement to just how much fun the whole program and village is. Again, my sincerest thanks to Sarah, Paul, Gik and Honey for giving me an incredible time.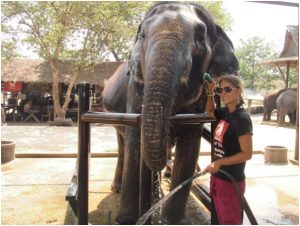 I have been travelling for four months, around Oz, Singapore and Cambodia and Thailand, and participating in Elephantstay has been the single most fullfilling and enjoyable experience i have had in my entire trip. I cannot put into words how much i enjoyed my time at the Kraal, and how appreciative i am of being given the opportunity to come in close contact with such wonderful animals and the people that care for them.
From the moment i arrived i was made to feel welcome and safe, and included in the 'family' of the ElephantStay staff…Michelle, Ewa, Paul, Sarah and Yvette. My accomodation was lovely – clean, efficiant and nice and cool, thanks to the air con rooms! I felt instantly at home.
Elephantstay is built amongst an amazing village of wonderful Thai people, and you see a real side of Thailand that you dont get in the tourist traps of Bangkok and Pattaya – real, humble, friendly, welcoming and patient people who you build a connection with…especially the Mahouts.
My elephant was called Gatin – an amazing, independant lady that i fell for hook, line and sinker! She is absolutely beautifiul! And my mahout was Gon – possibly the most cheeky, smiley, happy guy i met in the village, who looked after me during rides, and kept me safe in the river. I was able to have so much fun with him, and i never felt at risk with him there. In fact, i was even able to learn the 'Trunk mount', which, with his help, i mastered by the end of the week!
The food at ElephantStay was definately the biggest suprise – great, authentic, tasty Thai food, but with the best cuts of meat and freshest ingrediants! And it was nice to see that they catered for the children that were staying the week too…including Thai fried chicken and chips amoungst the spicy pork and coconut soups!
When i drove away from the Kraal on my last day, i sobbed my heart out. I felt like i had belonged there.
For many, the ElephantStay experience will be an amazing once-in-a-lifetime holiday
But for me, with all that i learnt about the plight of Thailand's elephants, and the dedication i saw that went into caring for these creatures, and with the wonderful people that i met, it will always be an experience that has changed my life. I hope to work more closely with the Kraal in the near future.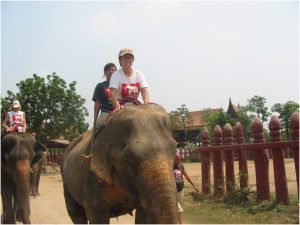 Thanks very much for letting us have the opportuniy to visit the sanctuary and take part in the care and welfare of the elephants.
We very much enjoyed all the activities and were made to feel welcome right from the first moment we arrived. We hope that you will continue the magnificent work you're doing and that you will continue to get funding for the expansion of the project.
Janet and myself had a memorable time with you made spectacular because of the team, not forgetting the elephants, who had to endure the very amateurish attemps at our mahootship.
We wish you all the best for the future and hope to visit again.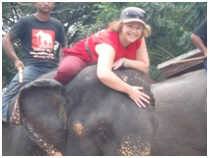 I recently spent 4 amazing days at Elephant Stay, and have to say it is possibly the best experience of my life.
I have had an interest in Elephant Stay for a long time and for the past few years have been promising myself I would make it there one day.  Finally for my 40th birthday I made it, along with 3 wonderful friends.
The hands on experience and the unexpected bond I created with Ramruay (my elephant) had a bigger impact on me than I expected (who could ever imagine elephants have such a big and individual personality?)  To be an active part of Ramruay's day was such a thrill and each, chore, was exciting and fun. Yes, even cleaning the muddy paddocks!  We had heaps of free time and everyone was so relaxed, which made my stay even more enjoyable.
A big thank you to Michelle, Ewa, Paul, Yvette, Sarah and all the mahouts for creating a memory that will always be precious to me.  Also thanks to the Sammells family for adding to my experience.
I hope to return next year to meet Ramruay's baby!
P.S.  If you are lucky enough to be experiencing Elephant Stay for yourself, make sure you have a big memory card in your camera.  Every moment is a Kodak moment!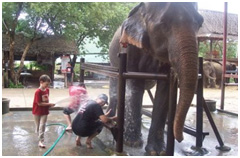 Our family of 4 (including children aged 12 and 8) wanted a hands-on experience with Elephants. We dont mind getting back to basics and getting dirty, and we wanted to get involved (not just watch). We got all that and more at Elephant Stay. All of the wonderful people who work there made us feel a part of the place from the first day. There was no pressure to do anything we didnt want to do, and there were clear guidelines and expectations set right up front. The pace is relaxed, with plenty of time to
do your own thing in between the daily routine of looking after your elephants, and the home-cooked thai food was delicious. It was an amazing experience and one that we will always cherish.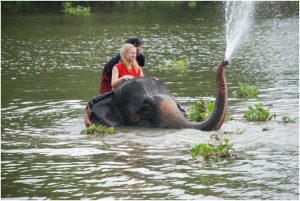 I spent a week at Elephantstay at the end of June of this year. It was without a doubt the best experience of my life. The fact that you can be so close to these animals is amazing and although i chose this programme becuase of the amount of hands on time, i didnt realise just how much time was spent with the elephants…loads….all day everyday! Which is brilliant! My elephant was called Galaget and her mahout was Chorn. It really is amazing to watch the bond between an elephant and her mahout. Being a working village there were early mornings and 'chores' to be done which i expected but even cleaning out the paddock was enjoyable! Personally i think the rides are the best part of the programme, i felt really safe with Chorn and he was really helpful, helping me with the commands for Galaget and to have fun! I like to think that towards the end of the week she was responding better and better towards me….I hope!! Every ride was different and the river rides were definately the best! It was definately a feeling i wont find anywhere else, atop an elephant. We were given plenty of free time but spending it with your elephant is the best use, whether feeding or watering and scrubbing them too! Trips to the market became regular to get fruit to feed our elephants, bananas and watermelons seemed to be the favourite! Feeding the elephants was another experience, you definately believe that you cant fill your elephant up by the end of the week! The food served there was gorgeous i made a habit of have more than 1 plateful at every meal!! Another great part was watching the babies playing, their sooo playful but very strong for their size, i think i could have watched them all day! I have so many amazing photos and memories and miss it so much just thinking about it! There is such a great atmosphere between everyone who works in the village, especially the mahouts! Even thou they have limited english they are alot of fun to be around! Thankyou to Michelle, Ewa, Yvette, Paul and Chorn for this fantastic opportunity and im already looking into when i can come back!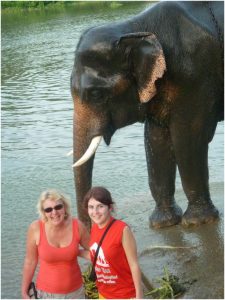 We were at elephantstay in June and we had an amazing and inspirational holiday. If you are looking for a hands on experience elephantstay is definetly the place to go. The trip can be custom made, from how long you want to stay to how much you want to get involved and contribute.
For us, the more we could do the better! Each day was more exciting and different than the last. By the end of our 6 days at elephantstay we felt a real connection to our elephants and more comfortable than we thought we could feel around a 3,000kg animal. The accomodation, food and staff was an added bonus to what was already a fantastic holiday. From day one we were feeling right at home (although at home you are not surrounded by 90 gorgeous asian eles)
One of the highlights was feeling part of the elephantstay family. After each day we would watch the sunset, enjoying some cold drinks and socialising with the mahouts and other volunteers. Not only did we learn so much about the importance of asian elephants in a domesticated situation but we learnt about thai culture as a whole.
We will never forget our last day at elephantstay when we played with our eles in the river, having the time of our lives. There is really not a bad word to be said about this fantastic holiday that is guranteed to be one of the best you will ever have!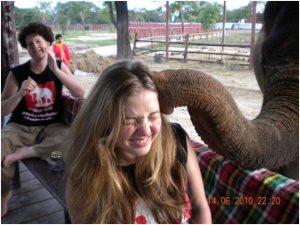 My mother and I stayed at Elephant Stay from 14th June to 16th June (3 days, 2 nights).  We were looking for a volunteer experience that was a little out of the ordinary and a once in a lifetime adventure that we could share together. Elephant Stay fulfilled this and much more!
We both agree that it is one of the most amazing experiences that we have ever had.  We were completely immersed in the daily activities of the beautiful elephants and their friendly mahouts.  You take part in everything from feeding their hungry bellies to giving them a good scrub, scooping their poop and of course taking them for twice daily rides to the river to play (DEFINITELY the highlight).
Our journey started at 7am, Monday morning when we were picked up from the comfort of the Novotel by our lovely driver who was organised by the Elephant Stay. As we made the 1.5 hour drive out of Bangkok and in to Ayutthaya, we asked him many questions about Thailand, Elephant Stay and the speed limit… (gosh Thai people drive fast!!).  Between his little English and our zero Thai we seemed to be able to communicate and gather that the Thai word for Elephant was 'Chang' and that there are nearly 100 'Chang' at Elephant Stay. Now we were excited!
As we pulled up we were greeted by Yvette and Paul, the two most friendly, passionate and enthusiastic people I think we have ever met. Paul made us a coffee while we were shown to our room.  Our room was a cute little hut that was impeccably clean. It contained 2 single beds and thankfully air conditioning which meant we slept soundly both nights!  We had a bathroom between the two of us that again was spotless! I think we were a little relieved, that although we would be roughing it with the elephants, we wouldn't be roughing it completely!
Next was our induction. This was a thorough session that explained the history of Elephant Stay, safety information and the many myths that surround elephants in captivity. We met the Project Directors Michelle and Ewa who were fantastic at explaining the best way to behave around elephants and the quickest way to their hearts.
Now on to the exciting stuff – meeting our elephants! My elephant was a beautiful, gentle retired female called Jumpee and mums was a pregnant female called Rumruay – WOW!  'Gosh they are big..!' we exclaimed when we saw them for the first time!
The next three glorious days were spent getting to know our elephants, playing with the baby elephants (devine), getting to know the mahouts (incredible people), learning some Thai, riding the elephants to the river, eating AMAZING home cooked Thai food (thanks Pilek!), learning the history of Ayutthaya complete with guided tours (thanks Paul!) and even an impromptu Thai cooking class complete with broken Thai/English directions – brilliant!
We were so sad when our time came to an end that we seriously considered cancelling our posh Koh Samui Hotel… and staying forever!
HIGHLIGHTS
         Riding the elephants
• Learning  how truly amazing the Elephant Stay is and the positive impact the project is having on the elephants and the Thai              community it supports
         Trialling the first ever Elephant Stay Cocktail!!
         The Food – absolutely delicious and filling!!  I don't think we had the same thing twice!
         The people
         Having a picture painted by 'Peter', without a doubt the most popular elephant in Elephant Stay
         Receiving our DVD of photos taken over the three days by Poo – they are only a measly 500BAHT!  We highly recommend you using this service as you cannot take your camera on rides.
         Evening drinks and reflecting on life with like minded people.
We feel blessed to have discovered such a place and honoured to have spent time with such amazing creatures.
Special thanks to
Yvette and Paul – you both made us feel safe and happy every day. Your passion is contagious and truly made the experience something we will never forget
Yvette (number 2!) & Ned – our fellow volunteers…the best volunteer friends we could have asked for
Gik and Doi – our Mahouts…thank you for taking care of us and not laughing to much at our terrible Thai!
Poo – for taking our magnificent photos – we love them!
PiLek – for your delicious cooking and impromptu cooking class
Michelle & Ewa – You are two very inspiring, special people – keep up your amazing work.
WE WILL BE BACK!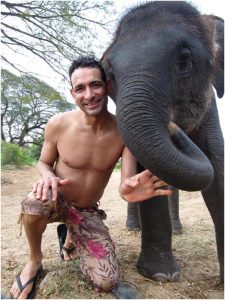 I'm so glad I gave myself the opportunity to spend time with these splendid creatures.  The time at Elephant Stay in Ayutthaya was the most rewarding vacation I have had in recent years.  The reward comes in knowing that you are making a difference in the lives of many of Thailand's elephants and providing them with a place to live out their years in stability and with veterinary care.  Activities at the camp always include time with the elies:  cleaning poop, feeding, riding, and swimming with the elephants.  Swimming with elephants!  I will do this again.  To be able to say I swam with elephants is the best travel story.  Besides that the accommodations at The Elephant Stay are very clean and comfortable.  The food is enough reason to go to this camp and there is plenty of it.  You can even pick up Thai cooking techniques.
Oh and did I mention playing with baby elephants!!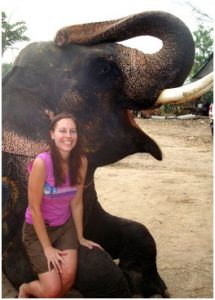 I absolutely loved Elephant Stay!!
My experience was so amazing.  I bonded with my elephant, Honey, instantly- she was so sweet.  Having the opportunity to help and care for the elephants, while getting an insight to the village life was an experience of a lifetime.
I have taken away a fond appreciation for what the organization does and how much it takes to care for elephants.  I really hope to be able to visit again.  Much thanks to everyone for such a good trip- by far the best way to spend tourist dollars is elephant stay.
Oh, and the babies….I could have watched the play all day and left a happy girl
thanks again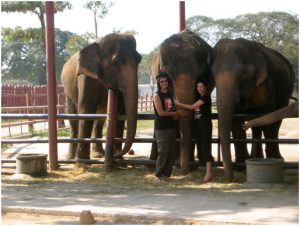 The week Ricardo and I spent at elephantstay had to be THE most amazing and touching week of both our lives. We found out about the program through family friends, and seeing as we are both animal lovers and like adventure, we decided it was the thing for us..and we were right! We loved the place from the very start and fell in love with every single elephant our eyes lay upon. The babies were cheeky and loved a good trunk and mouth scratch. At night times, we would wonder over to baby Opal and sit there with her- she enjoyed learning to untie the laces on Ricardo's shoes! The elephant we looked after was a beautiful old lady named PlubPleung, who learned who we were and by the end of the week would lower her head to our level so we could hold her trunk and look into her big brown eyes. Moments like that are very rare and it really did take our breath away.
The work is hands on and requires determination and passion- whether it involves feeding the gentle giants and preparing their food, washing and scrubbing them, or cleaning up after them in the morning. However it doesn't feel like work at all! Every minute spent around the elephants is so much fun and you never want to leave their side once the day is over. Ricardo and I felt that the everyone involved made the experience that much more exciting – which included the lovely team we worked with that week, Michelle, Ewa and Paul for answering all our questions and offering us help and direction when needed, the wonderful cooks who made the most delicious thai dishes every day and last but not definitely not least, the Mahouts- who made riding the elephants entertaining and enjoyable! Watching the communication, respect and care between Mahout and elephant was also extremely rewarding.
Thank you so much to everyone who took part in our experience.  Words really can't express the wonder you feel being surrounded by such big, beautiful creatures and we can't wait to return!
Like to see more testimonials: