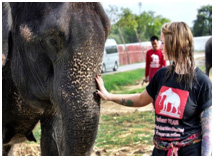 In Aug/Sept 2011 my Mum went on her first trip to Elephantstay. What she told me was that she was going to hang with the Asian Elephants. I didn't have any idea what that entailed until I saw the photos. Unfortunately at this time it was at the beginning of during one of the worst floods Ayutthaya had seen in 50 years. My Mum had a profound experience that she wanted to share with us kids. So three months later my two brothers and myself went with Mum to Elephantstay. I instantly fell in love with the place. To be a part of a working Elephant village was incredible. The Elephantstay team were friendly and inviting as well as the Mahouts who were always smiling and happy. My first real encounter with an elephant was with Baitoy. It was pretty easy to point her out as she had the biggest head. I couldn't believe I was standing in front of this giant magnificent creature. It was intimidating but once we both got used to each other's company (and a lot of treats) I felt at ease. Waking up for a 7.30am muck out did not faze me. Not when I had a view of all these elephants. Some of my favourite experiences are riding to the river, especially being able to be in the water with these creatures and having fun with the mahouts; watching the working elephants getting washed either in the river or the washbay early in the morning and getting loaded into the trucks to head off to Ayutthaya; or sitting in the sala at the end of the day and watching the same elephants return to the Kraal. It also doesn't faze me to be woken at 4am to the sound of chanting monks, calling people to the temples. My first stay was a week and when it ended I was so sad to leave. I felt like I had been a part of something special and I never wanted to leave. But as everyone says 'if you don't leave, you won't be able to come back.' So that's what we did. 5 months later (2012) we were back for two weeks. Baitoy was back at work so I was introduced to another elephant named Rumruay. Rumruay is a gentle giant. She allowed me to hand feed her from the get go which was a good sign that she liked me. I'm not going to say we had an instant connection because that would be a lie. I believe it doesn't just happen. (well not with me anyway) Some of the observations I made of her were that I noticed she didn't like her food wet. When her food was stolen by Yitor, it didn't seem to worry her. She was always ready with an open mouth whenever I had treats for her. When riding her on the road she would always turn her head when trucks drove past, giving me the impression she was cautious around big vehicles. She responded well to being soothed by me, whenever this happened. Again it was the end of our trip and we had to go home. Of course there were tears. In 2014 on my return journey from the UK it made sense to stop by for a week. I had asked for Rumuray again. This time I felt more of a bond and that she remembered me even though it had been 2 years. Aug 2015 I came back again for a week. My bond with Rumruay continued to grow, and my connection with the people in the village made it harder for me to say goodbye – even for just a short time. Feb 2016- what better way to spend my birthday than at one of my favourite places in the world. One of the things I realised this trip was that no matter how many times I come to Elephantstay, it never ceases to amaze me that this is the only place on earth that you can visit and have such a connection with these wonderful animals and the people who care for them. It's easy when you are immersed in this life to forget that the Asian elephant is endangered, because you are surrounded by so many of them, but I know that the Kraal provides a sustainable future for the elephants I have come to love. No words can really describe what this connection to these magnificent animals feels like – all I can say is that you need to experience it for yourself! If you want a genuine experience with these gentle giants then Elephantstay is the place to get it. I will continue to return as many times as I can, because I know that all their elephants are well looked after and that the people involved in their care truly love them.

It has been a while since I arrived back home from beautiful Thailand and today I was busy on my photo album and saw all these gorgeous photo's from my visit to Elephantstay. It is difficult to catch in words how I would describe my trip (specially since I am not native English)  but if I have to I will use one word: 'amazing'! I arrived at Elephantstay and saw Elephants everywhere. We had a warm-welcome-talk by Michelle and she explained what to do and what not to.. since Elephants are pretty big! And within one hour I sat on Rasamee, a gorgeous 25-year-old lady. We swam in the river, that was so cool! The hours and days after my first ride flew by: feeding, bathing, swimming, riding, i loved it all! Hard work makes you hungry and we got lovely food, every lunch and dinner time. The work that Michelle and Ewa do is amazing, and they have gathered some lovely people around them to help. If I could, I would go back tomorrow, hopefully I will sometime in the near future.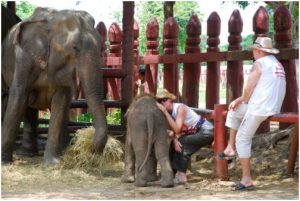 It is hard to find the words to accurately convey the depth of my feelings about Elephant Stay, the people there, the work of the Pra Kochabaan Foundation and of course, the elephants.  Perhaps it can be summed up by the fact that the day before we were due to leave, while feeding the old girls after our morning ride, I was overwhelmed with emotion and burst into tears at the thought of having to leave them the next day.  When the time did come to say goodbye and leave the kraal, I could not stop the tears that flowed during the goodbyes, and indeed cried all the way back to our hotel in Ayutthaya.
As for describing our week in the village, it was an experience of a lifetime that exceeded all expectations.  I have been an animal lover all my life, and have had a particular "thing" about elephants for over 25 years. My husband and I first attempted to spend a week at Elephant Stay in October 2010, but due to the devastating floods which caused the evacuation and closure of the village, we got so close but yet so far, spending a couple of days in Ayutthaya in the vain hope the water may subside quickly.  Unfortunately this was not to be, so we finally made it back in July 2011.  From the moment we arrived we were welcomed by Ewa, Michelle, Paul and Neil like family and felt like we were home.  Our elephant, Jumpee, was a sweetheart, the tallest of all the girls in the program with an almost perfect heart shaped pigmentation mark on her trunk.  And eyelashes so long she should be in a Maybelline advertisement! Cleaning the day area, then Jumpee's "bedroom" every morning was a great way to spend time just chatting to her and the other girls, then the bonding was consolidated with watering and feeding them breakfast. Not to mention giving them treats when the pineapple or banana truck came, or when we walked to the market to buy melons and cucumbers.  Jumpee and Rasamee LOVE their pineapples!  The twice daily rides to the river were a highlight to be looked forward to, and the water was always such a welcome relief from the heat!
There was plenty of downtime to spend as you wished, and a favourite place to spend lots of that was the nursery.  We took a soccer ball for the babies and witnessed much fun being had by the older babies kicking it around in their stalls. Valentine was great to have a game with, as soon as he saw the ball he was after it, and a good kick he is too! Our favourite in the nursery was Ang Pow, the gentlest, sweetest little girl you could find. We spent a lot of time trying to come up with ways we could smuggle her home in our suitcase, only to be thwarted at every turn by Neil, who has similar plans to take her home! She is truly a special little soul.
It is an incredible experience and a real privilege to live in such close proximity to so many elephants, while learning about Thai culture and being a part of the daily village life as it goes on around you. From the time you see the working eles go off in the truck to Wang Chang every morning, to the time they come home again at night, there is always something going on.  Often as we sat relaxing in the evening we would see a mahout ride past on his bull on the way home, complete with 'take away dinner' of a couple of bales of hay lying across his tusks! Anyone who doubts just how clever elephants are only has to watch Noppakhao (aka Peter) at work on his paintings.  The bond between him and his mahout Pat is a joy to see.  We were lucky enough to be there while an American student, Hilary was conducting research into cognitive behaviour of elephants with Peter as her subject, and to witness his incredible intelligence in her tests was nothing short of amazing.
As many people have mentioned, the food alone is reason enough to spend time at Elephant Stay! Thai food is my favourite cuisine and without exception, the meals at the village were better than any restaurant food I have eaten in either Australia or Thailand.
Thanks to Paul, Neil, Michelle, Ewa and our fellow Elephant Stayers (especially Carl and Katherine) for a truly wonderful week.  Neil, your passion and commitment to the elephants shows every day and I really hope you get the paying job, you are such an asset.
Like most things in life, you will get out of your time at Elephant Stay what you put in.  The staff are always on hand to answer questions and look out for your well being. How much you want to learn and how much time you want to spend with these magnificent creatures is up to you. For anyone who has the slightest interest in elephants and ensuring they have a sustainable future, this place is a must.  My husband and I know we will never be the same again after our time there, and plan to return as often as we can.    Australia may have my heart, but a part of my soul will forever belong to the Royal Elephant Kraal and Village.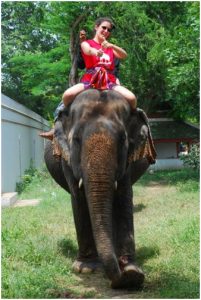 extraordinary program that all the exclamation marks in the world put together couldn't do justice to how exciting it is! From the minute I arrived, Ewa, Michelle, Paul, Neil, PiOm and his family, and everyone in the village have been nothing but friendly and helpful. They are so passionate about elephants that they devote each and every day of their lives to making the world a better place for them. In the Elephantstay program, they share so much with us about elephants that it is impossible to leave here not wanting to continue to participate in efforts to help these beautiful creatures. We get to look after our own elephant during the program and I got to feed, water, bathe, play with and ride a sweet elephant named Pisimy. Most people feel lucky if they've merely seen an elephant in a zoo, so being able to partake in their daily lives and interact this closely with them was indescribable. Getting to play with the baby elephants was another spectacular part of being at Elephantstay since they are truly some of the most precious things on earth. It always cracked me up to watch the babies constantly devising new ways to remove peoples' shoes and trying to steal food when no one was watching. Ewa, Michelle, Pat, and some of the other people at the Kraal kindly allowed me the opportunity to do research with Noppakhao, the elephant that paints, for my senior thesis. They shared so much insight into elephants and put a lot of effort and thought into helping me. It was amazing to learn how brilliant Noppakhao is; in addition to painting better than most people, he dances, hoola hoops, and plays the harmonica!
Another special part of Elephantstay is being able to interact with the mahouts, who take care of and view the elephants as family. Despite not speaking the same language, we laughed and greatly enjoyed being around the elephants together and I came to see how important it is to help elephants both for their sake and for the people whose lives and hearts revolve around them. Because Elephantstay is located within a village, we got to be immersed in the mahouts' and their families' lives and in Thai culture. Every single meal was delicious. There were lots of temples, a market, and a school nearby, which we were able to explore. The Elephantstayers were invited to a birthday party and we spent the whole night dancing to Thai music and doing karaoke.
In summary, Elephantstay is beyond a vacation; it is an opportunity to fall in love with elephants and with a country and a way of life. I will be forever grateful to the directors of Elephantstay for this opportunity and for their endless efforts to find creative and meaningful ways to help elephants and mahouts.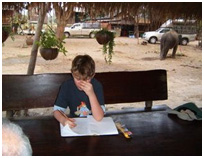 First of all we wnat to thank you all for a fantastic stay. Mikkel especially had the best experience in his whole young life and when he came back to school he did a whole seminar for an hour for his class and told then all about the history, the keeping, taking care of, and also why it is so important. Everybody was very impressed because he had learned so much (including me).
We almost came back when we got your message that Galagat had her baby:)) griner
We will write a testomonial in danish to tell everybody to support the program and to go and enjoy your beautyful elephants.
Give our love to eveybody and especially Galagat, Chump, Sinuwan and Red.
Ja det var så sandelig en oplevelse for livet.
Vi har rejst rigtig meget og været i Thailand mange gange før, så vi kiggede efter en anderledes oplevelse.
Det skal jeg love for vi fik.
At passe en elefant er så sandelig sin sag og det var en fantastisk måde at være sammen med sin unge på. Min dreng Mikkel var 9 år og se ham skovle elefantlort kl. 07.00 om morgenen uden et kny for bagefter at slæbe foder hen til hans egen elefant var fantastisk. Han skrev gerne i sin dagbog for her havde han virkelig noget at fortælle og sikke en viden han fik samlet både om Thailands historie og meget andet. Han er ingen kloge Åge mere til fodbold og ballade så det var meget impornerende.
Den første ridetur siddende ude på hovedet af det kæmpe dyr var vildt og lidt skræmmende men hurtigt blev det bare skønt og turen i floden en oplevelse som aldrig glemmes.
Dagen går med dejligt samvær med både elefanter og de skønne mennesker som arbejder på projektet og man kommer fuldstændig ned i gear og ind i en verden langt fra stress og jag som samtidig giver rigtig god mening. Jeg kan kun anbefale et ophold og 3 dage mindst det ER alle pengene værd.
Adventure No. 2 (April)
Once again this is a huge thank you to everyone at Elephantstay and in the village for the amazing experience and memories that I have gained from my stay there. This time was my second visit with a friend only 2 months after our first (that is how much we enjoyed our time). It was so good to go back again as we got to know friends that we already made last time so much better, made new friends (putting names and personalities to faces) and had loads of fun again. It felt really nice to learn more about the culture, people, elephants and also the language. Our favourite Thai word developed from calling everyone 'bar' (crazy) to saying 'alai' (what) every time we didn't understand and sometimes even when we did. Last time I looked after Galaget during the final stages of her pregnancy, she had the baby the day I got home in Australia. So it was really nice to meet her baby Valentine and also Ang Pow who was still in her mums tummy at the time as well. This time I looked after Baitoy, who I hadn't met last time I had come so it was nice to get to know another elephant. While the experience we had this time round was different it was in no way any lesser than last time. We were able to a few different things this time round like taking the elephants for a ride across the river to eat some grass and go swimming with the elephants. Scrubbing time once again turned into many water fights. Our favourite times would be in the morning and afternoons at the river, where it was really peaceful to watch the elephants come for a bath. Once again I am greatly missing the amazing food!! A huge thank you to Michelle and Ewa for running the program (though we didn't get to see much of Michelle this time round because she was sick) if you hadn't started the program, we wouldn't have been able to have these last two amazing experiences. Thanks to Neil and Paul for your senses of humour and company, they are greatly missed. Thanks to Gik, Ret, Peer, Lee and Tah mainly for trying to teach us Thai and putting up with the headaches we caused you in the process. Thanks also to all the mahout and locals for always being so friendly and providing us with many unforgettable memories. Thanks to Dow and Pan for inviting us down to the river to go swimming with you and the locals, fun was had by little and big kids (Neil you are included). Miss you all very much and looking forward to coming again in the beginning of next year.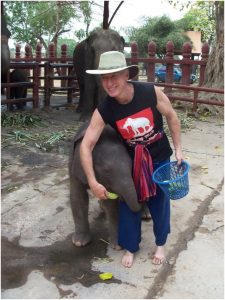 This little adventure was on my bucket list, and I'm so glad that I followed through. I didn't really know what to expect, but I came with an open mind. The elephants are truly magnificent, but the littlest ones stole the show. They warm up to you real quickly and are playful and full of energy. They behave very much like 100kg puppies and are just as cute. They put a smile on my face whenever I think of them.
A thorough explanation of the do's and don'ts at the beginning of the stay is provided by Paul, complete with humour. I have a fear of heights so naturally I was given what I believe was the tallest elephant named Jumpee. At first, it felt like I was on top of an eight story building, but by the third day I was completely comfortable. Now I believe this is important, the staff never put you in a situation in which you would feel fearful or ill at ease. They are reassuring and helpful, and obviously want your experience to be a positive one. As for bonding with the elephants, I guess it would depend on how much of yourself you put into it. I'm quite sure, the longer the stay, the stronger the feelings. I, myself never achieved a blissful Nirvana with Jumpee, but how can you not be in awe of such splendid creatures!
So as not to run on, I'll simply say I had a terrific time and would not hesitate to recommend it to anyone. By the way, the food really is wonderful!
With many thanks,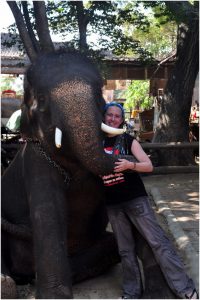 A huge thank you to everyone at Elephant Stay for such an amazing experience that I will treasure for the rest of my life. Initially we were unsure of what to expect from our week but any expectations were definitely exceeded. I greatly enjoyed our time there and fell in love with not just the elephants but the people, community, relaxed atmosphere and culture. As the end of our week came to an end the village felt like home and we didn't want to leave. I would recommend staying at least 1 week as this give you more time to feel comfortable, bond and therefore become much closer to the elephants and the people. I am very thankful for the friends I have made during my stay in the village both locals and fellow volunteers. Our favourite part of the day would have to be going to the river at the end of each ride, where there were many water fights. I am also missing the amazing food!!! I can definitely say that there was not one part of my stay there that I did not enjoy. My friends and I enjoyed our stay so much that we had booked to come back to Elephant Stay 2 months later within 24hrs of leaving. I am very excited and I look forward to meeting Galagets little boy Valentine who was born the day I got back into Australia. Look forward to seeing you all again very soon and many times in the future =) oxox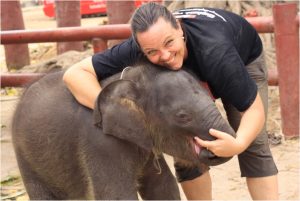 I had an amazing stay with Ewa, Michelle, Paul, Neil, the elephants and all the staff. I enjoyed everything about the stay except the part when it was time to go home! I had a wonderful time helping to look after honey and the other elephants and would recommend a stay to anyone interested in or keen on elephants. There was plenty of time to hang out with the mothers and babies in the nursery and to help the staff with other jobs as well as the daily cleaning, feeding and washing. Everyone was friendly and welcoming and it is truly an experience I will cherish. Thank you to everyone for looking after me so well during the stay and to the elephants for sharing their magnificence with me for the 4 days I was there.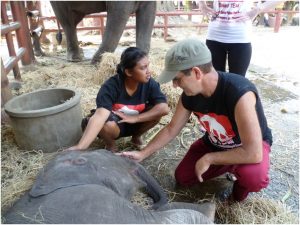 All I wanted to do was travel to Thailand and get to ride on an elephant !  I googled elephant and found the Elephantstay site and that was the beginning of one of the greatest experiences of my life !  From the moment I arrived with my two sisters, who had no idea what they were in for, we found a world of care, love and friendliness at Elephantstay that was incredible.  Learning about the elephants, learning their history, meeting them, touching them, feeding them, scrubbing them and then the ultimate…riding them was a life changing experience. No sitting on a wooden chair perched on their back for us….we rode bareback on the neck held on by the elephants strong ears !  This was the real thing. Just me and my fantastic Mahout, Don. Walking trails, into the river where they sink beneath your legs and you wonder if they will ever come up. This is only a small taste of the many, many fabulous things we got to see and do at Elephantstay. The highlight for me was getting to do a "trunk mount" where my awesome elephant Dowloung lifted me of the ground with her massive trunk and pushed me onto her neck ! Wow !!! And I can't describe how getting so close and cuddling so many baby elephants in the nursery everyday was totally awesome. So if you want an experience of a lifetime with the best food, fantastic people, great environment and sensational living areas that give you a taste of the REAL Thailand, and you happen to like Elephants…then make sure you go to Elephantstay where Eva, Michelle, Paul and various volunteers will welcome you with open arms and make you a part of THEIR family.  I want to visit a lot of places around the world but I will definatley return as soon as I can to Elephantstay.  Thanks to Ewa, Michelle, Paul, Victoria and Belynda who gave my sisters and I an experience that could never be matched !!!   I am now "Elephant" man to my work mates as I can't stop talking about it.
Cheers Big Ears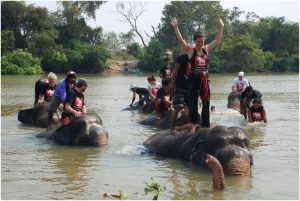 While travelling to Thailand I really wanted the chance to spend some time with the elephants. I found information on Elephantstay on their internet page and thought this place might be exactly what I was looking for. Their mission and their goal were the reason why I chose to go spend some time at elephantstay : They protect the elephants, take care of them, provide them with lots of food but they also work on giving them back their dignity and the rightful place they once had amoung the Thai people and they provide them with a great space to rest for their elderly years. As they say when you get there " The elephant always comes first and you come only second ". I had to drag my boyfriend with me and convince him to come and live this unique experience.
At first we were suppose to stay only 3 days and share and elephant, after not even one hour with my elephant I knew I wanted to stay longer and that we both needed to have our own elephant in order to fully live this experience. So we did stay 4 days (unfortunately we had plane tickets to get back to Canada because I would have stayed even longer) and we both enjoyed taking care of our own elephant. We spent time with them, feeding them, just talking to them, taking lots of pictures or just enjoying watching them be. For me the most impressive thing I noticed there is that the eyes of an elephant are just so wonderful, when you look directly at them and they look back at you, it feels like they can see through you and touch your heart and soul !!!
This experience was truly amazing for the both of us and we cheerished every second we spend with our elephants. We were so touched by everything we lived during those 4 days that when we had to leave, in the taxi taking us to the train station, we cryed like babies. I am a emotionnal personne so for me crying was part of the experience, but seeing my boyfriend crying (and believe me he does not cry often) showed me just how much this meant to him as well! The only thing I can say is that 4 days were not long enough and that I will have to go back again some day and spend a little more time with the elephants and especially with Pisamy.
When I show my pictures around to friends and family, I do refer to her as beeing MY elephant!!
If you truly want to make a difference in the life of those elephants and want to live a real experience (not only a tourist show), elephantstay is the place to go. Everybody there were great and you can see that they truly want the best for every elephant in their care. Paul… thank you so much for helping us with our elephants and making sure we felt safe at all time. Ewa and Michelle, the work you do is fantastic. You love those elephants and it shows. Your are true inspiration. Keep up the awesome work and hope to see you again soon.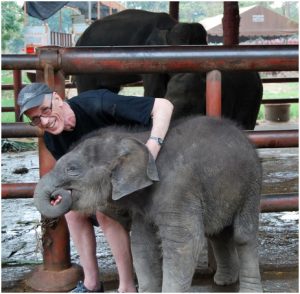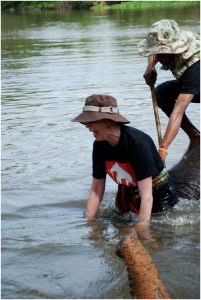 What a fantastic 3 days my wife & I, both in our 60's, had at Elephantstay. We enjoyed all aspects of the day, cleaning , feeding, washing & of course the highlight, riding our elephant Jumpee, to the river twice a day. There is plenty of downtime & with so much happening on the complex there is plenty to see & do. The food is quite exceptional & the accommodation perfect for the location. I can recommend Elephantstay for a wonderful unique experience, we certainly hope to return soon. Thanks to Ewa, Michelle, Paul & the rest of the team for giving us such a great time.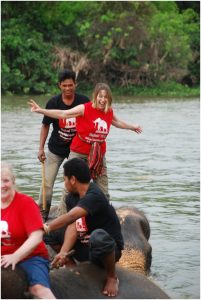 I felt I must write to say thank you for giving us such a wonderful time at your Elephant Stay a couple of weeks ago.  I would never have believed I could ride an elephant into the river and manage to stand up on her back.  Thank you Sinuwan as well!
The food was great, as was the company, and I have been telling everybody I know how amazing it all was.
Kim and I really hope we can return some time in the future and we've started saving already.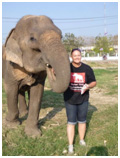 Having just returned from my second visit to Elephantstay I am already planning my return. Over my 10 days stay, I was not only ecstatic to be reunited with the gorgeous Sinuwan "my elephant" but to meet a beautiful baby girl who was only hours old, play with other naughty baby elephants, witness the practice of bulls marching and fighting, Buddhist ceremonies, visiting monks and dignitaries, and the endlessly entertaining antics of Peter. Any single one of these experiences would be a dream come true, but to have the privilege to be surrounded by so many elephants (and people who so clearly love and devote their life to these magnificent creatures) is truly a dream come true. The entire time you are there you cannot help but think you are the luckiest person in the world. If your an animal lover this is an opportunity not to be missed as it goes far beyond the standard trekking where you sit in a basket on an elephants back. Time spent with your elephant, riding, bathing, feeding and raking up after them each morning means that you truly get to bond with your elephant and you will fall in love! Thank you to everyone at Elestay who makes this experience possible.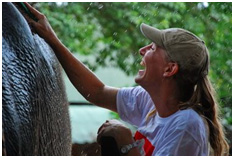 Despite my stay being unfortunately short; I was quickly welcomed by all at ElephantStay and made to feel at home and, more importantly, part of the team. My elephant, Honey, was a honey indeed! Her more than hearty appetite and gentle manner were an instant charm and I thoroughly enjoyed every minute spent with her. The ElephantStay team were incredibly patient and a constant font of knowledge throughout my stay. Under their careful supervision I was able to feed, wash and care for Honey and even enjoyed several visits to the local river on elephant-back (what other way is there to travel – really!). With constant guidance from an experienced mahout, I was able to take the reins (so to speak) and do the driving myself.
Any free time in the mornings or afternoons was generally spent watching – and occasionally interacting with – the young calves that capered mischievously about the Kraal. The introduction of a new toy kept the young ones entertained for hours, until their eventual collapse on piles of grass. Is there anything more photogenic than a baby elephant? I don't think so…
Flooding was expected at the time of my stay and as a result there was some apprehension as to whether visitors would have the full elephant experience. Well, I am absolutely certain that nothing else could have made me enjoy that visit more.
Michelle, Ewa, Paul, Neil and the rest of your fabulous team – my deepest thanks for this most rewarding and unforgettable experience. Your professionalism and dedication to such a magnificent animal is to be commended.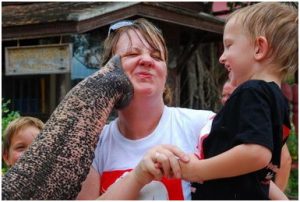 Sometimes a holiday is just that- a holiday.  You return home and quickly get back to your normal life and routine, with an occasional memory of the break you had.  Here we are however, back home, weeks after leaving Elephant Stay, and every day we think of you, the beautiful elephants, and the experience.  We knew we were changed forever when we checked into the Novotel in Bangkok the night we left you all and started eyeing off the foliage in the flower arrangements.  The girls would have loved the strappy green leaves they had on display. To be honest, I thought the experience would be one to tick off the list and then move on, but now all those comments about coming back and extending the stay on your website make sense.  We talk every day of the elephants and the experience and we are already trying to work out how to get back. With boys aged 12, 9 and 4, we were hoping all would find the stay enjoyable, but probably underestimated the effect it would have on Trevor and I. Your Mahouts and Paul and Neil are wonderful, the food is beautiful, the rooms are just right for what you are offering- a true working elephant village.  The combination of work and down-time was great;  I must admit I did not expect to find myself relaxing while there.  The bonus was getting home and loading the disc of photos from your photographer- they are amazing.  Please thank him for his wonderful work.
We would absolutely recommend Elephant Stay to anyone looking for a life changing experience.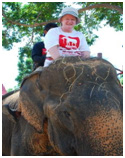 I arrived at Elephantstay and was promptly shown where my hut and amenities were, very happy to have that air-conditioning.  I shared my hut with a gorgeous Dutch girl called Annaliese.
We were paired up with our Elephants and I have to say that the lovely old girl named Sinuwan was exactly what I needed. She was a bit on the aged side like me, loved her food like me, and she was slow but confident like me.
We got along very well, she was a delight as were the Mahouts that rode on her with me, they were very patient.  Riding Sinuwan in the river was joyful, she loved swimming very deep and at one point I thought I was going to go under water myself.
Having the luxury of scrubbing the elephants was the most personal thing we could do, as you get to find the spots where they liked to be massaged the most, it felt very intimate especially when washing your own Elephant. I have to say watching the elephants (Peter the entertainer – especially) paint was amazing, my family at home still cannot believe the works of art that I bought home for them.
I WILL TREASURE THEM FOREVER.
Most of all for me the experience was the devotion that Michelle, Eva, Paul ,Neil and the Mahouts show to these beautiful creatures, you can see their eyes light up all the time when they see or talk about the elephants, it was one large family all working towards the same thing, thankyou for the one on one contact that you all provided me, by the time I left I felt a small part of the family and miss you all.
Stranger even that I miss the smell of elephant poo as well.  & from one extreme to the other the food was amazing so flavoursome.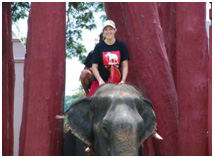 Well what an amazing week!! From hundreds of people in the city of Bangkok to hundreds of elephants in Ayutthaya! It was amazing and I wanted to send you a big, big thank you!!!!
I love all that you individually, and as an organisation are working for and really enjoyed not only the day-to-day activities, but the culture, community, people and relaxed atmosphere of ElephantStay.
Once we were introduced to our elephant we learnt to ride, play and scrub them clean. We even swam with them  in the nearby river. Gatin was my elephant that I helped look after (sometimes I think it was the other way around!) and was absolutely gorgeous. I have a feeling that she got annoyed when I struggled to pronounce the commands correctly, but all was better after a big scrub and a melon or bucket of cucumbers!
We had a party (Thai Karaoke), watched elephants painting, visited the local markets, received many elephant kisses and played tug of war or chase with the baby elephants over and over again. Along with the ~90 adult elephants there (~190 actually owned by the organization) there were a number of baby elephants. The babies were so cute and playful, even going to the trouble of stealing my shoe and running away with it. There was almost too much to do!
I'm sure this won't be my last time and to anyone thinking of visiting, do it. I do believe anyone would enjoy themselves and that ElephantStay is truly a wonderful place.
Thank-you so much once again,
We've been searching for a closer contact with Elephants for over 20 years. This took us to Kenya, Thailand, Sri Lanka and then back to Thailand. Forget the rest, this is the best!
Elephant Stay is living with Elephants. Not luxury, just heaven.
We highly recommend the experience to everyone.
Best Wishes,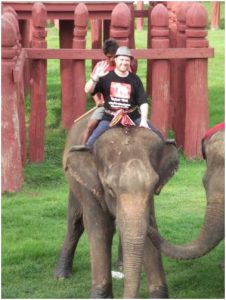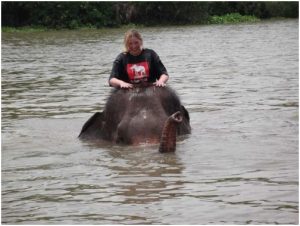 Our first sighting of Elephantstay was in the Lonely Planet guide. We had initially read about it in Fiji, booked it in Hong Kong and had been excited ever since. We were 4 months into a 5 month round the world trip and had found that our favourite experiences predominantly involved animals, natural sights and nature. In particular, swimming with manatees in Florida had been a real highlight so we were especially looking forward to our next experience with Pachyderms – Elephants and Manatees are actually related 🙂 We arrived with open minds and a little trepedation after reading some less than favourable reviews on Trip Advisor, but after many experiences of whingers in the world on this site, we determind to make a judgement based on our own personal experience – opting to feel the mud squelch between our toes and live something rather than to be put off by negative reviews. On arrival we received a very warm welcome from Paul and Neil who would and did look after us throughout our stay. They each took a handful of luggage and showed us to the cabin that would be home for the next 3 days. Following this we got down to the serious business of a cup of tea and sitting down with the other participants for a prompt 9:30am welcome and programme induction. We were greeted by Michelle who ran through the background to the foundation, hers and Ewa's history/involvement and asked our rationale and objectives for attending before handing over to Paul and Neil who covered off health and safety and gave us our T-shirts (something we were all keen to pull on so we could get started). By 11 am it was down to business, after all, this is a volunteer programme for a working elephant village. We had the pleasure of meeting our elephant (and very charming she was too) and within half an hour we were readying ourselves for our first ride to the river. Our girl, Jumpee, was the tallest of the bunch at about 8 foot and was in her 40s. It really is quite nerve racking when you first climb on board as it really is a long way down but she took it nice and steady as we headed to the river. We disappeared into the river, along with Pisamy and Rasamee and their riders. The Mahouts stood with perfect poise on the backs of the elephants without even getting their ankles wet. It was an amazing experience and great fun. We were dunked good and proper before heading back for lunch. The girls came first of course – we fetched and deposited pineapple tops and lots of them to all the ladies as it wouldn't be right to just feed your own elephant now would it… After dinner it was time for the identification parade: time to get to know your elephant by looking for and writing down distinguishing features in our handbooks. Later that day, it was our first go at elephant scrubbing: Jumpee and Pisamy were given a good scrub down which was great fun. We were wet through by the end of it as we admired our 2 squeaky clean elephants. Later after more food and treats for the girls and another dunking in the river we put them to bed and helped to clean out the paddock. It was light work as all the Mahouts, Paul and Neil mucked in alongside us 6 elephant stayers. It was done in 10-15mins and wasn't really a chore at all. By the end of the first day we'd visited the nursury, spent lots of time with Jumpee and the other girls – it was exhilarating and would have been a brilliant experience for just one day but we were lucky enough to have 2 more days to make the most of. The next 2 days were spent in total elephant immersion: we rode Jumpee taking alterating routes to the river (a dunking was compulsory every time) which went around the Kraal, down the road and through the village, fed them pineapple tops and loads of treats (bananas by the bunch, mangos, grasses, marrow/cucumber things, pineapples, grasses and green beans (a delicacy to elephants)), cleaned them out (and enjoyed it) and generally just spent bags of time with them. They were gorgeous. Even when we weren't with our girls, it was still all about elephants. The elephant village, the name gives it away, was just full of elephants from babies and little ones to huge bulls with enormous tusks. Whether it was having a scrub down in the elephant wash, heading out for a dunk in the river, munching on food and treats, chilling out or busy working, there were loads of them just milling about and going about their business. They were clearly loved and cared for and it was amazing to see the ease and skill of the Mahouts when riding and looking after these magniicent creatures. We were both close to tears when it came to say our farewells and you could see the girls knew we were leaving and maybe it was my imagination but they appeared to be a little quiet and comforted to us when we stroked their trunks and said our farewells. It has been a life changing experience: we loved it and rave about it to everyone we meet. It has definitely been one of the highlights of our entire 5 month trip and we think the Foundation is doing great things for Asian elephants now and for the future. We do hope to one day return and see our girls again (especially Jumpee, Baitoy, Pisamy and Rasamee) and see if it's true that elephants never do forget, hopefully we'll be welcomed back with open trunks.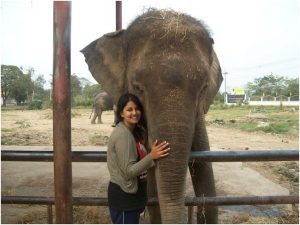 Elephantstay sucks…. JUST JOKING!! I am not lying when I say that this has been the best experience in my life so far! At the beginning I did not know what to expect but after spending a week there I didn't want to leave (so it's important that if you are a cry baby like me that you take many packets of tissues haha). Had a blast just being there immersed in that world, it was very surreal. The elephants are so beautiful and being able to take care of Rasamee has been a real privilege! The great thing is you have plenty of downtime in between activities so you can spend the day doing whatever you want so there is plenty of time to stay by the ele's so you really bond with them and get to know their individual personalities, I particularly fell in love with Pisamy, Jumpee and Galaget! The kraal really teaches you to respect these wonderful animals but it also lets you have immense amounts of fun while doing it. Even the simple day-to-day activities were filled with so many laughs! Whether it was taking Rasamee for a ride into the river and trying to push Peer off (my mahout) but instead getting myself pushed in. Giving her and the other elephants a good scrub and having a massive water fight in the middle of it, grooving to some tunes with Peer and Ret on my iPod or just mucking around with the lovely people in the village. Everyone is so nice, willing to help and always up for a good laugh. I want to thank everyone again for adopting me into this family!! Eva and Michelle for letting me participate in this wonderful program and taking care of me, Gik and Paul for being so funny and helpful all the time, Tah and Lee for always sharing a smile (and comforting me when I was crying like a baby on my last day), Nook for being the gorgeous person she is and letting me tag along for the daily proceedings at the nursery, all of the awesome mahout, but especially; Bhoy, Mee, Sai, Peer, Ret and Chorn for providing so many giggles and laughs, Victoria for always being so helpful and finally Belynda because if I didn't mention her she would hurt me …JOKING AGAIN she was/is the sweetest most cheerful thing!
I recently spent the most amazing two weeks at Elephantstay.  I never thought I could become so attached to the elephants and wonderful people and feel so at home as I did at Elephantstay.  My elephant was Pisamy, who I became so close too, that it was absolutely heart wrenching to say goodbye.
I loved every minute from the 7.30am cleaning to riding Pisamy to the river twice daily, scrubbing the elephants and feeding them.
Within hours of my arrival, the Elephantstay team, myself and other guests, along with 6 elephants and their mahouts went off to Bangkok to help raise money for the Japan disaster.  This in itself was an incredible experience and I felt very privileged to be a part of the fundraiser and so proud to wear the Elephantstay T shirt and hat.
My second day was just as exciting with a French film crew who were filming a comedy film on site all day.  Elephant Peter acted out his part brilliantly and it was fantastic to be able to watch the filming.
Unexpectedly during my stay the weather turned cooler for a couple of days and with it being too cold to ride into the river, we went into the school grounds and had an elephant race instead!!
Being able to play with the babies Angpow and Valentine was an awesome experience, especially when Angpow came over and just sat on my lap!  Also spending time sitting and watching the other babies playing in the nursery.
Yet another experience was going into town to watch the elephants perform in the weekend show.  The elephants are so talented and thoroughly enjoyed playing to the crowds. Elephant Peter is the most talented of elephants and it not only was proved in the show, but also by his incredible painting skills.  All this talent reflects on just how hard the mahouts work with the elephants and what wonderful relationships they have with the elephants.
I have many photos and video to remind me of the unreal experience of my time spent at Elephantstay, not just the ones I took, but the hundreds on the DVD, which is available to guests.
Finally I would like to say a huge thank you to Michelle, Ewa, Sarah, Gik, all the mahouts, housekeepers and cooks and especially to Pooh for all the brilliant photos, I have never had my photo taken so many times in my life, you really captured the moments and there were so many of them!!  Also a special thanks to Paul and Neil for all the laughs and to all my fellow guests who shared the experience with me.  I can't wait to return…….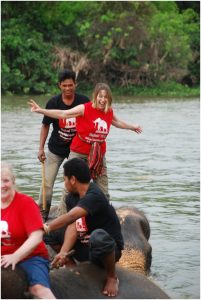 I felt I must write to say thank you for giving us such a wonderful time at your Elephant Stay a couple of weeks ago.  I would never have believed I could ride an elephant into the river and manage to stand up on her back.  Thank you Sinuwan as well!
The food was great, as was the company, and I have been telling everybody I know how amazing it all was.
Kim and I really hope we can return some time in the future and we've started saving already.
Martin and Monika wrote a detailed account of their time here in German on their blog   http://www.globetrottel.net . They did want to translate the last line however: "Ein Teil unserer Seelen und Herzen wird für immer im Royal Elephant Kraal in Ayutthaya bleiben!" "A part of our hearts and souls will forever stay in the Royal Elephant Kraal in Ayutthaya!"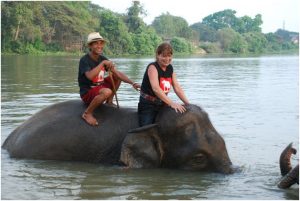 Elephantstay ? J'en rêvais depuis longtemps. Ce projet de vivre quelques jours au milieu des éléphants était le rêve de ma vie. Déjà, âgé de 5 ans, je voyais des éléphants dans mon jardin en Bretagne (France)! Cette passion a continué tout doucement son chemin. Tout d'abord avec les éléphants d'Afrique (Cameroun et Kenya), ensuite ceux d'Asie au Sri Lanka. Les années ont passé , et en janvier 2010, je découvre Elephantstay sur Internet ! Je décide de m'y rendre en novembre de la même année. Mais les terribles inondations sur Ayutthaya, m'obligent à reporter mon voyage. C'est une véritable désolation sur place … Enfin le grand jour arrive… départ de Paris le 29 janvier avec ma fille pour la Thaïlande ! Nous irons un après midi toutes les 2 pour qu'elle puisse voir où je vais vivre mon rêve pendant 10 jours. Je suis tellement émue que j'en ai la chair de poule, ils sont là ! Tous, tout près de moi !! Le 1er jour, l'accueil fut des plus chaleureux par toute l'équipe. Pour toute la durée j'aurai « Rasamee », une éléphante de 28 ans, qui se révèlera être un véritable amour ! Une journée débute à 7H30 avec le nettoyage du paddock, puis l'alimentation de Rasamee, temps libre, ensuite vers 11H00 « ridding » jusqu'à la rivière. Vers midi déjeuner, et ensuite « scrubbing », temps libre et 16H00 de nouveau balade vers la rivière, nourriture pour Rasamee et la conduire au paddock ! Le reste du temps je le passe à découvrir ce village ! Il y a tant de choses à voir, la nursery, les soins, le travail des « mahouts », la peinture de Peter, je ne sais plus où regarder. Je suis tellement heureuse d'être là ! La nursery avec 9 éléphanteaux et leur maman respective !! Un vrai régal pour les yeux de les voir jouer, se faire laver Un événement a eu lieu dans la nuit du 6 au 7 février, « Angpow » petite fille est née dans la nuit ! Elle a tout juste 5 heures quand je fais sa connaissance et celle de sa maman Ramruay ! Les journées se passent où je fais plus ample connaissance avec mon éléphante « Rasamee ». Nous établissons une réelle complicité ! Je ne sais comment expliquer ce que je ressens quand je suis avec elle, les mots ne sont pas assez forts ! Les journées sont irréelles de bonheur ! Christian Clavier (acteur français) et une équipe de TV française « Voyage » sont de passage sur le camp ! Et je crois bien qu'ils tombent eux aussi sous le charme ! « Peter », l'artiste peintre réalise une peinture devant moi ! Et je repars avec !!! Elle a d'autant plus d'importance à mes yeux, que Peter est le fils de « ma » Rasamee ! Une brève rencontre avec « Pi Om », qui est magique, et où je peux lui dire combien je suis pleine d'admiration pour lui et son « Team ». Ils font un travail remarquable ! La nuit de la St Valentin (2H15), Michelle frappe aux portes des bungalows pour nous avertir de la naissance d'un « baby boy » !! C'est une véritable effervescence sur le camp, Galaget, vient de nous faire un merveilleux cadeau ! Un beau garçon !! Nous sommes tous assis, autour d'un feu de camp, à nous émerveiller !! C'est un événement extraordinaire que je ne pourrais jamais oublier ! J'ai beaucoup de chance, aux dires de tous ! Deux nouveaux nés, qui nous régalent les yeux !! Angpow (une semaine déjà) est une vraie « polissonne » toujours en train de s'amuser et de tenter d'élargir son champ d'action !!! Mais sa maman veille et quand elle va trop loin d'un coup de trompe la ramène sous ses pattes !!! Le petit dernier lui, s'éveille à la vie sous notre regard ému ! L'avant dernier jour pour moi (nous sommes le 15), je commence à réaliser que cela va bientôt se terminer !!! et malgré moi j'ai les larmes aux yeux !! (maintenant aussi d'ailleurs). Je veux profiter à fond des quelques heures qui me restent. Je tourne et retourne sans cesse sur le camp, mes yeux s'attardent sur les éléphants en général et mon attention se concentre sur « Rasamee » en particulier. Je pars demain …. La rivière avec « Rasamee », des moments délicieux. Je m'entends encore rire aux éclats quand elle plonge !!! m'arrose avec sa trompe !!! La nourriture que je lui apporte …. elle lève sa trompe pour que je la lui donne directement dans sa bouche ! C'est le jour du départ et je suis triste. C'est terminé il me faut faire ma valise et faire mes adieux au camp ! Michelle et Ewa me donnent « officiellement » un document qui atteste de mon appartenance à « Elephantstay Team » et j'en suis très fière ! Il aura une place de choix dans mon salon ! Je repars aussi avec un DVD de mon passage merveilleux au pays des éléphants …. Ces 10 jours ont été exceptionnels !! Je pensais que la durée était trop longue du 7 au 16 février, en fait …. beaucoup trop court !! Le temps passe trop vite ! Vient le moment des remerciements : Pi Om (le créateur de la Fondation et ce qu'il a fait pour Rasamee) Michelle et Ewa, leur chaleur humaine, leur omniprésence sur le camp, leur dévouement à la cause des éléphants Belynda, Victoria et Paul (les volontaires) toujours là pour vous guider avec plein de gentillesse et d'attention. Les cuisinières, qui nous préparaient des repas délicieux La 2de maman d'Angpow, toujours souriante et dévouée à la nurserie « Gik », toujours là pour nous aider à monter et descendre du ponton, mener les éléphants à la rivière, nous guider pour la nourriture, une véritable intendante ! Poo, le reporter photographe, qui nous suit pour son reportage photo Peer, mon mahout ! En qui j'avais toute confiance « the Best » et « Georges » Soiselee que je voyais tous les matins de mon bungalow, au réveil ! Les autres Mahouts, toujours souriants quand ils nous croisent sur le camp ! Les familles et leurs enfants qui vivent sur le site. Et surtout à Rasamee qui m'a apporté tellement de joie, de bonheur et qui aura toujours une place très particulière dans mon coeur et dans ma vie ! Merci à toi ma belle ! See You Later !! Ai-je vécu autant de bonheur, autant d'émotions ? Ou ai-je rêvé une fois de plus ? Je ne sais pas, je ne sais plus ! Mais j'ai des souvenirs plein le coeur, plein les yeux ! Et de magnifiques photos et vidéos !! que je pourrai regarder, toujours et encore! Jusqu'à ce que je revienne !! Je ne sais deux choses : je reviendrai et je serai (dans une autre vie) un éléphant à Elephantstay ! P.S. Je suis revenue voir Rasamee le lendemain après midi avant de partir définitivement d'Ayutthaya …. une larme dans ses yeux, réalité ou imagination de ma part ? Je penche pour la 1ère solution … Comme dit « Pi Om » les éléphants sont de notre famille, un frère, une soeur, etc !!! et je suis sûre que les sentiments existent aussi ! (English version – Google Translate)
Like to see more testimonials: