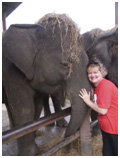 Staying at Elephant stay was a dream come true for me. I have always loved elephants and of course would love to have one but that isn't possible, so to bond with your elephant there, is as close as you can get. My daughter and I stayed for 5 days which was worth it. After 3 days we part of the furniture and knew what to do. I have to admit we were a bit over the cleaning part, but that is what the stay is about. caring for your elephant which included raking the poo as well as the fun part of feeding and riding the elephant. The more you put in, the more you get out of it. Having the extra 2 days was special because we had time for the extra quality time with the elephants taking more photos and going into town to see the elephant show which was adorable.
My advise to future travellers is to take note of the clothing suggestions. You definately need the long pants as the elephant hairs can pierce through  your pants and skin which can get infected in the river. Take betadine and antibacterial cream. Also you do wear the elephantstay tshirt as a uniform so I didnt need all the old clothes I took with me.
Words cannot describe how special it is, to be so close to the elephants and care for them as your own. I will be keeping in contact with them as they are a genuine non-profit organisation and the people are so friendly. It's my way of continuing to support the elephants as they cannot survive without people like us.
Kisses to Rasamee and Pisamy and the adorable Peter who gives you kisses back with his trunk. My daughter has a million photos of it. lol.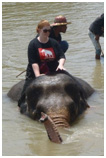 My Elephantstay experience has been full of surprises! This is not a tourist thing like we see everywhere in Thailand… when you go to that elephant camp, you really become part of the team over there and actually work as a volunteer, doing pleasant jobs, but also hard tasks, getting wet and dirty, wich is different and amazing! Staff is really nice, food is just delicious and huts we are sleeping in are very comfortable : I slept like a baby! Even in my english was not perfect, the volunteers working with us are very patient and kept repeating and speaking slowly as much as I asked for it. I went there on my own, but everyone made me feel like a part of the team as soon as I arrived! I met at Elephantstay people who really care about elephants like they were members of the family. I have been impressed of all the hard work they are doing everyday to give nice life to those intelligent and lovely animals. I've been travelling 25 days in Thailand and I am glad I finished my trip with my four days stay in Elephantstay. Thanks!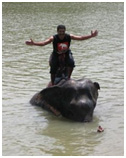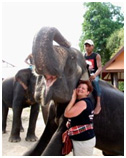 Simply a wondrous and overwhelming experience of a life-time. Normally, we reserve these words to describe what are usually once in a lifetime experiences, but we know we will return to experience life with the elephants again. The experience of not only living with the elephants for three days, but actually taking care of them; feeding, watering, riding, scrubbing and bathing them. Michelle, Ewa, Paul and Anne and all the mahouts did everything possible to make us feel part of their team. We could go on and on attempting to describe our experience and feelings, but words cannot justify the total Elephant Stay experience. For all animal lovers, this is a definite for your "bucket-list".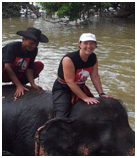 What a wonderful time I had at Elephantstay in June 2012! Ewa, Michelle, Paul and Tash made us feel welcome immediately, the food was delicious and the huts are very comfortable. It was wonderful to spend as much time as we liked with the elephants. Riding our elephants through the village and down into the river was amazing – and you get to do it twice a day!! The babies are so cute, TG is a joy to watch and play with, I have many photos and videos to look at and to share of this fantastic place. I would encourage anyone to spend some time at Elephantstay, I know I will go back. Congratulations to Elephantstay and the Kraal for the wonderful work they do, looking after the elephants and helping new ones into the world.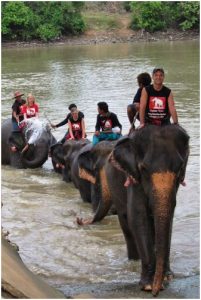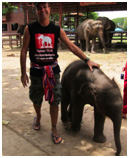 Elephants are amazing creatures. They seem to belong to a distant, prehistoric past but they are here among us right now. Coming to Elephantstay is an excellent way to interact with elephants, to learn more about them, to care for them and to befriend them. The village is charming and bustling with activity as the staff, the mahouts and the guests all go about the business of taking care of over 90 elephants. The program is rewarding because you are contributing to the welfare of the elephants, providing them with TLC and just plain taking care of their day to day needs. Who knew that cleaning up after them could be so satisfying. Riding the elephants is a blast– it is so much fun to ride them into the river and go for a dip. The Directors, Michelle and Ewa, are good hosts and good people. The Team Leader, Paul, is very enthusiastic and keeps everyone's spirits up. The mahouts are friendly and good-natured. The cabins are comfy, the food is delicious, and finally, there is nothing on earth more adorable than a baby elephant.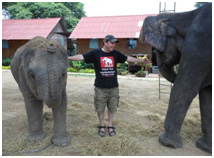 Elephantstay was the experience of a lifetime!  I spent one full week there and I left vowing to return.  Ewa, Michelle and crew do an amazing job educating, facilitating and providing top notch all around experience to both guest and more importantly, the elephants.  You'll clean them, you'll ride them, you'll spend hours observing, interacting and learning from them…  It's an elephant lovers dream!  The food, accommodations and hospitality were also fantastic!  I felt at home there and very welcome.  I was lucky enough to visit Elephantstay 10 days after the birth of "George", their newest baby elephant.  I literally spent hours watching his interactions with mom and even getting some up close interaction with him myself.  I had to pinch myself as I was actually playing with a baby elephant.  If you're anything like me, you'll walk away feeling extremely lucky to have had such a rare and special experience.  Thank you, Ewa, Michelle, Paul and the rest of the crew.  I look forward to seeing you and the elephants again soon!
In April I was able to visit Elephantstay for the second time. My first visit was for 3 days which I thought wasn't long enough
so I booked for 7 days. As the time got nearer I thought what if it wasn't as I remember and I'm disappointed. Well, that was silly
because the minute I arrived I was welcomed back into the "family".  It was lovely to catch up with old friends and meet new ones and to get re-acquainted with those wonderful elephants. Dear Rosukon was a delight, such a sweetie.
The village life, caring for your elephant, rides to the river, playing with those cheeky babies, getting to know the mahouts and not forgetting the fantastic food make Elephantstay a terrific holiday with a difference.
The 7 days went far too quickly and soon it was time for a teary farewell but with a promise to return again and next time will be even longer. So if you are reading this testimonial and thinking about visiting Elephanstay all I can say is just DO it!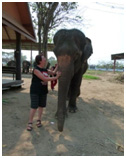 I have just returned from three amazing days working with and learning about Thai elephants and their plight – it has been an unbelievably rewarding experience.  The three day program is well organised, commencing with an introduction to 'your' elephant, her unique markings and character traits.  You spend your time caring for, working with and riding your elephant:  feeding, watering, bathing, sheltering and cleaning.  Riding them you learn the Thai words to steer and control these amazing gentle giants.  This is not a luxury excurs
ion, this is real life caring for these beautiful,  seriously endangered animals.  The luxury comes at meal times with the exquisite home-cooked Thai meals provided!  A
very big 'thank you' to everyone at Elephantstay for the privilege of being able to work so closely with these incredible creatures. Best wishes for your continued efforts in raising awareness of the plight of the Thai elephants.
My mum and dad wanted to take my little sister and I on an experience that we would never forget. Well they certainly made the right choice. Elephantstay has been the BEST experience of my life so far!
As I am only 11 years old, I was the youngest team member there, (apart from my little sister Ali who is 8). When I got there and saw that we were the only children there, I was worried that I wasn't going to fit in. It definitely wasn't that way. Everyone made my sister and I feel welcome, and part of the team. Elephantstay is perfect for children and adults, so if you are a parent, who is unsure about taking their children to this wonderful adventure, don't hesitate, book them in too!
The best part of Elephantstay for me was definitely riding my beautiful girl Sinuwan into the river and washing her. Oh, and playing soccer with the baby elephants, they were GORGEOUS! Errrrrm I shouldn't leave out eating the meals that the housekeepers prepared for us, 11 out of 10 ( there was also a lunch time ice cream man who came around, 26 bart for a cornetto, whoo hoo!) . Hats off to the housekeepers. On one of the days I was there, we got to go and watch the baby elephants dance at the markets. They were just amazing! That was another one of my favourite experiences.
After my last ride, on the last day, I bawled my eyes out, I did not want to leave Sinuwan or the team. Elephanstay is the most memorable thing I have ever done.
When I am older I am going to come back and volunteer. Unfortunately, 11 is too young to come back and volunteer.
I highly recommend Elephantstay for ANYONE who is seeking adventure.
Thankyou Michelle, Ewa for running this excellent program, Paul and Neil for making us laugh,  but especially big thanks to Eliza, Reggie and Anne who made our stay very ,very special.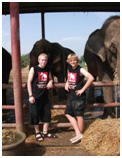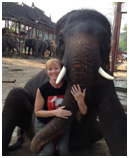 In April 2012  we made our third trip to Thailand in the space of 18 months and completed our second 7 day stay at Elephantstay (on the first of the 3 trips, our stay was cancelled due to floods).  That probably gives an indication of how much we love Elephantstay!  Previously it was just my husband and I but on this last trip we took our 17 and 15 year old sons, as we could not wait to share our passion for the work, people and elephants of Elestay and have them experience it, and Thailand, for themselves.
The moment our tuk tuk turned into the road to the village we felt we were home and back with dearly missed family and friends. It was pure joy to see "my" beautiful girl Jumpee and all the other girls in the program again, meet the latest round of babies in the nursery, be in the company of the incredible Peter and see how much Soi had grown!  The experience was even better the second time around. Being familiar with the routine and more confident with controlling the elephants on rides etc meant I got even more out of our week than the first time, – which at the time I wouldn't have thought possible!
As I said in my 2011 testimonial, like most things in life the more you put in, the more you will get out of your time at Elephantstay.  During our stays there we have met people who didn't spend anytime with their elephants, want to learn or even seem interested in being there. The program is not dedicated to tourists, it is dedicated to the elephants and meeting their daily needs. You are staying in a working village and as such there are routine tasks to be done and guidelines you must follow for your own safety and that of the elephants. Go with an open mind and a willing attitude and you will have the experience of a lifetime no matter what.
To my delight our boys loved every minute of it and also can't wait to return. They looked after darling old Sinuwan for the week and truly had the time of their lives as they got to know her through feeding, scrubbing and riding her, absorbing everything going on around them in the village.   For me the worst part of Elephantstay is leaving, but our week ended on a high as we took part in the media event for Songkran, the Thai new year festival.  In our bright Songkran shirts we went into Ayutthaya with the eles, helped to paint them and then staged water fights with them for the cameras, ending in parading and dancing with them down the street. Elephants are made for water fights and we had just the best day.
It was fantastic to catch up with Ewa, Michelle, Paul and Neil again, see Gik, Peer and the other mahouts and staff and meet Anne and Tash who were fabulous volunteers.  As before the food was to die for and plenty of it.  A big thanks to everyone for another truly special week, next time we will be spending at least 10 days as we miss the place so much and the time there always goes far too quickly.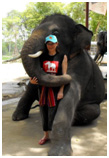 Having just returned from a great holiday in Thailand, I feel I must thank Ewa, Michelle, Paul and all the elephantstay team for making our short time with you so memorable. Elephant stay was a wonderful hands on experience, which I would urge any animal lovers, who may be looking for a holiday with a difference to do. The Elephants are an absolute delight, each with their own special personality, making everyone smile and laugh, as they delighted us with their antics. The food is amazing, the accommodation more than adequate, but the interaction with the elephants is the absolute highlight: The first nervous climb onto her neck. Giving your first commands and getting the desired response. Hanging on to her ears in the river as she decides to duck underwater. Watching the playful baby clumsily frolicking. Seeing an artistic elephant create his masterpiece. Having three more trunks suddenly appear in your face as you feed your elephant treats. Being kissed on the cheek and waved to all by trunk. Priceless!!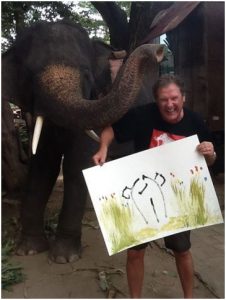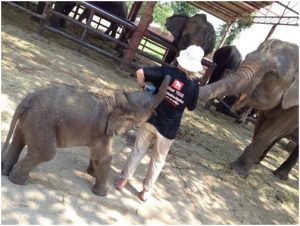 If you want the real elephant experience, this is it! Contrary to what my husband thought, they are not delivered to you freshly shampooed after breakfast  when you can take a stroll through a picturesque village on a Howdah…… You have to muck em out, feed and water them, take them for a bathe in the   river and give them a good scrub down. For all of that effort, they wake you up in the middle of the night trumpeting….. Cos they are just next door!  The rewards are hard to describe. How can you describe the feeling you get when a four ton elephant that you are helping to care for points to its mouth   with its trunk when it sees you with a basket of fruit? How can you describe your incredulity when a nine year old, highly intelligent male elephant paints a   picture in front of your eyes? How can you describe the emotion that wells up when an untethered three week old baby elephant scampers around you and  snuggles into your legs, almost pushing you over as a consequence. His mum was quite relaxed as by now you know that the baby has to be kept within  shouting distance of his mum; and  she sees you with a basket of fruits for her. This is a working compound where elephants come first so although the huts  are basic, they are adequate. the food however, is great. The hosts are fantastic company especially after a couple of "white elephants" after a full on day.  Michelle and Ewa, and all of your staff, voluntary and otherwise, give yourself a pat on the back. A word of warning: Gik, número UNO Mahout lady has a  smile that lights up the compound, but if she yells at one of her underlings and your ear happens to be  in the way, you might suffer from tinnitus for a couple  of days. The only other thing to hope for is a good crowd of stayers, we were lucky with that one too. Now back in human world, showered polished and in  a dress (told you I needed a dress, Michelle) I can't believe we did it!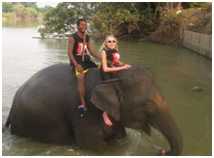 I have just returned from my amazing 3 days in the elephant village, although I felt as though I could stay forever. It is a truelly unique experience that I will treasure forever. I am not only refering to working with and spending time with the beautiful elephants, but spending time in the working village, watching the fascinating relationship between the mahuts and the elephants and the elephants themselves. The lovely people at the elephant village completed my experience by making me feel completely welcome and at ease as though part of the family. Thank you all for a terrific time and all the hard work that you do. I cannot wait to return!!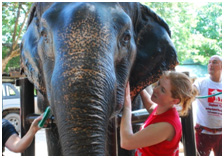 My first visit to Elephantstay was in May 2011. Literally as soon as I left I was planning my next visit.  By March 2012 I was back and it was just as amazing and magical as my first visit.  I was welcomed back like I was 'coming home' and settled in like I had never left!  Being able to work and play with such magnificent and wonderful creatures is an experience of a lifetime; no words can accurately describe the experience of this amazing place.  Spending the entire day amongst the elephants, from feeding, watering and riding your elephant to playing with the babies in the nursery is like another world.  Ewa, Michelle, Paul, Neil, Anne and mahouts are lovely and make you feel like you are part of the 'family'.  The food is mouth watering.  If you love animals and want a hands on experience with elephants then there is no better place than Elephantstay!  I cannot recommend it highly enough! Five days was just not long enough and I can't wait to get back to see the gang and Gatin!
Like to see more testimonials: