Our time at Elephantstay was short, but the impression it left upon our hearts was great… We spent 3 amazing days at the Royal Kraal Village; 3 days having the great opportunity to take part in the care and welfare of elephants, to learn about them and enjoy a very special time with them. So we have to say a big thank you to Ewa and Michelle for running this excellent program. Also a big thank you to our mahouts, who looked after us and made sure we felt save all the time during the stay. A big thank you to the housekeepers, who cooked the really best and delicious meals we had during our weeks in Thailand. A special big thank you to Paul and Neil for their great dedication, warm hospitality, humour and their patience. And at least, thank you lovely Yitor for opening my heart and giving me such unforgettable moments.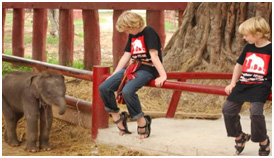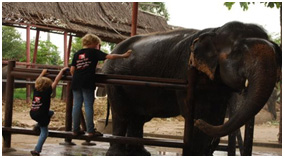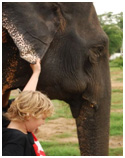 Thank you very much for a so memorable stay at the elephant village. Our whole family really enjoyed it. A very special place you have and we feel really lucky to have had some time with you. We will not forget Jumpee and Rosukon (and all the other elephants), the childeren really miss them and speak of your place with great enthousiasm, the rest of the holiday could not compete…. We wish you and all the elephant all the best.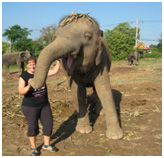 If you want a holiday, that is hands on with elephants, then Elephantstay is the place for you.  I was there for 11 days, and yes, you get sweaty and dirty cleaning the day and night areas in the morning, but then you get cleaned off when you take the girls (elephants) down to the river for a dip, both in the morning and in the afternoon.  It's fun giving them their food, or watching each one drink differently from the hose. To ride these beautiful elephants is a wonderful experience especially bareback, and practicing the commands for forward, turns and stop…well they don't always listen, so it is good you have a mahout on the back of the elephant with you.  It's also fun to hunt through the pineapple plants for that whole pineapple, that you give your girl as a treat.  I had Rasamee, and she was a filthy girl in the mornings, loving to apply her own mud/ dirt pack overnight, but she scrubbed up beautifully.  Giving the elephants their scrubbings/ shower, was also a fun and yes a wet experience.
Bumblebee, the 2 and a half month old elephant, was hilarious to watch her mischief making, and I loved helping out to give her a bath.
The accommodation is clean and basic, but you have an air-conditioner, which is bliss in the evenings.  The food is so yummy and you don't go hungry.  The staff and other volunteers who share the experience with you, also make the holiday so much fun.  But the one who I have to thank the most is Miss Rasamee, for taking such good care of me when I was riding, cleaning, feeding and  giving her praise.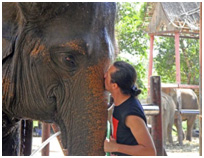 I wanted to thank you again for an incredible stay with you these last three days.
I will keep it in my heart and soul for a long time.
Your elephants are so great, and so is the team, and really I'm so happy to have met Baitoy and spend this time with her.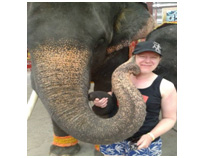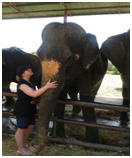 Elephantstay May 2013.
Just to say a wonderfully big thank you to all at Elephantstay for an amazing experience of a lifetime. For a long time I had dreamed of being able to meet these magnificent animals and see what it was really like to take a ride, as well as care for, and this finally came true.
My trip was all possible in memory of my granddad that passed away last year at the age of 92; he and my Nan were both huge travellers in their lives and had the most incredible stories to tell. With the legacy he left it was to do something special and this is what I chose. It was my first ever trip away alone and the thought of doing it scared me but thanks to the support from my friends and family the decision was made. I was lucky enough to be in touch with a member of the team Katie Cockram before flying out who settled many of my fears. On arrival I was greeted by many friendly faces which relaxed me and I became part of the team in no time.
My elephant was Jumpee and she was beautiful, it was the most amazing experience for the first time to be up close and meet this breathtaking creature. Over the next week a strong bond formed (well definitely from my side although I'm sure I got a couple of 'looks' along the way) and it was so difficult to say goodbye but Jumpee gave me some wonderful memories of riding, feeding, scrubbing and just being able to look after her. It was especially fun going down to the river and splashing around, although needed to hold on tight! Meeting the beautiful babies and being able to interact with them so freely especially Wan Chang Thai who I constantly had to dodge out of the way to avoid being 'run down' such a fun game! As well as having the opportunity to meet Peter and observe his superb painting skills, having my first hug and kiss from an ele – thank you Peter!The whole experience has been a lifetime achievement for me and not only with the interaction of the elephants but travelling half way around the world to do it. I wish to thank Ewa, Michelle, Katie, Neil and Paul and all the other fantastic staff for all the help over the week, answering all my questions and providing such a wonderful atmosphere to enjoy these amazing creatures up close. I would recommend everyone to visit and participate in the program; it is something that a lot more people should be aware of so that we don't lose these wonderful animals for good.
It was one of the best experiences of my life so far and I take away many memories that I will be able to share in the future; as well as meeting a few new friends along the way. I can't wait to go back again and now have a list of friends and family that want to join me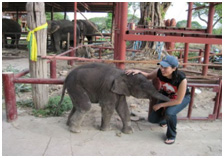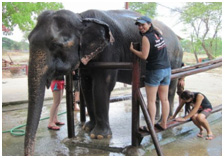 I'm writing to you from the Bangkok airport where we are about to catch our flight back to California. I can't stop thinking of our visit. If I didn't have the photos as proof of our time at Elephantstay, I would think that perhaps it was all just a wonderful dream.
You, Michelle and Mr. Meepan have created something truly magical, and so very admirable. I'm so lucky to have had a chance to be with the elephants, and want to thank you for making it possible.
The accommodations are lovely and very comfortable. We loved the small scale of the operation and unpretentious surroundings. Falling asleep to the sounds of elephants outsider the hut is something I'll never forget.
Your staff was completely fantastic. Everyone from the gentlemen who transported us to/from Ayutthaya, to the gals who cooked the delicious meals, to of course Katie, Neil and Paul, who were just great.
You couldn't ask for better hosts than Katie, Neil and Paul. We felt so welcomed and safe with them, and immediately like we were part of the community there. They were warm, really knowledgable and fun to talk to. Also, I was traveling with my mom (who has vision problems and mobility issues) and they were very kind and accommodating about making sure she was comfortable in camp while I participated in the elephant-realted activities. I hope to keep in touch with them for many years to come.
I was assigned to Jumpee and definitely fell in love! What a beauty she is. At one point, after our last ride, she seemed to look down at me and really make eye contact. I won't be so presumptuous as to speculate about what she was thinking or feeling, so I will only say that I felt deeply honored to have been acknowledged by her.
Our time at Elephantstay was nothing less than enchanting, and exceeded my every expectation. The experience is one of awe, friendship and fun.
My only regret is that we missed meeting you and Michelle in person. I will return as soon as I am able!
With gratitude,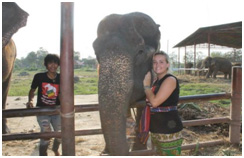 In January this year I was fortunate enough to find myself spending a week at Elephantstay.Over the years I had developed a deep love and care for elephants and I hoped to find a place where I could spend time with elephants and like minded people whilst being in an environment that was also helping elephants.
I got even more than I bargained for. My elephant for the duration was the beautiful Rumruay, of whom I fell in love with instantly. She has such a sweet personality and every moment with her was a blessing. I learnt so much in my short time at elephantstay, from the amazing staff and fellow volunteers. As well as learning and enjoying spending time with Rumruay and the other elephants and elephantstayers I also was able to enjoy the AMAZING food on offer. I am sure I left at least a few kgs heavier because it was so delicious!
I am already working hard to try and fund a trip back to Ayutthaya, I cannot wait to return and see everyone again. What an amazing place, doing inspirational things for elephants.
Special thanks to Michelle and Ewa and everyone else on the team.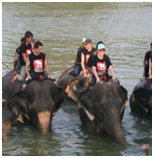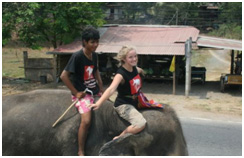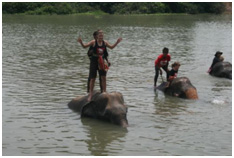 Our family has just spent the most amazing week at Elephant Stay in April 2013.  We booked our trip 8 months in advance so while we were waiting for the day to arrive I checked the website regularly for news and updates.  To say we were excited when we read about Wan Chang Thai's birth less than 3 weeks before we arrived would be an understatement.
From the moment we arrived we were amazed.  The sight of so many elephants in one place was a truly awesome sight.  My husband and youngest daughter (13) had the privilege of caring for Jumpee and myself and oldest daughter (15) the honour of caring for Rosukon.
We were all a bit nervous for our first ride, not fearful of the gentle giants it was just a really long way down.  But our nerves disappeared quickly as our masterful mahouts made us feel safe and held onto our pakamas so we wouldn't fall off.
After a couple of days as we learnt the routines of the village.   The 7.30am  cleanup , the feeding and watering, riding the girls to the river, scrubbing-you need to be wetter than the elephants or you're not doing a good job, were all activites we looked foward to.
Our experience at Elephantstay became better each day as we discovered our Elephants personalities.  The cheeky Jumpee and the patient and relaxed Rosukon were a perfect match for our family.
There is plenty of free time to watch the daily goings on of the village-something  different everyday.  Watching the elephants working around the village, sitting at the nursery and looking at the babies, having 3 week old Wan Chang Thai step on your toes and hearing Soi enjoying one piece of birthday cake 6 times are memories that we will cherish.
It was a wonderful sight at the end of the day to see all the elephants return from working in town.  As the sun set in the background , observing the elephants getting hosed down and the relaxed look on their  faces, we were sure that they were smiling as they enjoyed the cool shower after a days work.
A huge thank you to all the staff at Elephantstay, especially to Paul and Neil for their dedication, good humour and patience.  The housekeepers for the delicious and plentiful meals that were served to us and to the mahouts that made us feel secure and safe whilst riding.
To Ewa and Michelle thank you so much for the opportunity you gave us to experience one of the best weeks of our lives.  We cannot express in mere words how much we loved participating and we were truly honoured to be a small part of your lives for only a week.  Our only regret is that we didn't stay longer.
Keep up the great work we will defiantly come back to rake,scoop, water,ride and feed your beautiful girls.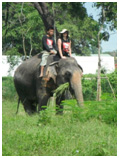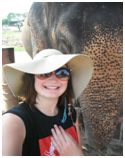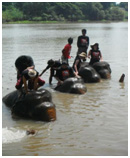 I am so thankful to be able to say that ElephantStay has been the greatest experience of my life and will stay with me forever. I will never forget the feeling that filled my body when the car pulled in to the driveway. Elephants everywhere! I couldn't believe I was finally here.
Two months prior to arriving at ElephantStay, I was sitting at home looking at volunteer tourism programs around the world. Elephants have always been a great love of mine so whenever a volunteer program involving the elephants popped up, I was very eager to find out more. However, ElephantStay got me as soon as I read the program outline and the amazing testimonials of past volunteers. By the end of the week, flights were booked and contact had been made with Ewa in regard to a 2 week stay at the village. My first international trip was happening and I couldn't think of a better way to start it!
As I said, driving in to the village was the most surreal feeling and when we hopped out of the car we were greeted by Papa Paul, who even to this day I still see as my Papa. We then met Ewa and Michelle, who again took me in as if I were family. After getting the tour of our cosy air-conditioned bungalow, it was time for an introduction and then finally it was time to meet our elephants. I was lucky enough to be paired with the beautiful, strong minded Honey.
For a start, it was a bit overwhelming. You never fully realise how big and powerful an elephant is until you are sitting on top of one. However, my Mahout Keng made sure I was always comfortable and safe. Paul warned me that Honey has a mind of her own and I would have my work cut out for me. He was right. But by the fourth day, a beautiful friendship was starting to blossom. Honey was responding to my commands and I would even go and sing to her after we had fed the girls in their day areas. She seemed to like it. By this point I was already dreading the thought of having to say goodbye in the near future.
Even though Honey was my girl, I got to know the others as well. The two week stay meant that somedays I was caring for a number of elephants, not just Honey. I always enjoyed feeding and watering the three girls on the end; Pisimi, Sinuwan and of course, my girl who was clever enough to hold the hose herself.
While the elephants were all such beautiful creatures, the people living and working in the village were very much the same. The mahouts made the adventure so enjoyable. By the end of the first week my friend and I had bonded with out mahouts Keng and Peer. It got to the point where every time we went to the river, a water fight would erupt and it was the mahouts mission to get the ferang (foreigner) off their elephant and in to the water. Keng was really bad at this… He fell off more times then I did.
In the final week, Keng thought I was good enough to be a mahout as well and he gave me his takaw. I was so scared I would lose it in the river! The last water fight was truly epic. There were mahouts and volunteers jumping from one elephant to the next, tackling each other in to the water. It was such a nice feeling and everyone was having such a good time. Not even a language barrier came between the friendships that were formed between the mahouts and the volunteers.
I truly miss everything about ElephantStay so much. My little friend Eve, Papa, Michelle, Ewa, Keng, Peer, Gik, Lay, Yar and absolutely everyone else. I miss my morning kisses from Soy (elephant), putting on my pakamah or trying to remember where I put it.. I miss the puppies that I became a temporary mum for and watching Peter and Pat paint. Little Girl and Buddy are possibly the most beautiful animal couple I have ever come across and Bunlooa is a little friend I will never forget.
I don't think I could ever thank Michelle and Ewa enough for bringing ElephantStay in to this world, because it truly has been the most wonderful experience of my life. I feel like I have a whole other family on the other side of the world. I learnt so much in a few short weeks and my only regret is that I didn't stay longer. I know that I will be returning very soon, however I don't know if I will be able to leave.
There is so much more I could write but I think the best way I can finish this is for you all to know that after my friend and I left ElephantStay, we still had two weeks remaining of our Thailand holiday. We were sitting on beautiful islands, walking through jungles and villages and the entire time we were doing all these amazing things, we were home sick from ElephantStay and wanted nothing more than to return to our new family.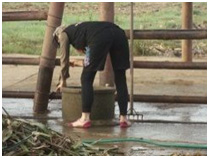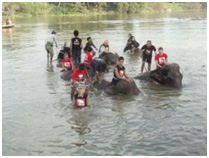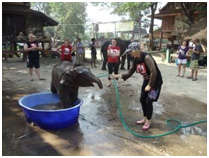 If you want to get involved with elephants, then I suggest you try Elephant Stay in Ayutthaya. It is 2hrs (depending on traffic) by bus from Bangkok. Perfect!
My 3 day 2 nights paid stay was so much more than I expected. It was amazing!
The accommodation is comfortable and the meals are fantastic, no one goes hungry.
An information induction happens on arrival. When it has been completed, the excitement builds as you wait to learn the name of your very own elephant. It takes no time at all to bond with your elephant because you are immediately involved in caring for it. You will get dirty, wet and smelly.
It is great fun!
Every day you get to ride your elephant. You sit up front just behind its ears with your Mahout, he sits behind you; he will ensure you don't fall off!
The most awesome fun is when you and your elephant are in the river. My elephant loved to submerge her head and trunk, I'm now wet up to my waist, but she thinks I'm not wet enough, so she folds her trunk over her head, and sprays me. Now I am WET!!!
At the busy Elephant Kraal there are many, many opportunities to take photos, there is so much happening, and you will find there is never a dull moment. We got time to bath the baby!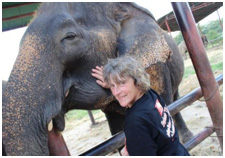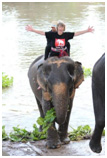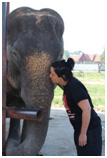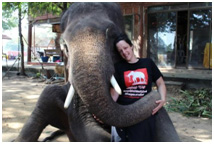 Our week at Elephant stay in November 2013 was an experience we will never forget. Working in the village and experiencing firsthand the special bond the mahouts have with the elephants is truly inspiring. We found too the more you interact with the mahouts the more they will feel comfortable with you too. By the end of the last day our Mahout "Lay" decided it was funny to see if he could
push me into the river while bathing our Elephant "Sinawan". He was laughing so much he ended up in the water first while I hung onto Sinwan trying not to join him!! Being so close and hands on with these magnificent animals each day when riding, bathing, feeding, watering ,and sheltering them makes you appreciate them all the more. Throughout the day you sometimes find yourself saying am
I really seeing this while you pinch yourself as you watch an elephant paint a picture, bath a baby elephant in a tub of water, scrub a day's worth of dust of the feet of your elephant and receive a kiss on the cheek like a vacuum cleaner from one !!
From the time we arrived to the time we left we felt a part of the Elephant stay family. Michelle, Ewa, Paul and Neil were all there to greet you on arrival as well bid you farewell with a sincere thank you for visiting them. They are so passionate about what they do and were always there to answer any questions we would have. The accommodation was basic but very clean and comfortable. The food was absolutely delicious as well as the service and the white elephant cocktails each night was a great way to finish the day, thanks Neil !!
These incredible creatures will always have a special place in our hearts especially our gorgeous girl Sinawan. After struggling through the year with personal heartache, our time at elephant stay helped us both to heal, re-fresh and focus on the New Year ahead.We feel extremely lucky that we were able to be a part of this experience and vow to return in 2015.
Elephant stay is a must do on your list of life time experiences.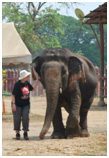 I returned from my third stay at Elephantstay in March, and I love it more each time.  For anyone with a passion for elephants, the complete immersion into a real mahout village and the hands-on experiences are incredible.  Michelle and Ewa have developed a unique package that provides you with a one-on-one experience with a retired elephant.
You are involved in all aspects of caring for your elephant starting with 7:30 cleanup, including feeding, watering, riding to the river for bathing, and generally providing lots of TLC.  This opportunity to be with your elephant every day, and develop a bond with her is amazing.
The daily routine is scheduled around the needs of the elephants, with lots of free time to absorb life in a mahout village.  You can watch mahouts and elephants getting ready for and returning from work in town each day, watch regular elephant showering, and see the amazing Peter painting.  There is always something going on, so you can be as involved as you wish.  Hanging around the nursery is a wonderful experience – whether it's watching a young newborn's early days or the playful times of one year olds.
Accommodation and meals are included.  You sleep in a raised bamboo hut, with air conditioning and a western bathroom.  The food is prepared locally and is very tasty – you will never go hungry.  If you're looking for a resort vacation with all the luxuries that entails, this is not for you.  If you want a genuine experience with people who love elephants and to be surrounded by these magnificent animals, then Elephantstay is the place to be.
You arrive as a stranger and leave, very reluctantly, feeling you are leaving a new family behind – both people and elephants.  A huge thank you to Pisamy for letting me be part of her world.  My heartfelt thanks to Michelle, Ewa, Paul, and Neil for their ongoing efforts and commitment to provide a truly wonderful experience.  I can't wait to return!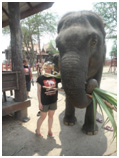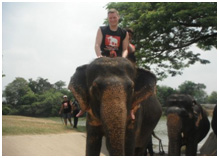 E verlasting memories were made at a heavenly place looking after beautiful retired elephants. Having
L ooked at similar places, we chose this one and could not have made a better decision.
E wa, Michelle, Paul and Neil were fantastic hosts. Welcoming us into the team
P roviding answers to our questions and always keeping us entertained!
H oney and Rasamee were our girls and it was love at first sight,
A t the end of our 6 night stay we couldn't bear to leave them or
N aughty little Wan Chang Thai who is a joy to be around and has a real character.
T o be so close and interactive with these majestic creatures was a real privilege and a
S pecial mention must go to Peter and Soi who amazed and delighted us in equal measures.
T he food was delicious and the accommodation was wonderfully quirky!
A ll in all our experience exceeded all of our expectations and we can't wait to return!
Y ou can't help but fall in love with this place! Thank you to everyone at Elephantstay!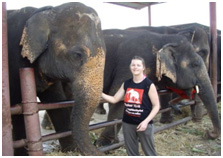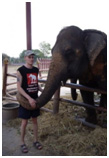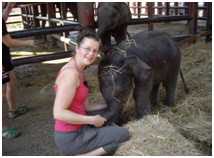 Just wanted to say thank you all very much for the most wonderful time at elephant stay. It was beyond my hopes of what i thought it would be. An amazing memory that will stay with me forever.The boys looked after us brilliantly and the food was amazing. If i had to say what 2 things are the best about the stay it would be….firstly the elephants (that was obvious wasnt it?) and secondly the amazing atmosphere we felt once there. Its almost like a family unit. You all made us feel very welcome.
'We were lucky enough to arrive a few days after Wang chang thai was born and boy i cant even begin to tell you how absolutely gorgeous she is. To watch her Mahout play with her was very funny, i never knew a baby elephant would ever be ticklish. I never in my wildest dreams thought i would be interacting with an elephant so young but i can tell you it was another amazing experience.
I will definately be going back. I want to see everyone again and also see if little Wan chang thai turns out to be as cheeky a teenager as she is a baby.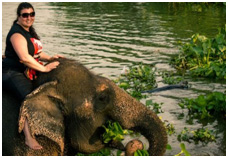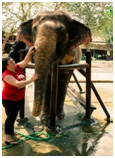 Spending time at Elephantstay has been a dream of mine for a number of years now, and it finally came true in March. It is difficult to express the emotions which come with spending time at a place like this, but all I can say is that I feel so privileged to get a glimpse into the life of working with elephants and the mahouts. I spent a week at Elephantstay and cannot wait to get back – during my first night, I would peak outside the window at 2am, 3am, 4am and think "I cannot believe that there is an elephant outside my hut!". Watching the bond between Peter and Pat, listening to Soi "yelling" because she wants more(!) food, blowing air into Soi's trunk and her doing this back to me (she is like a big hairdryer), and bonding with "my" elephant Honey continues to play in my mind every day. The routine at Elephantstay is well paced, with plenty of downtime to take in the goings on around the village and watch the mahouts go about their daily business, mixed with the tasks that come with looking after an elephant. My biggest challenge of the week was actually becoming confident in riding Honey down to the river – although I had thought about it before arriving, actually sitting on the top of an elephant was a bit more scary than I expected. By day 3, I was getting the hang of it, and Honey had stopped pressing her ears against my legs to try and reassure me that I would not fall off. Swimming in the river with my fellow Elephantstayers, the mahouts and elephants was a blast, although my mahout, Gik, was determined to use me as her bodyguard whenever Neil tried to get her off Honey and into the water – he continually succeeded with both Gik and I ending up completely drenched. I have learnt that one of the ways to Honey's heart (and every other elephant) is food –  we all soon caught onto this and by 7.30am, the ground had been wiped clean of any tamarind pods that had dropped overnight, ready to give to our elephants as a "good morning" snack. Giving Kane a bath was hilarious, and scrubbing the elephants each afternoon guarantees to cool  you down in the Thai heat – you end up even wetter than the elephants. Overall, this is an opportunity to get up close and personal with elephants, and get a taste for what life is like in the village. The experience allows you to  get involved and walk away with a different perspective on life and an appreciation for what everyone at Elephantstay and the Kraal are trying to achieve.
To Ewa, Michelle, Paul, Neil, the mahouts and elephants – I cannot thank you enough for giving me the opportunity to have a peak into your lives. I cannot wait to come back and see you all again.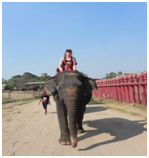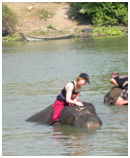 I have just returned home after spending a week at Elephantstay.  This visit was my third visit in three years (and certainly not my last!).  It honestly felt like I had never left.  The elephant team were so friendly and welcoming, reconnecting with 'my' girl Gatin was emotional and having 7 days to work with her was such a rewarding experience.  I was no where near ready to leave after 7 days which seemed to fly by so quickly.
I was lucky to meet Wang Chang Thai the newest addition to the Elephantstay family, a very mischievous three week old female elephant and it was very easy to spend hours watching her run about and explore, then quickly run back to mum when she'd ventured too far!
The food was fantastic, the company great.  You could spend as much time with the elephants as you chose.  There is something about these gentle giants that just makes you feel in awe of them and having the ability to work so closely with them is something that you could never do at home.  Elephantstay gets into your blood and makes you keep wanting more.  There are no words sufficient to describe it. Magical.  Incredible. Magnificent are just a few.  It's a must for all animal lovers.  I cannot wait to head back!!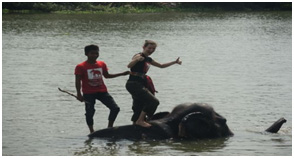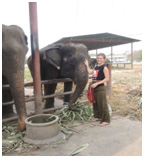 On the first day of my stay at the kraal as I looked at the weekly activities board, I honestly thought after a week I would be bored, and would have had my elephant "fix" that I had so badly craved on and off over the last 5 years. Oh how deeply wrong I was! As a lady on the Elephantstay Facebook group said "The place is a drug, and once you experience it you are addicted forever." As soon as I had returned home to Australia, within hours of landing I had contacted Ewa to book a 2 week stay for as soon as logistically
Getting to know my assigned elephant Rumruay was like nothing I had ever experienced before. She had her likes, her dislikes, and could be very stubborn when she wanted to be. I felt as if I was almost trying to "prove" myself to her. By day 3 she had warmed up to me, possibly because I wouldn't leave her alone unless I had to, or because I made sure each time I saw her I had a little treat for her to eat. (I think the way to an elephant's heart is through their stomach!)
Each morning I was more than happy to be awake and out of bed by 6:30am to watch the Kraal gently ease itself into the day with a cup of tea and a piece or four of toast. Watching the sun rise whilst Soi slept curled up on the ground was one of the most beautiful images that has been imprinted on my mind and is one I like to revert back to quite frequently when I close my eyes. It is a hard thing to describe and I really have no words to covey how truly wonderful this was.
Tasks such as cleaning up after Rumruay and the other girls were done more than happily, I thoroughly enjoyed raking up elephant dung and each morning. Giving the elephants a bath meant that we all ended up looking as if we had taken a bath, more so than the elephant. Feeding the girls was also a lot of fun. The first time I gave Rumruay a pineapple it was quite a shock to learn that if it wasn't almost perfectly ripe (okay so it may have been a little overripe) she would drop it on the ground and look at me as if to say "Why are you giving me THIS rubbish?!"
By the end of my stay I was heartbroken having to leave the kraal and Rumruay. (My offer for you guys to adopt me still stands!)
Thank you to Elephantstay for reminding me that it is the simple things in life, like being up at 7:30am am to shovel elephant poo, that make you happy. That, along with good company, good food, good conversation and a happy elephant, you really don't need much more!
Special thanks to Michelle and Ewa for making Elephantstay what it is; to Paul, for being Paul; to Neil, for putting up with all my incessant elephant questions; to Dee, the most wonderful mahout; and to Rumruay, the elephant who has stolen my heart. See you guys in June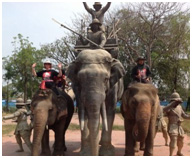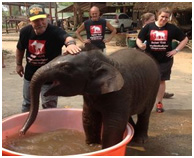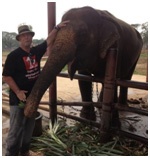 My husband and I had the most fantastic time at Elephantstay in February 2013. We stayed for 6 nights which is a good amount of time as after a couple of days you are part of the furniture and really start to enjoy the experience and never want to leave.
Accommodation is very good and food is sensational. The cooks are more than happy to meet any special dietary needs you may have. Ice cream man also comes everyday at lunchtime which is a bonus. All the staff, especially Paul and Neil are terrific and make you feel at home straight away and a real part of the team.
The best part of course are the elephants. We had the beautiful Pisamy and Honey to look after. They are gorgeous old girls and so easy to fall in love with.
Each day is filled with activities from early morning mucking out the night areas, which is loads of fun but expect to be wet, stinky and a bit exhausted till you get used to it,then watering, feeding, scrubbing and riding around the village and into the river twice a day which is definitely the best part.
When you have free time there is plenty to do, watching the mahouts training and preparing the elephants to take tourists for rides in town, and watching some of the bulls working with their mahouts around the village carting pineapple plants and hay for the elephants to eat.
You can also have fun around the nursery watching the mums and babies, and bath time for 7 month old Kane is a laugh filled with so many great photo opportunities.
Spoiling your elephants during the day with extra fruits and tamarind seeds is rewarding, you can never fill them up and the "Elies" appreciate you spending time with them. We nicknamed Honey, "Honey the hungry" as she was always searching for extra food along the walks each day.
Elephantstay is an experience of a life time and we would love to go back and thoroughly recommend it to anyone who is an animal lover. You will get so much out of it believe me.
Well done to everyone at Elephantstay we hope to see you again.
Like to see more testimonials: