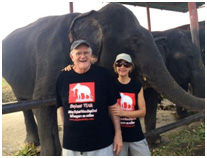 Tom and I spent 3 days and 2 nights at an elephant reserve called Elephantstay. It is a wonderful place dedicated to protecting and conserving Asian elephants.
At the reserve, they breed baby elephants, and buy and take care of aging (retired) and hurt elephants who can no longer work.They also house and care for the elephants who "work" in the nearby ancient city of Ayutthaya, which was the capital of Siam (Thailand) long ago. There, the elephants perform shows enacting the battles of long ago when warriors rode elephants into battle, and they also give tourists rides.
We enjoyed "adopting" our elephant, Rosukon, meaning beautiful flower, and working with our mahout (men/women who work with elephants and share a bond with them far deeper than merely being a "trainer) to feed her, ride and swim with her in the river twice daily, clean her sleeping and daytime areas daily, and scrub her. We also got to wander around the property viewing elephants which were working to move food (pineapple husks) from one area to another, and also getting ready for the show at Ayutthaya. There were several babies to watch, and even one that was young enough to move freely around the property and engage with us in a playful manner.
To top this off, the food we were served was a combination of delectible Thai dishes. 🙂
It was an incredible experience full of memorable adventures, and best of all, helped to support a worthy cause.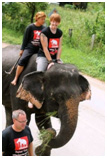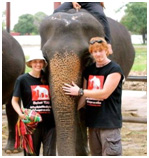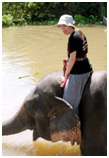 Our time spent in Ayutthaya, at Elephantstay! Elephantstay has around 150 elephants. A lot of these elephants were rescued and brought to elephantstay for a better life. Please mind the bull hooks and chains. The Mahouts (Thai elephant riders) are all required to carry bull hooks, yet they are never used aggressively toward the elephants. Though elephants are beautiful, gentle creatures they are LARGE, and POWERFUL, and the bull hooks are in case the elephants forget how powerful they actually are. Because there are so many elephants, all the elephants have to be chained. They can be aggressive with each other if they are all let loose, and elephantstay does not have the facilities or the funding to make a free range sanctuary.
We had such an amazing time and learned so much about elephants! Thank you to our elephant Yitor for being a very good girl and putting up with us!!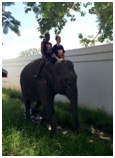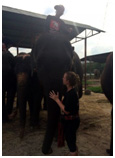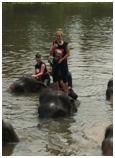 Elephant Stay has been the most amazing experience of my life and I have been so inspired through the bonding of friendships made with the Mahouts, staff and most importantly the elephants. I have always had a huge passion for animals, especially elephants, so having the privilege to work hands on and alongside these majestic animals was a dream come true. The feeling Elephant Stay left me is indescribable, I have never been a part of such an environment where there is so much love, compassion, trust and positive energy. The work, time and hardship every mahout, every staff member puts into the caring of the elephants and ensuring they have the best life possible is extremely heart-warming. The elephant that won me over was the gorgeous girl, Rasamee, a trouble maker with a huge heart. But of course every one of the girls has a unique and memorable personality which will make you smile uncontrollably. Working every day with Rasamee and the other beauties is incredible, from cleaning up the areas, feeding, scrubbing/washing to riding down to the river to watch in awe as the mahouts and elephants play around. The happiness felt in those moments will be memories never forgotten.
I loved every single moment at this beautiful place, and I would HIGHLY, without a doubt recommend to everyone to join the journey of such an amazing experience! One week was definitely not enough time, and I will absolutely be coming back to spend more time volunteering with these precious lives. I cannot thank Michelle, Ewa, Paul, Matt, Neil, Josh and all the mahouts enough for the heart-warming stay that was provided and the knowledge passed on. You are all amazing people and the hard work and love you put into Elephant stay makes it the humble and inspiring place it is today.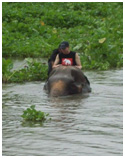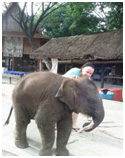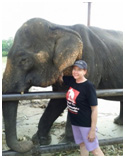 I loved every minute of my three days at Elephantstay – it seemed to be over in the blink of an eye and I will definitely be returning in the not-too-distant future, I hope, and for longer next time.  Hopefully I will get over my fear of heights, which has apparently become more pronounced over the years unbeknown to me, and be able to ride my assigned elephant with more confidence. I was very grateful to the staff walking beside me for their encouragement (Neil and Matt) and reassurance and the mahouts that rode behind me holding on to my sash (I can say the Thai word for that but can't spell it) or 'seatbelt'.  I was privileged to be allowed to learn to care for Sinuwan, a beautiful, gracious old lady who I grew to love in that short time and I hope to be paired with her again in the future.
Its obvious that everyone at Elephantstay, from the wonderful mahouts and their families to the long term volunteers and the established staff, are absolutely devoted to all of the elephants and their happiness and wellbeing. Every one of them is cherished and cared for so well.  Being my favorite species, I'd tried to learn as much about elephants as I could over the past several years but really wanted a hands-on experience to augment this and I got exactly that at Elephantstay.  Who knew you could be blissfully happy barefoot and ankle-deep in wet elephant poop while helping to scrub down elephants?  Playing with the baby elephant was one of the highlights of my life, I think.  Waking up to an elephant trumpeting instead of an alarm clock, which happened both mornings, was truly unforgettable.  Watching the extraordinarily talented Peter painting under the guidance of mahout Pat was  amazing.
I had not expected the accommodation to be anywhere near as good as it was – certainly wasn't expecting air conditioning, a bathroom that size or WiFi but there it all was!  Even the food was terrific.  I can't speak more highly of Elephantstay or recommend more strongly that if you're thinking about going, stop thinking and just go!  Thank you so much to everyone at Elephantstay for one of the best experiences of my life and could someone please give Sinuwan a hug from me.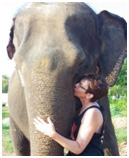 "How lucky I am to have known someone who was so hard to say goodbye to." – Author unknown.
That "someone" would be Rosukon. I fell in love with an elephant I wasn't so sure I wanted. The elephant who was Slow-To-Trust and here I wanted visible enthusiasm for just showing up! My beginnings with Rosukon were more about my needs than hers which, did not bring forth the desired result- instant love and affection headed my way. I soon stepped back, reassessed, and realized that if I wanted to gain anything from this relationship I had to let go of my needs and be open to HER. Have no expectations and see where that took us. She taught me many things about myself and who she was. She is amazing and subtle. It was hard to say goodbye. I spent my last day rubbing her favorite spots, cooing to her, finding her favorite treats, telling her secrets of my love for her, basically saying farewell in my own way. Privately. To walk away was so difficult I couldn't bring myself to take that last ride to the river before leaving. But, I venture to say no one saw me sitting further down the bank having a good cry while she delighted being in the water. To laugh at her fun through my own tears was part of the gift she gave me. There isn't much more to add that hasn't already been said about the people, the food, the eles. It's all true. Three months after my stay I continue to long for my Rosukon and my adopted country of Thailand. However, I am still wondering who all those people are pictured with MY elephant, Rosukon!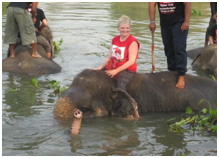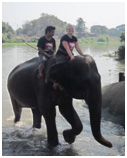 I spent two weeks at Elephantstay, and it was not long enough, that is for sure. This place is amazing. Not only do you meet great people, eat delicious food (including the ice cream and fruit man), but you get to have a hand on hand-experience with the most loveable animal on this planet. The elephants will win over your heart.
As lucky as I was, I had the privilege to get to know two elephants: Pisamy and Rosukon. Two very different but both amazing girls, who made my stay wonderful. Everything you do with your elephant is priceless – from saying good morning, to water and feed, to scrubbing and riding and saying good night. The elephant life is simply the best.
By that said, I want to say a special thank you to Caitlin, Matt, Katherine, Neil and, of course, my traveling companion Sophie, for the best company you could ever wish for – it would never have been the same without you guys.
At last, I found this quote to end it all off with: "You know.. They say an elephant never forgets – but what they don't tell you, is that you never forget an elephant."
Lots of love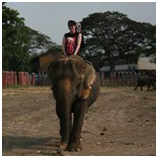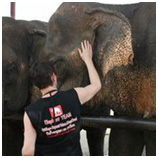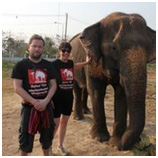 I'm not even sure I know where to start!
We (myself and my brother) were welcomed immediately as friends by both the people working there, or volunteering, and the others that were staying there at the time. After the safety brief and initial introductions to humans we were taken to meet our elephant for the week….she is an elderly, no nonsense lady (that really likes food..I think that is standard for all elephants!) and we were blessed enough to take care of her for the whole week.
I have always wanted to ride an elephant properly…ie not in a basket on top but sat behind their ears, it was more wobbly than I had imagined but that was more down to me being nervous and soon I got used to the relaxed, rolling stroll of our first ride. Just wonderful! The days are a routine for the care of the elephants…this suited me fine, I would have felt robbed if I had just been given rides and then handed over the care to someone else, But outside that there is always something happening that's interesting. I wont say too much as I almost don't want to give it all away and want people to go and see/feel for themselves!
It was an education understanding what was meant by a 'working elephant village'. For a sustainable future the elephants need to help to bring home a wage…now there is no forest clearing, machinery has taken over the farming heavy work and thankfully they are no longer needed for battle so the tourist trade and acting out stories of their past is their lifeline for a long and happy future…I would not have understood this with such clarity if I hadn't been staying there and seeing behind the scenes. I witnessed, at the end of the working day, well rested, well fed elephants that had a kind of continual conversation going with their mahout..it is beautiful to observe!
My favorite moments were; arriving finally after 3 years of watching and waiting, waking in the night, lifting the curtain and seeing sleeping elephants from my bed, stroking the cheek of our elephant, getting flapped round the head by her ears…actually.. anything to do with our elephant  :-),  Soi dancing when we sang 'happy birthday', washing a baby phant (definitely one of the coolest things I have ever done!), riding our elephant, watching the mahouts come home after the days work, putting our girl to bed, the glorious food…a beer and a laugh with everyone after a hot day!
Since discovering Elephantstay 3 years ago I have been waiting, saving and researching. I wanted to know that I was going to be spending time and money somewhere ethically run. Safe to say that as the first major 'bucket list' type of thing I have done, it will be hard to top it and I will put it back on the list as many times as I can afford to. Thank you to all that live and work there and who open up their world for people like me to share x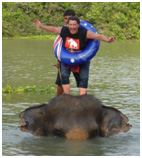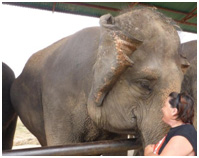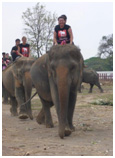 Hello All,  I just wanted to say Thank You….Thank you for everything…I don't know where to begin, This was not a holiday I picked but am so glad I tagged along with Jackie and Cath as it was the most awesome experience I have ever had.  I have been touched and moved in a way I did not expect and now have found myself again.  My confidence is back and at home we call it the "Elephant Attitude" which is spreading through my family fast.   I now know I can achieve anything I put my mind too.  Ewa, Michelle, Neil, Caitlin, Matt, Paul, Lay, Gik and all the guests at the time, you are all amazing and thank you for everything.  It was not a holiday but more of a journey of finding myself for me…all of you helped and I will never forget you.
My journey started when we arrived and I thought to myself what have I got myself into, I am not going to like this, I am afraid of heights, don't like water I can not see the bottom, I am a fussy eater, I was scared of the elephants, how am I going to do this and came to the thought of I am a princess…but with the support of everyone my fears were soon at rest and my journey had began into finding out who I am again and princess I definitely am not.  Walking around bare foot, scrubbing the elephants all over, yes even their butts hahaha, loving going to the river twice a day with the elephants.  When I stood on the back of my elephant in the river for the first time it was an amazing and powerful feeling, you couldn't wipe the smile off my face and a good laugh with the Australian Flag blow up ring hahaha.  All the elephants have their own personalities and are all just as equally beautiful.  I looked after Baitoy and she was a very gentle giant, wrapping her ears around my legs when I would hold on that little bit tighter, she was beautiful and will always be in my heart. It was hard to say goodbye without a few tears.
The food was wonderful, enough to satisfy even a fussy eater like me and the accommodation was simple but comfortable, all we needed.  I can not thank you enough for the awesome experience I had and I am looking forward to returning with my daughters so they can experience what I have. I highly recommend ElephantStay to anyone.
Lots of love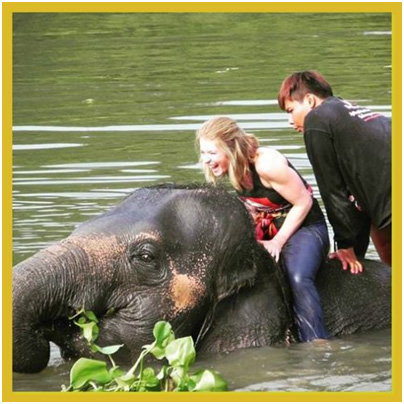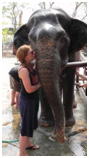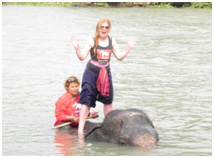 I would like to send a huge elephantastic THANK YOU to Michelle, Ewa, Papa, Neil, Matt, Caitlin, Gik, Keng and Lay for making my fourth (and longest) trip, an experience of a lifetime!  My previous trips have been for about a week which I found was never long enough. So this time I saved up all my annual leave and stayed for 40 days!! And it was 40 days of fun, excitment and learning, with each day being different and with it's own milestone.  For me, this trip was about building the connection between myself and 'my' girl Gatin and watching her respond to me during my time with her.  And I was not disappointed. It was heart wrenching having to say goodbye to Gatin and experiencing her response knowing that it was time for me to leave.  I cannot stress enough about what an amazing place Elephantstay is (it must be given that I have been there four times in four years and am planning my next trip!).  It is a place that brings you up close and personal with an amazing and seriously endangered animal and teaches you how to look after them (yes you get dirty and sweaty!!) protect them and love them with very hands on experience.  For people wanting to learn about elephants, spend time with them and ride them, I cannot recommend Elephantstay highly enough. As always the food was the best Thai food I have ever eaten, the staff, volunteers and mahouts welcomed me back like family and I honestly felt as though I was returning home.  I definitely left a part of myself behind with Gatin and I can't wait to start planning my fifth trip xx.
I spent 4 days at Elephant Stay, and I knew after the first few hours that it wouldn't be enough. I have always been fascinated by elephants and knew of the dangers they faced. So when I turned up at Elephant Stay, it was just really amazing to see the honest dedicated team that run this place. It truly is wonderful work and every penny that comes their way goes into the elephants welfare. I was given Gatin to look after and I have to say I love her! I had been told by the team that she was an ex- logging elephant, a hard worker who didn't like you giving attention to other elephants. Well that was fine with me. It took the first couple of days for her to get closer to me, but the shining moment was on my last day, my last ride, when we were in the river, I was washing her head and she lifted up her trunk to my hand……it was just heartwarming. This place will leave you wanting more and my advice would be to save your pennies and get there! The people are fantastic, the food is the best and the elephants will melt you heart….I'm already planning my next trip!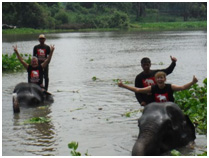 What's in a name? 'Elephantstay'. We visited the website and tried to get here for two years. This year my wife and I finally made it! We chose to spend two weeks of our Thailand vacation here. Picked up from Bangkok and brought to Ayuthaya. We had an informal 'get to know each other' session with the friendly staff, before a general induction and orientation of the important safety policies and procedures. We were then taken to meet 'our' elephants. This was the beginning of our total hands-on elephant 'education'. We were shown how to be responsible for our elephant's daily care with the assistance from the elephant's mahout. Of course it is easy to 'slip up' occasionally but the experienced and ever watchful staff could be relied on to keep us from our complacency. Daily meals to our particular 'likes' were prepared by a wonderful kitchen staff, and the accommodation was more than adequately comfortable. It was very difficult for us to leave this place after two weeks, but staff assisted our transfer to the next destination.  It was also very sad to leave our eles, but we both know that they are in good hands. To all those detractors of keeping 'tame' elephants from returning to the wild, please visit this place and honestly understand what they try to do. This isn't just an 'Elephantstay', it is an "elephant experience".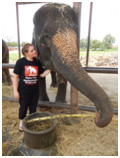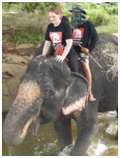 I absolutely loved every minute of my week stay at Elephantstay, it was the most incredible experience of my life, the bond you form with your elephant is astonishing.
I have always had a love for animals, especially elephants, so being able to get so close and work hands on with the elephants every day, feeding, scrubbing and riding them to the river and getting into the water with them, was absolutely incredible. The staff were all very helpful and informative, answering any questions we had and they were all very welcoming and friendly.
The work the mahouts and the staff do is amazing and the love and trust between the elephants and mahouts was very apparent and was absolutely incredible to witness. The elephants were all loved and well cared for.
It was an indescribable experience and I already miss the beautiful Yitor so much. It was an experience that will never be forgotten. Thank you Michelle, Ewa, Paul, Matt, Neil and Josh as well as all the mahouts for an incredible week with the beautiful elephants.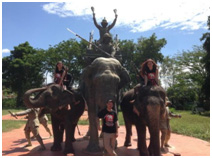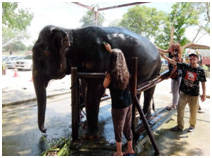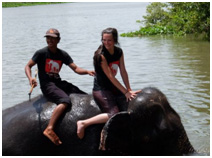 I am in love with elephants since I was nine. For 6 years I wished so much to see one and be able to touch one, so my expectations were very high. Elephantstay did not disappoint me. Quite the opposite. That were the best holidays I have ever had and also one of the best times. I could do so much with my cute elephant Rumruay. The best part was the riding. It was so funny to sit on this big animal and rocking back and forth. The scrubbing of the elephants was also great. I find their skin so fascinating and you ever got a nice cooling.
But this place is not only so special because of the elephants. Matt, Josh, Leah, Neil, Michelle, Ewa, all the people there are so nice and answered every question. Even if I could not talk to Rumruays Mahout because of the different languages, he was funny and liked to sing.
And than the meals… They were so delicious! Probably the best of our whole tour.
I was so sad when I had to go. That I already had to leave this fantastic place. And now I only think about how I can go back to Elephantstay!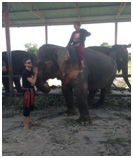 What a fantastic four days spent at the Elephant Stay.  My partner and I had been travelling for over six months before we arrived, and this is definitely the brightest highlight from our trip so far!
Everything about it was brilliant – the food was amazing, the rooms clean and comfortable, and our fellow volunteers were all really friendly and loads of fun.  On top of all that, all the members of staff were as warm, welcoming and helpful as can be.  So a huge thank you to Neil, Matt, Josh, Gik and all the mahouts, Leah and of course Michelle & Ewa, not just for providing us with an unforgettable experience, but for your passion and dedication in doing the vital work you do for these extraordinary animals.
We learned so much about elephants during our stay that we had never known before, and in four days an interest and affection for them turned into something more like an obsession!  Just like all the other people who complete the programme, we fell head over heels in love with our particular charges – mine was Honey, the most beautiful elephant in the world – I think of her every day, and especially at mealtimes!
Our time with you all was far too short, and we are counting down the days until we are able to come back and visit.
I cannot recommend Elephant Stay highly enough!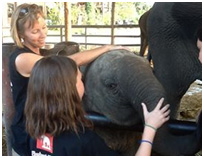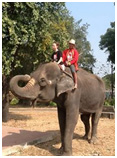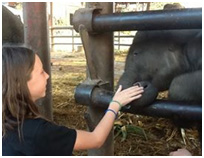 Hello to you all, just want to say how much we enjoyed our short stay. Three days was not long but long enough to get the elephant energy into our blood! I was dreaming elephants when I left, in one dream my daughter Zoe's arms and legs had turned into baby elephant trunks. We will forever remember our time there, thank you all for protecting and advocating for these magnificent animals. We are sharing your program with friends and highly recommend the Elephantstay experience to families. Thank you, Sarah Behle.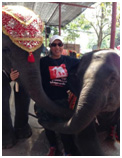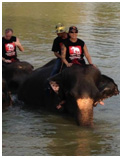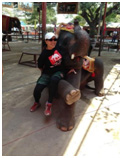 Thanks to everyone at elephantstay for the most amazing experience of my life. I have travelled to many places and this far outweighs anything I have ever seen or done. And especially to Michelle, Ewa, Paul and Nook – you are the glue that holds everyone and everything together. Your big hearts and selfless dedication and organisation make elephantstay unique and memorable. I truly commend you. You are amazing human beings and you all feel like family to us now, we would be happy and honored to look after you if you ever come to NZ.
For anyone worrying about what you're going to be fed while you're there – don't – the food is beautiful and there is a good selection – nothing weird or dodgy.  It's safe to say I probably put on a good few kilos in my short stay.
As for the elephants – how could anyone possibly choose a favourite – my baby girl was jumpee – but they are all so beautiful and unique and each have something special about them. I LOVE them all and I can't wait to come back and get to know them better.
Thanks heaps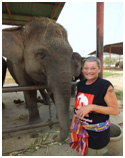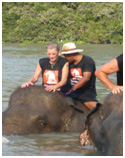 What an amazing time I spent at Elephantstay, this is not your everyday run of the mill "come see the animals" type of stay, this is REAL hands on experience, you care for your elephant in every way shape and form, and if it means breaking a finger nail working up one hell of a sweat and getting dirt (amongst other things) under your nails it will happen! You will make wonderful friends, and not just with the other guests but with the village people, the mahouts, their families and even Michelle & Ewa's loved pet's. Elephantstay is the Disneyland of anyone that adores elephants. The accommodation is basic, but exceptionally clean and comfortable, the meals provided are without doubt the best I have ever tasted, and there is always plenty of it, no one goes hungry! Riding your elephant down to the river for a swim twice a day is the highlight of a hard slog working day, it is not only fun but it is refreshing even if there happens to be an elephant poo or two floating by  🙂  I adored Elephantstay and I would return again and again and again. I spent so much time "reflecting" on just how much I have, and then looked around me and saw the villagers with just the very basics, yet they had one constant thing that I had to work on, and that was simply a smile….a smile every second of every minute of every hour…how blessed are they and how humble did they make me feel! I sat back and thought about the money I have wasted on take away foods, on that café latte and totalled up that amount over a 12 month period….I was yet again HUMBLED to realise that I could feed these beautiful animals if I gave up these meaningless delights. Thank you Ewa & Michelle , Neil, Paul, Caitlin, & Matt and of course Lay & Gik, you have ensured my dream did really come true. To anyone that is contemplating visiting Elephantstay………………
….. Don't contemplate going do it, you will never regret it, you will however spend time counting down the days until you return. Again I say with hand on heart, thank you Elephantstay ……….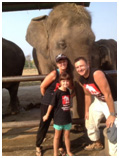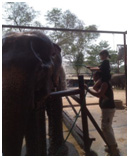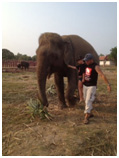 My husband, 8 year old daughter and I were privileged enough to spend an amazing 6 nights at Elephantstay in March 2014. I cannot talk highly enough of this experience and how well the program is run by the wonderful staff, volunteers and mahouts. Not only are you hands-on but you learn so much about the importance working is to elephants, which so many clearly don't understand.   (The catered food is also amazing, where all dietary requirements are taken into consideration as well as comfortable air conditioned accommodation.)
We had an incredible time with our darling Rasamee which we will never forget. We kept travelling after leaving Elephantstay but nothing compared to our time there. A piece of all our hearts were certainly left at Elephantstay.
A huge thanks to Michelle and Ewa, with the support of their staff and volunteers for wonderful memories. We will certainly be returning and looking forward to an Elephantstay reunion in the not too distant future.
Many thanks,
Tanya, Garth and Bianca McCall
(Melbourne, Australia)"
FROM BIANCA ….
"I love Elephantstay because they care for you and they look after the elephants so well in every possible way.
Our elephant was Rasamee and it was a good to know that our stay helped her and the other elephants live a better life.
I would love to come back some time. It gives children and parents a great experience of how other people live and how good they get treated.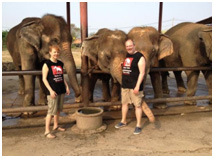 We have spent 6 wonderful nights and 7 exciting days at the elephant stay in march 2014.
Of all the wonderful elephants we met. We made special friendship with Jumpee and Honey and fell really in love with them.
We got  useful information about Elephants and learned how to supply them.
We would like to thank all the warm hearted people at the elephant stay for an unforgettable week. Special thanks to Michelle, Ewa, Neill, Paul, Matt and Caytlin.
The served food was amazing and the accommodation with the useful aircondition and shower has been fantastic.
Best wishes for you and the elephants in Elephant Stay from
We`ll meet you again in 2015, god bless you.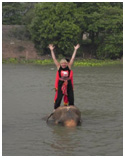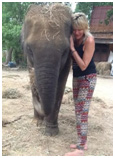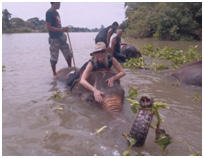 So I've been back in London for nearly two weeks and it's taken me this long to write something because, quite honestly, I've been lost for words. Ewa Narkiewicz and Michelle Reedy what you've done and continue to do with Elephantstay is nothing short of awesome. Thank you so much for the chance to come and stay and for an experience that has, quite simply, changed my life. You are 'Wonder Women.' A special thank you to Neil Campbell – your patience, kindness, guidance and support helped me develop a deeper understanding of and connection with my Queen and the beautiful creatures that are elephants in general. You are an inspiring teacher and guide. Thank you also to Paul for keeping the family safe, which is a task in itself without overexcited visitors with an 'overripe cute button'. Matthew Ward my trip would not have been the same without you and your brilliant way of helping me get to know all of the girls. So amazing to have had the chance to meet Amber Smith and thank you for all your help. I'm sure Gatin is missing you. Thank you to John too for watching out for us on our rides, for being in charge of the camera and taking some fabulous shots.
I feel honoured to have been given the opportunity to have been part of this family. I have never experienced so much love in one place. The dedication to, respect and love for the elephants that I saw at Elephantstay will never leave me. I have returned home with a heart full of joy. See you next year x x
Like to see more testimonials: