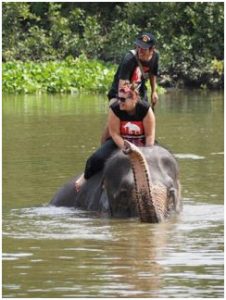 I had no expectations coming into this program.  My friend recommended this to me a few years ago and all I knew is that I loved elephants and the chance to work alongside of them, care and learn about them was something I really wanted to do.  Finally November 2015 arrived and I had finally booked to stay for a week!
From the moment I walked in to Elephantstay it felt like home and I was literally speechless on my last night of my 7-day experience that I could not hold back the tears as much as I tried!  I knew I loved elephants, but I didn't realise how much until my experience with Elephantstay was over.
This was my first trip to Thailand and it was a great induction by Michelle and Ewa who not only informed us about what our stay will entail but also gave some great cultural information to be mindful of. I really appreciated this. The safety information was also thorough but also not too long and gave us the opportunity to get right to it and begin our work with the elephants.
The wonderful Elephantstay staff Ellice and Ben where incredibly accommodating, informative and were there for what ever we needed to ask, know or chat about at anytime of the day or night.  They're both great people, which made the first day all the more easier for anyone who may have been a little nervous.
The amount of contact we had with our elephants was phenomenal, giving me plenty of time to bond with and get to know my elephant – Yitor.  What a beautiful girl, albeit a little naughty at times, she was an absolute dream!  It was an honor to look after her and is actually difficult to type this without getting emotional.  So hard to put into words what I felt during this experience with her.  But what I can say is, it was life changing and again, changed my view of not just elephants, but the world around me as well.
It was brilliant to see all the Elephants so well cared for.  The cleanliness, the constant feeding, bathing, watering, washing is wonderful and you can tell the elephants are happy and grateful for their care.  They're certainly living the good life!  And the breeding program is wonderful!  All the baby elephants around are so much fun!  And it's great you can play with them as much as you like in your free time.
One thing I certainly didn't expect was the connections and bonds that were made not only with my elephant Yitor, but with the people around me too. The other Elestayers, the shy yet cheeky Mahouts and the rest of the Thai community at Elephantstay was incredible and they all made you feel like a true part of their village.
This personally gave me a great sense of purpose and belonging in the village and that we were all working towards one common goal – the conservation of Asian elephants.  It was truly wonderful and heartwarming beyond words.
The accommodation was fantastic (the air-conditioner certainly came in handy) and the food unbelievably delicious!  There was WIFI so you could upload your photos from the day and share your memories with your friends and family too.
Personally for me, this experience was life changing in ways I possibly don't even realise yet.  But if you want to help in the conservation and be educated on these incredible animals, then this is the place to do it.  What an experience of a lifetime! You will not be disappointed!
So much so, my plan is to come back next year and do it all again and visit my girl Yitor.  I'm counting down the days!
It has been to long coming, the thanks to all at Elephantstay . I and my partner had the great chance to  enjoy this amazing place and people that is Elephantstay . From Michelle to all the staff . They walk and worked with all to make our visit with these amazing animals . I have raised horses cattle. and these  are very special beings . That if it were not for Elephantstay and other projects . The loss of one makes you wonder . They are a social and as giving as humans if not more. It was one of the high lights of my life . To be shown and guided in their care and habits . This is one of they only programs that is out there for the average person. Others cost in the thousands. This program is for the person . From the welcome to the rooms to the great meals, you feel as you have been there longer. Every one there is there for the elephants . the local staff  has to be so carefully made to make this time so special for all . yes to the elephant,s to . For they share their lives with us monkey,s with thumb,s . from there eye,s to there  rumbles you will find that you are not the only creator,s of such emotion,s . So if you want a life changing experience . Put your change away take a once in a life time trip to Thailand . for it,s site,s are hard to describe with words. To a people that are so sharing and happy . To some thing that will once there change your thought , but your life . This is elephant stay. Aslo I have heard that Neil and Mathew are leaving . You will be so missed yet I know that elephant stay will still be there and in your hearts  . It is a big task for Michelle and Ewa to replace you both. Yet I look and have put away to return in 2016 in dec . For these now are not elephants but friends. So take the chance help the elephant and go to this great place Elephantstay .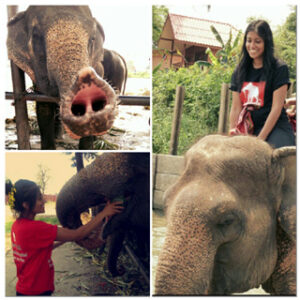 Every time I hear the words Thailand and Elephants, one thing comes to mind…ELEPHANTSTAY at the Royal Elephant Kraal & Village in Ayutthaya!
My passion in life has always been animals and being able to make a real difference in their lives. Elephants in particular have always fascinated me and the fact that these gorgeous animals are now threatened with extinction due to environmental pressures and cultural changes has left me wanting to learn and find out more.
Coming across Elephantstay was honestly a dream come true! By simply jumping on the website and reading what was involved I was soon certain that this was something I just had to experience…
I went to Elephantstay with the hopes of being able to learn more about elephants and getting the hands on experience that I have only dreamed of. I am very happy to say that at the end of my time at Elephantstay I was able to achieve this and so much more!! I cannot express how grateful I am for this opportunity. Being given the chance to feed, ride, scrub and care for these beautiful creatures was honestly a dream come true and something I thought I would never get the chance to do. Not only was the experience absolutely amazing, but the place itself was incredible. Accommodation at Elephantstay was just perfect, it was very clean and comfortable and on top of that it was also air conditioned. The food was honestly just divine, we were always offered something new and the staff ensured that every need was catered for. Also not forgetting to mention that we had access to WiFi during our entire time there, what more could you possibly ask for?! haha simply outstanding!
After having spent a week at Elephantstay, it was soon obvious that everyone there, from the wonderful mahouts and their families right through to the long term volunteers and staff members, are 100% devoted to each and every single one of the elephants. It was both extremely heartwarming and inspiring to see the love shared between the elephants and everyone at Elephantstay.
I think its safe to say that this entire experience would definitely have not been the same if it wasn't for one important girl, and that of course is my gorgeous girl Honey!! Also known as "Honey the hungry," this cheeky girl was indeed one of a kind, from her endless desire for food right through to her infectious personality, she never failed to make me smile 🙂
Honey certainly taught me lot of things, but I have to say the best moment was on day 3 of my stay when I finally was able to get her to lift up her trunk and open her mouth upon giving the command "bon soong," this obviously had to be followed by giving her a treat of course!! The hardest part of my stay was infact having to say goodbye…after 7 unforgettable days, I found it very difficult to leave such an amazing place! This experience just ended all too quick for me!
Being back home for two weeks now, I find myself continually flicking through my pictures and videos from Elephantstay, I can't describe how much I miss it! I am literally counting down the days till I can come back and see Honey again! There is so much more I can say about this amazing place, but you won't understand how incredible it is till you give it a go yourself!! For anyone for who has a passion for Elephants and is keen to learn more like I was, or is simply looking for hands on experience then Elephantstay is the place to go!
Would like to end by just saying a huge thank you to Michelle, Ewa, Neil, Matt, Karen, Gik, Lay, Lung and all the other Mahouts for not only providing me with an unforgettable life changing experience, but also for your passion and dedication in the vital work you do for the elephants. Elephantstay would not be the same if it wasn't for your hard-work and endless efforts!! Thank you so much for giving me memories I will cherish for a lifetime and see you all again very soon! xx
I visited Elephantstay in April 2015 as I wanted a holiday with a difference, well it certainly was that!
I'd heard about Elephantstay from my sister who had been a couple of times before and fallen in love with her elephant, so it was only a matter of time before I ended up there too.
You are paired with your own elephant who you will look after for the duration of your stay.  Work starts at 7.30 and throughout the day you take part in different activities with your elephant such as cleaning their living areas, feeding and watering them, scrubbing them and riding them down to the river.  If you're lucky and there's babies in the nursery you can also spend time playing with them.  There's plenty of photo opportunities aswell.
If you don't like hard work and getting dirty then it's not for you, but if you want an up close and personal experience with elephants then this is the place to go.  The more you put in, the more you will get out of it.  I have heard of other places similar to Elephant Stay but you don't necessarily get the same hands on experience.
If it wasn't for places like Elephant Stay who knows what conditions the elephants would be living in.  That's if they'd still be alive of course!
I'm so glad I decided to go as it's something that will stay with me forever, especially my lovely elephant Rumruay, who is the most gorgeous gentle giant and looked after me as much as I looked after her.  Everybody was so friendly and couldn't have been more welcoming.
Thanks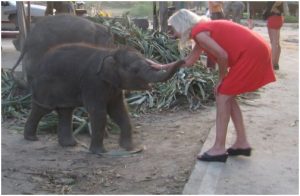 Dear Michelle, Ewa and team
I would like to thank you so much for the unforgettable experience we had whilst at Elephantstay. Being able to spend so  much time with these amazing creatures enabled us to learn so much about Asian elephants and their plight. The program allowed us to feel safe but totally involved.
Although I cannot speak for all tourism operators in Thailand doing elephant trekking I can say that these elephants at Elephantstay are treated in the very best way possible and it is blatantly obvious that they are all HAPPY! Intelligent creatures enjoying human interaction and they like being ridden to the river. As do the baby elephants enjoy human interaction in the way it is managed here. It is also blatantly obvious the staff love their work and are proud to be in this team.
It is the determination and love of all the people involved at Elephantstay that makes their breeding program so successful.
If you want an Elephant experience please please please support Elephantstay.
Get to know theses amazing animals and they will touch your heart forever.
I will definitely be back soon.
In February 2015 I had the great good fortune to travel to Thailand and spend time in Ayutthaya, at the Royal Kraal. This is also home to Elephantstay, a fantastic experience for those who want to get "hands on" with elephants.
The whole stay at Elephantstay was amazing! The retirees we worked with (my girl was Jumpee) were kind, forgiving, well behaved, and always happy for treats! We fed, cleaned up after, washed/scrubbed, rode, observed and hung out with our elephants. Just as a bond was developing I had to leave to come home. That means I have to go back soon before she forgets me :-).
The knowledgeable people who work and volunteer at Elephantstay (Ewa, Michelle, Neil, Matt, Anne and all the mahouts) kept everything moving smoothly even when rounding us up was like herding cats! The food was fresh, plentiful, and very tasty. Accomodation was made for all dining tastes including vegan, vegetarian, food allergies and food aversions. And the cabins were spacious, immaculately clean, comfortable and air conditioned! Showers are attached to the cabins, so you have your own bathroom and shower.
The opportunity to observe all the other elephants as well was a real privilege. From the moms and babes, to the working ladies, to the breath taking bulls. I was up at 5 am every day to watch the morning showers and river dips. There is a constant flow of elephants in the morning and in the evening. These observations allowed me to learn the relationships between some of the mahouts and their elephants, and the ones I saw made me very happy. There is a mutual respect and admiration, and lots of love. Very educational!
Add to all of this that the Royal Kraal is making a real difference to conservation of Asian elephants and you have a win/win situation all around. From their weekend shows, to encouraging schools to add to their curriculum a course on the history of elephants in Thailand, to their wildly successful breeding program (63 successful births since 2000), and you have a real, positive, working conservation program. I'm happy I could make a small contribution to the success of this magical place!
Like to see more testimonials: