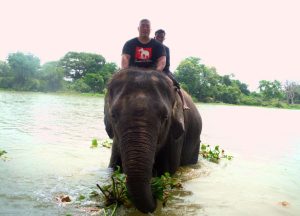 "This is my second time taking care of Rasamee (4th time at Elephantstay, took care of Sinuwan previously), and while she and I have both gained weight in the interim, nothing diminishes the affection I have for her.  She seems a bit more gentle this time around, the last time taking me into the river and causing me to lose my lucky hat (which has since been replaced).  But I myself feel more confident with her this time as well.  My only regret is not being able to come here more frequently, and having to wait sometimes years between visits.
It is perhaps trite to say that being up close and personal with these magnificent animals is a life changing experience, but the truth is you will likely be irrevocably changed by it.  You will learn more than you expect.  You will work harder than you expect (on a vacation, no less).  And you will be rewarded – deeper and more profoundly – than you expect.  You will see things that will be etched into your memory – in the same part of the brain that urges you to be one with nature, and where the love and affection you have for your dog and/or cat come from.  Being a first hand witness to the relationship human beings have with elephants, seeing up close both the gentle nature and awesome power and potential of elephants, being amazed by their intelligence, learning about mahout culture, and the long, rich history of elephants in both modern and ancient Thai society is not something you will easily find in the world.  If you have any sense of curiosity and appreciation for nature – think of this place as a working dude ranch, but with elephants instead of horses – you should visit.  It is perhaps a perfect remedy for the excesses of modern society."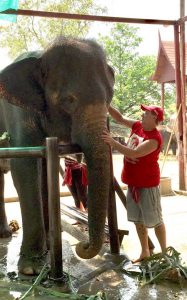 A wonderful experience. Living with, working with and enjoying the elephants at the Royal Elephant Kraal. Accommodation and food was first-rate. The hosts made me feel very welcome and were a wealth of knowledge when it came to the elephants. Working one on one with these beautiful creatures was an experience I will not forget. I now look forward to my next visit to Elephantstay which will be for a longer period.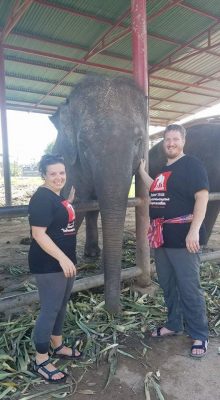 Visiting Elephantstay was an experience that I will never forget, and hope to continue to have many times in the years to come. My boyfriend Chris and I stayed there for ten days in June, and were given the pleasure of being able to care for Rasamee, which means "ray of light." The love and respect that their human caregivers (partners would probably be a more accurate term) is evident the moment you arrive. The staff encourages the guests to interact as much as they can with the elephants to develop a bond, and it's so clear how devoted to them the staff is. With Rasamee, my boyfriend and I were able to help feed her, bathe her, clean her area, ride her into town for walks, and take her for swims in the river. As our time there went on we saw a definite closeness forming between her and us, and I'm so glad that we stayed for as long as we did. Our favorite part of being there was swimming with Rasamee, especially when she had a bit of fun with us in the water. 🙂 Oh, and of course getting to play with the baby elephants in the nursery. There's really nothing cuter than two baby ellies playing together.  <3
The other aspect that had a huge impact on us was the Thai culture and how embedded elephants are in it. It's beautiful to see animals so loved by the community, as elephants are believed to be one step away from man. Chris and I really enjoyed getting to know the staff and their families, and playing with the kids when we weren't with the elephants. The culture at Elephantstay is just so warm and welcoming that it truly is hard to leave.
Thank you from the bottom of our hearts for saving elephants, preserving the Thai culture, and providing such a life changing experience. My heart is full whenever I think of you all. Please give Rasamee a trunk rub from Chris and I!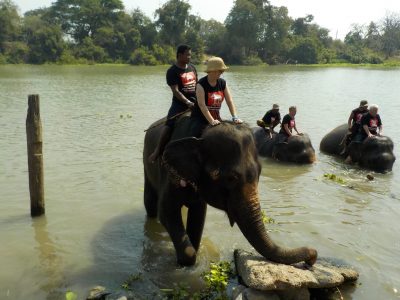 I have always been fascinated with elephants and in 2016 I decided to do something about it. So I did my research and Elephantstay was where I wanted to go.  It was their work in conservation  and preservation that decided me. They even have a breeding program in place. I was hooked. I booked a 3 day stay and away I went.       I fell in love at first sight – with the facility, the people and most especially with the elephants themselves.  You are surrounded by elephants! As you care for your assigned elephant you will come to a greater understanding of just how magnificent these animals are.
When my stay ended I found I didn't want to leave – I felt like I had finally found 'home'.
I decided to return in 2017, this time for two full weeks. I'm loving every minute of my current stay.  I hope to return again!
Like to see more testimonials: